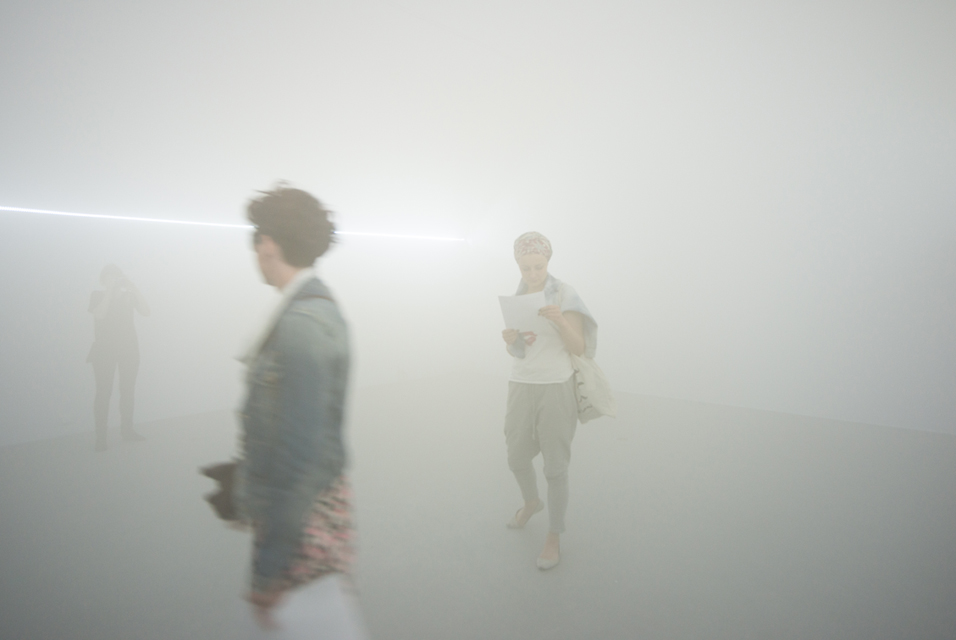 "Scanner Room" – an installation designed specifically for the gallery space that engulfs this space completely, creating an environment constructed by light and filled with it. The form is minimalist, its most important element is a constant, monochrome flow of light that materializes and diffuses itself subsequently. The space has been created for people to be inside it; and in this case the visible is only the beginning of an individual experience that may be colored with different emotions and states of consciousness.
Usually, scanning is used to represent images or to read encoded, written messages. Therefore, overexposure to light may be treated as a kind of a potential introspection, a state of concentration, a meeting and exchange with one's own self. Its intensity develops with time and may get you close to meditation, but it can also take the form of a momentary flash of light, a transient feeling or image. The Artist often tries to reduce the initial idea of her artwork, searching for its optimum form based on clarity, simplification and focus. Similarly to her previous works: Cave, Iridescent and Enter me, she designs a space of experience constructed at the intersection between visual, architectural and sculptural actions.
Her practice falls within the tradition of art that uses light as a material; to give some obvious examples: the art of Dan Flavin or Olafur Eliasson, in whose studio she participated in workshops at the UdK in Berlin, and in case of her most recent work: some projects of Alfredo Jaar (especially "Lament of the Images"). For her diploma project, she designed a concert hall built with light that could change its form smoothly and thus influence the perception of viewers and listeners. However, her interest in light, time and space is not formalistic in character, it's rather situated close to various spiritual methods and practices aimed, on the one hand, at deepening self-knowledge, purification and, as the Artist herself claims, "deprogramming;" and on the other hand: at exploring the world of nature and science, and going beyond oneself and others, towards a transcendental experience.
Kaja Pawe?ek
Karolina Ha?atek creates video and site-specific installations. She focuses on exploring the relation between the visual and metaphysical spheres; the main medium of her practice is light. She worked as a set designer for productions that had their premieres at the Cannes festival, at Camerimage and others. Her works were presented, among others, during the Fringe Festival in Edinburgh, Light Move Festival, Fotofestiwal in ?ód?, as well as in galleries in London, Berlin, Wroc?aw, Warsaw, ?ód?, Bytom and Tczew. She graduated from the University of the Arts London and the Faculty of Media Art at the Academy of Fine Arts in Warsaw. She has also studied at the Universität der Künste Berlin (UdK), where she took part in workshops of the Institut für Raumexperimente under Olafur Eliasson. In 2013 she received an artistic scholarship from the Minister of Culture and National Heritage.
Partners of the exhibition: METEX-JC Cascarino, LTT Lighting, MATT, Dumel
website karolinahalatek
You can also submit your work for inclusion on FAD just use our Facebook Page to submit it. Please add info about your work and about yourself Good Luck !
Categories
Tags