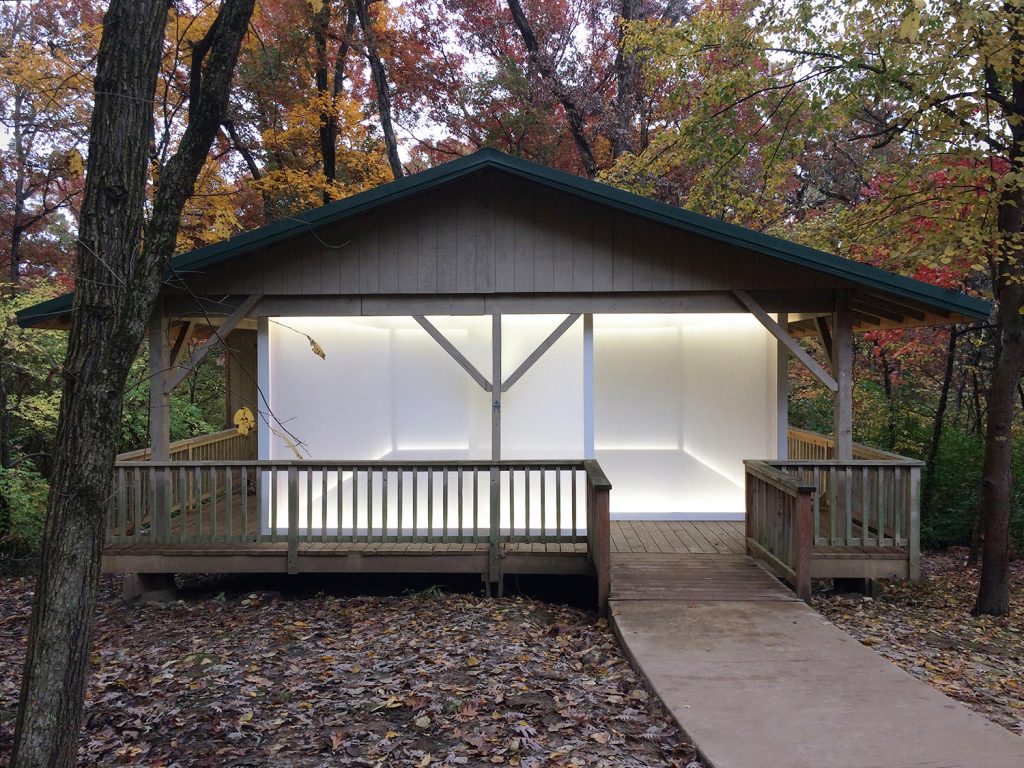 Cloud Square is a site-specific installation by Polish artist Karolina Halatek, that premiered this November at After Dark, an event at Laumeier Sculpture Park, St. Louis, USA.
The installation invites all types of viewers to be immersed in a cloud-like phenomenon of fog mixed with the dazzling white light, bringing the audience closer to the "sky experience".
The title refers to the form as well as to the meeting point where everyone gathers, while forest setting, fog and house-shaped location of the work fluxes the nature with a sense of home.
Cloud Square is on view until 9th February 2019.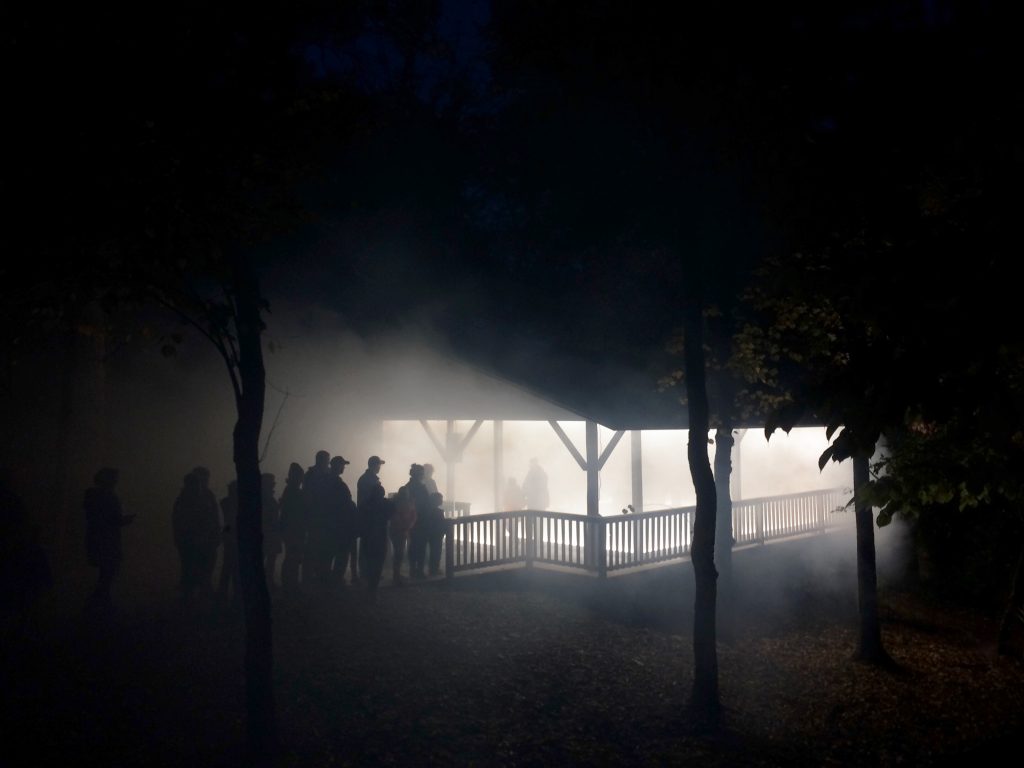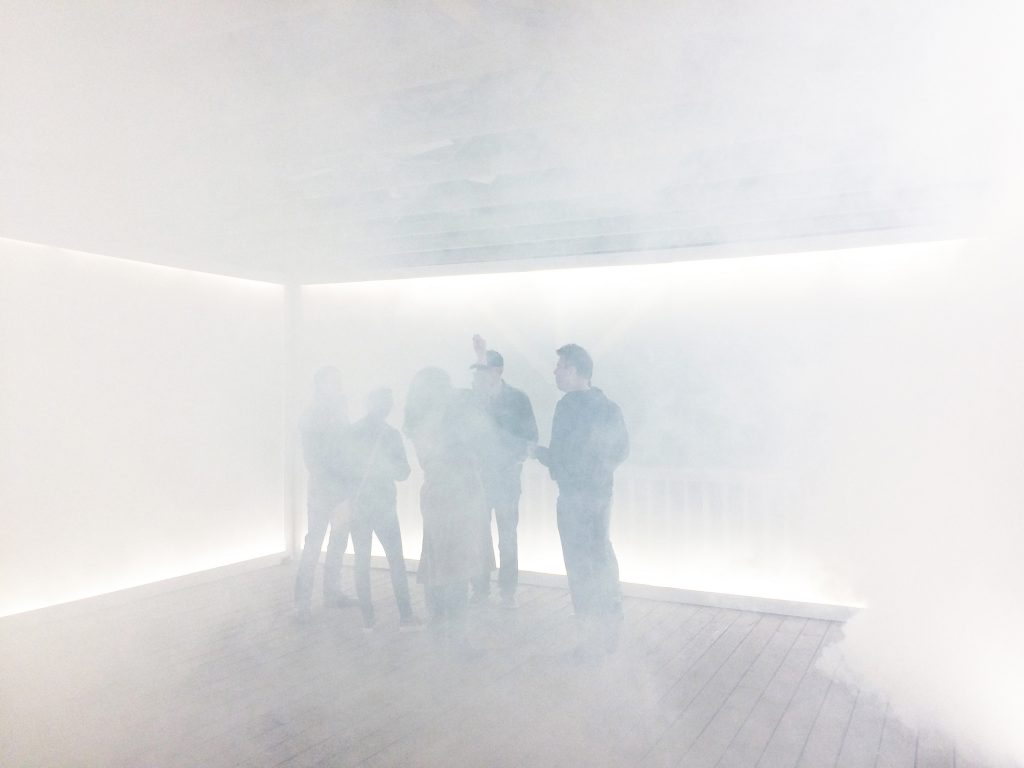 Laumeier is an internationally recognized, nonprofit arts organization that is accredited by the American Alliance of Museums an operates in partnership with St. Louis County Parks. Projects and programs are supported by the Mark Twain Laumeier Endowment Fund, the Regional Arts Commission, the University of Missouri-St. Louis, Missouri Arts Council and the Arts and Education Council of St. Louis. Laumeier presents 60 works of large-scale outdoor sculpture in a 105-acre park located in the heart of St. Louis County. Free and open daily, Laumeier serves 300,000 visitors of all ages each year through sculpture conservation, education programs, temporary exhibitions and public events.
laumeiersculpturepark.org
Project supported by CEC Artslink NYC.
About The Artist
Karolina Halatek studied Design for Performance at the University of the Arts London, Great Britain, Fine Arts at the Universität der Künste Berlin, Germany and Media Art at the Academy of Fine Arts in Warsaw / Poland. During studies in Berlin, she participated in workshops at the Institut für Raumexperimente run by Olafur Eliasson. Using light as the central medium in her work, Karolina Halatek creates experiential site-specific spaces that incorporate visual, architectural and sculptural elements. Seeing her work primarily as a catalyst for experience, Karolina creates installations that have strong experiential and immersive characteristics, often the result of collaborations with quantum physicists, founders of the superstring theory (Leonard Susskind, Roger Penrose) and precision mechanical engineers. Karolina is interested in experiences that extend to the edge of human knowledge, seeking a visual language to evoke feelings and emotions of virtually unknown phenomena.
Karolina Halatek received the Minister's Scholarship for Fine Arts from the Minister of Culture and National Heritage in Poland, a London residency managed by Acme Studios International Residencies Programme in collaboration with Adam Mickiewicz Institute in Warsaw in 2014, artist residency at CEC Artslink NYC and Laumeier Sculpture Park, St. Louis, Missouri. Karolina Halatek was a fellow through the »New Networks« project, a cooperation of Akademie Schloss Solitude and the Center for Contemporary Art, Ujazdowski Castle in Warsaw, with financial support by the Adam Mickiewicz Institute in Warsaw.
In cooperation with Kulturregion Stuttgart and the city of Gerlingen, Karolina Halatek participated in the Lichkunstfestival »Aufstiege« of Kulturregion Stuttgart during her stay at Akademie Schloss Solitude.In 2015 her Scanner Room Video was broadcasted into outer space at the MONA FOMA Festival held by the Museum of Old and New Art in Hobart/Tasmania.
Karolina Halatek exhibited internationally, in London (Kinetica Art Fair), Athens Greece (Omonoia Athens Biennial), Edinburgh/Scotland (Fringe Festival), Dubai/UAE (ECHO Festival of Art, Design and Technology), across Germany (Kunsthalle Bremen, Design Transfer Berlin, Kunstkraftwerk Leipzig, KulturRegion Stuttgart), Switzerland (Morcote Public Art Biennial, Galleria Daniele Agostini, Lugano), Netherlands (De School during Amsterdam Dance Event), France (University of Nantes) and Poland (CCA Ujazdowski Castle, CCA Elektrownia, Galeria Labirynt, BWA Wroclaw, Lodz Design, Galeria Salon Akademii, Propaganda Gallery at Warsaw Gallery Weekend).
Categories
Tags