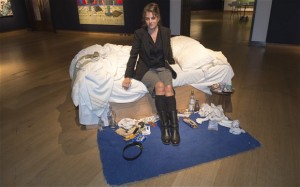 The saleroom was electric. Not like it's got a family full of eccentrics, but like important things were about to happen. I've been to desperate clubs in Vauxhall, but never have I felt the slightly sticky lust of so many eyes fixed on so many coveted prizes. The Christie's Post-War and Contemporary evening auction was an exhilarating lesson in the vivacity of the art market. And now, £99,413,500 later, all that lust and adrenalin has been distilled into love.
The saleroom had crowds spilling out of the doors and extending across the banks of telephone bidders, comprising 190 bidders from 28 countries. This, as Francis Outred, head of Christie's contemporary art department, included a number of seasoned professionals (like Larry Gagosian) who were very active in the room, creating an air of confidence for less experienced bidders. But amid the saleroom's unique blend of tension and joviality, something more than the sale of luxury goods was happening. Brett Gorvy, Christie's international head of post-war and contemporary art, summed it up as a 'very discerning element to this market…People are really making distinct choices. It's a very subjective response to works'.
Now those who view the market as mere spectacle – those same people who never bothered to go see the works on sale and only engage with contemporary art in order to find something to hate – will doubtless dismiss this as hogwash. But that would be to refuse to see the art historical significance of the event, as if blinded by the idea of a sale as a purely economic exchange. Rather, Christie's is in the business of dispensing fragments of art history into the hands of custodians. The fact that money exchanges hands here only tells us about the nature of social relations that demand compensation for goods and services rendered; it tells us nothing about the immanent nature of the artwork, but only that a private individual is willing to pay x amount to claim ownership of a particular object. As it happens, on Tuesday night at Christie's there were significant works of art which required no additional help to assure their vast cultural value. This auction was thus a lesson in seeing economics in art as a mere attachment whose necessity is manufactured by capitalism rather than by anything inherent in art itself.
The interesting thing about auction houses is that they are art historically grounded in the sense that they create value through the seemingly objective science of historical provenance. This is not operation of Empire, since they are dealing not in mythology but in the creation of cultural value out of narratives which employ tangible human histories. There has, for example, been a great deal of talk throughout this auction week of a 'return to painting', an historical move – palpably evidenced by the market – away from conceptual art and back towards the steady dynamism of the canvas, with major pieces by Dubuffet, Jenny Saville and Hurvin Anderson. Nowhere was this more apparent than with Peter Doig, who was tipped to take Hirst's crown as Britain's most expensive living artist at Sotheby's on Monday. But it didn't happen, so when the Doig came up at Christie's on Tuesday the room was gripped: after the bids came thick and fast, creeping ever closer to victory, it went for £9.9million, leaving King Damien intact and Prince Peter with another chance at becoming Top Doig.
The highlight of the night was Lot 19. It was an important moment: Tracey Emin's My Bed was being sold for the first time on the open market. From Emin's point of view, it was the end of an era; she had to let go of the piece that made her career and send it, like a grown up child, out into the world to fend for itself. The bed tells the story of the breakup of a relationship; it is a self-portrait that contains the very grit of the artist's soul. And that is precisely what you feel when you stand before it – a snapshot of a moment in time, a slice of a real human life that expresses raw emotion in a surprisingly elegant piece of a sculpture. For art history, it was an important moment because a couple of heated minutes in a crowded saleroom were to decide the fate of the last great artwork of the 20th Century. If it had all gone wrong that night, as I had gloomily prophesised, then we would have been divested of an artwork that defined an entire trajectory in art.
The bidding began at £650,000 in an atmosphere of controlled hysteria. Then, after a barrage of bids taking it comfortably above its high estimate, it suddenly faltered around £1.8million: perhaps only for a second – one of those seconds that are so pregnant with anticipation that they stretch beyond man and time – the frenzy abated when the room took a moment to consider the gravity of it all. Some people dropped out, everyone held their breath, and the auctioneer, Jussi Pylkkänen, filled one final dramatic pause by turning directly to Emin to say, in jovial tones, 'not yours Tracey'. And then in a flash it was gone for more than double its high estimate at £2,546,500. Emin shrieked and everyone applauded. The moment had passed in spectacular style.
When it was announced that Saatchi was selling the bed, I was concerned that works at auction sell to the highest bidder rather than to the most worthy or appropriate collection as they would in the primary market. This had the terrifying consequence that state institutions like the Tate could not afford to bid and that it could fall into the dark recesses of the wrong private collection. This, for me at least, was the source of the tension in the saleroom. So when The Guardian reported that the bed had been bought by Jay Jopling everything suddenly seemed right with the world.
And everything is right with the world. The bed had to stay in the UK and, if not at a museum, it had to be in the care of someone who understands its true value. I have no doubt in my mind that Jopling is the man for the job. Not only did he nurture Emin's career throughout the nineties, but he was also instrumental in the development of the entire YBA movement. If anyone sincerely understands what this bed means culturally and historically, it is Jopling. It is not known what he will do with it, but it is not beyond the bounds of possibility that he will donate or at least lend it to the Tate. Nobody knows, and for now it doesn't matter. It's gone to a good home.
There was, believe or not, a real sense in the saleroom that the money didn't matter; that the incredible amounts of money that were amassing at the speed of a greyhound race were just mere formalities of exchange. The bed, not to mention the Doig, is desirable in and of itself as a work of art whose cultural value rendered its economic value blithely irrelevant. At an auction like this, where pivotal works are on the block, it really is not about the money so much as it about love; it's about the price you'll pay for something you really love and that you know everyone else loves too.
In the same Guardian article, Emin is quoted as saying that if she could show the bed in every exhibition, she would. Well, there's an idea – and a certain art dealer has a perfectly cubic, naturally lit space in the centre of his biggest gallery where a second hand bed would shine like a beacon of unfettered genius. Of course, he's a private individual and he can do with his private property as he wishes, but it's not about the money and he's already paid with the love, so maybe now it is time to make the world dance.
Categories
Tags