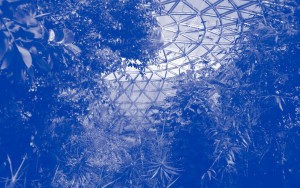 http://www.foldgallery.com/exhibition/sounding-out-plant-hunters-space-seekers-listeners-fakers-keepers/
15 Clerkenwell Close London EC1R 0AA
FOLD Gallery is showing an exhibition of new work by Una Knox, curated by Erica Shiozaki.
In filmmaking, room tone is the 'silence' recorded at a location or space. This silence is distinct, a presence created by the space boundaries – walls, ceiling, floor and other objects in the room, in relation to a microphone.
Knox's research-based practice encompasses various media, including moving image, print and performance. For this exhibition, Knox's works explore architecture through sound, incorporating thoughts on technologies, voice, fiction and historical events. Within a tropical landscape a speech pathologist, working with the human body as acoustic space, uses voice to sound out and understand the surrounding inner and outer atmospheres.
The exhibition is accompanied by a publication and an evening of films selected by the curator and artist.
About the Artist
Una Knox is an artist based in London, UK, originally from Vancouver, Canada. Knox's work has been exhibited both nationally and internationally, including Wysing Arts Centre, Cambridge, Cell Project Space, London; The Victoria and Albert Museum, London; Postmaster Gallery, NYC, NY; Presentation House Gallery, Vancouver; Transmission Gallery, Glasgow and Cornerhouse Gallery, Manchester. She is the recipient of The Red Mansion Art Prize, BC Arts Council and Canada Council for the Arts grants, and her work has been featured in publications including Art Monthly magazine, Art Review magazine, The New York Times, The Los Angeles Times and The Vancouver Sun.
About the Curator
Erica Shiozaki is a writer and curator based in London. Shiozaki is the inaugural recipient of the Florence Trust Curatorial Resident, supported by the Arts Council of England. She is also the recipient of Great Britain Sasakawa Foundation Grant. Her writings appear in national and international publications and catalogues, including Misery Connoisseur; 40 Years of ING Engaging with the Arts and online.
The exhibition was made possible with the support of the Florence Trust Curatorial Residence Programme, London, UK; Western Front Society, Vancouver, Canada; and Arts Council England.
Categories
Tags