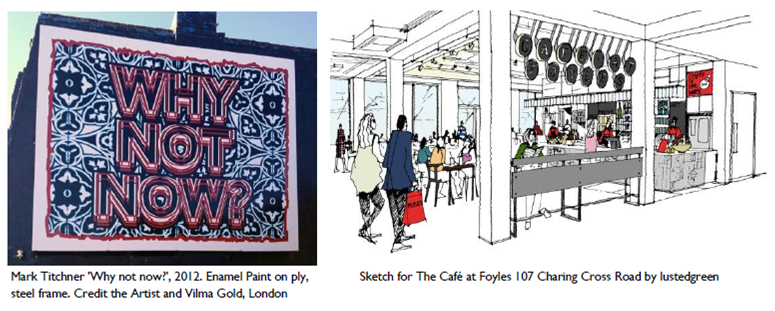 Turner Prize nominee, Mark Titchner, will be the first artist to exhibit in The Gallery at Foyles, when the new flagship bookshop opens in London in June. Foyles has also announced today, Thursday 22nd May 2014, that Futurecity has been appointed lead curator and gallery director for the 1,300 sqft exhibition space on the fifth level of the bookshop.
The new Foyles bookshop, at 107 Charing Cross Road, is just a step away from its current location and will open early in June. Formerly home to Central Saint Martins, the building has been re-designed by architects Lifschutz Davidson Sandilands as 'a bookshop for the 21st century', spread across eight alternating foot-plates over four floors, with a full height central atrium.
Titchner, an alumnus of Central Saint Martins, describes his art as 'a dialogue about how you receive thought and ideas'. Renowned for incorporating found text into his artworks, it would be hard to find a better candidate for the first show in The Gallery at Foyles. As a student in the 1990s, Titchner's painting studio used to exist on the same floor. He will now create a new site-specific artwork for Foyles which will directly relate to the rich cultural history of the building. The exhibition will open on Tuesday 24th June.
The ongoing Foyles Gallery programme, curated by Futurecity, will consist of a series of exhibitions for 2014–15, concentrating on high-profile, contemporary art exhibitions, talks and events, which will draw inspiration from Foyles extraordinary literary, musical and cultural offer.
Mark Davy, Director of Futurecity, comments:
"This 'gallery of the word' will be the first of its kind in London, promisingexciting conversations and collaborations between artists, writers and other creative disciplines inside Foyles flagship store."
The first Gallery at Foyles was opened by founders of the business William and Gilbert Foyle in 1930. Since the old shop was refurbished, in 2004, the Gallery at Foyles has played host to a constant programme of exhibition and events in partnership with publishers, authors and illustrators.
The opening of the new shop will be celebrated by the Foyles Grand Opening Festival from Wednesday 11th June – Friday 4th July 2014. During this time Jarvis Cocker will open the new Music department on Thursday 12th June, Grayson Perry will open the new Art department on Monday 16th June.
www.foyles.co.uk
www.marktitchnerstudio.com
futurecity.co.uk
Categories
Tags