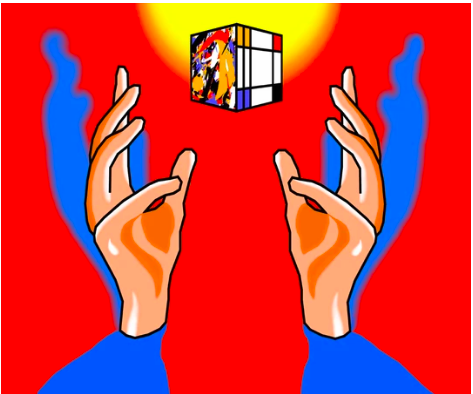 Duggie Fields Twist of Faith 2020 Print Edition of 5
A new online art shop, Vide Atelier, supported by Fair Trade Art certification has launched in response to the devastating effect of the COVID-19 pandemic on artists' livelihoods and income.
Supported by DACS, Marcel for Art and Verisart, all limited edition prints sold will return all profits to participants, with zero (0%) commission deducted. The first 25 artists include Mark Titchner,Duggie Fields, Faisal Abdu'allah, Penny Slinger, Sarah Staton, Derek Boshier, Ori Gersht, Gideon Rubin, Franklyn Rodgers and more.
Each edition will be certified using Verisart's Fair Trade Art certificates giving buyers trusted provenance information and artists assurance and transparency about each sale. Every transaction is recorded permanently with blockchain technology.
"We are delighted to support this artist-led project and to launch the Fair Trade Art certificate designed to help buyers know the direct beneficiaries of a sale. At a time of unprecedented challenge, we believe people will seek out initiatives that do good,"
said Robert Norton, founder and CEO of Verisart.
Vide Atelier is a collaboration between three organizations at the forefront of artists advocacy. DACS is the UK's leading artists rights organization, Marcel for Art, a free digital fine arts management platform co-founded by Ori Gersht and Verisart, the market leader in blockchain verification for contemporary art.
The online platform aims not only to help sustain artists' practices during the pandemic, but also going forward. Traditional mechanisms of sale and exhibition are thrown into an uncertain and potentially enduring pause. The UK art market, although adapting to its new reality, is faced with a long and unpredictable road to recovery.
Every six weeks new artists and editions, nominated by participating artists, will be added to the program. This will give artists at all career stages access to the platform.
"82% of artists have had projects cancelled, yet, we are relying on creative content more than ever to stay happy and well. Many artists will, however, fall through the cracks of Government support. We wanted to do something that acknowledges the value of artistic work, and ensures artists are paid for it,"
said Gilane Tawadros, Chief Executive of DACS.
Prints will be made by Ori Gersht, in his own studio, using the same quality materials as in his own work. The Vide Atelier project is powered by Marcel's artist-specific technology. Prints will be available in three edition sizes and price points.
However many editions the artist chooses, the aim is to make artists £2,500 each.
videatelier.org
Categories
Tags