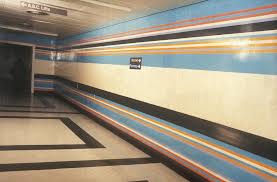 Bridget Riley, the internationally recognised British artist, has completed a spectacular new mural, her first and largest for 27 years, at St Mary's Hospital, London.
The mural, measuring 56 metres long, was commissioned by Imperial College Healthcare Charity Art Collection for the 10th floor of the Queen Elizabeth the Queen Mother building of St Mary's.
This work joins two others for the 8th and 9th floors completed by Bridget Riley for the hospital over twenty years ago, making this a permanent showcase destination for the artist, on a par with the Chapelle du Rosaire in Vence conceived by Henri Matisse, an artist which Riley reveres.
With their saturated colours and flowing, rhythmic stripes, these murals are painted directly onto the hospital walls, bringing vibrancy to the clinical environment and transforming the experience of the space in the hospital, for patients, staff and visitors.
Bridget Riley's wall paintings have been created for major art institutions internationally including Tate, the Musée d'Art Moderne de la Ville de Paris and the National Gallery, London, but none have been permanent.
Bridget Riley said: "This new hospital commission which I am so delighted to have been given does not have quite the same objectives as my other wall works- those are composed or drawn for specific sites /or walls of a particular dimension where they will be seen and looked at in a way that is very much part of my intention. The hospital corridors are different, they embrace the whole space: they aim to lift the spirits and to remind one of life outside the hospital, while in no way interfering with the essential activities of the hospital as it goes about its business.
They also have my work in a unit called the Trauma Unit. This means a lot to me because the doctors and nurses want it and it reminds patients that theirs is a transitory state, that they are there to recover and re-join life – that life goes on, and life is outside-and they feel reassured.
In each of the three hospital corridors the colours and their organisation provide an undemanding presence to which no one needs to pay any direct attention and which can support any number of notices, directions and fire extinguishers. "
Rosemary Harris, Curator of the Imperial College Healthcare Charity Art Collection said:
"The hospital is privileged to have the commitment of such a great artist to create these really wonderful works which have transformed the clinical environment into an uplifting and beautiful place for everyone to enjoy."
About the Bridget Riley Commission:
In 1987 Riley was commissioned by the architect John Weeks to create two murals on the 8th and 9th floors of the Queen Elizabeth the Queen Mother building at St Mary's Hospital. They take inspiration from a visit she made to Egypt in the early 1980s, and echo the fixed colour palettes and decorative style of architectural painting used by the ancient Egyptians. For 3000 years they drew from only seven colours – turquoise, blue, red, yellow, green, black and white – bright, flat colours that give light and create a strong sense of visual unity. Riley has described how creating a decoration, rather than a painting, requires a more passive rhythm and arrangement of colour and lines, anticipating the movement of a person walking through a building space and absorbing the design, rather than looking directly at a canvas.
www.imperialcharity.org.uk/art-collections
About the Imperial College Healthcare Charity Art Collection:
From time to time Imperial College Healthcare Charity Art Collection commissions artists to create conceptually and physically integrated site specific art works to enhance the healing environment. Notable others commissions at St Mary's include Julian Opie's Lindo Wing installation, and Ron Haselden's light sculpture. Part of Imperial College Healthcare Charity, an independent charity that raises money for the five London hospitals that make up Imperial College Healthcare NHS Trust, it manages more than 1,600 works of art on display across five sites.
Categories
Tags