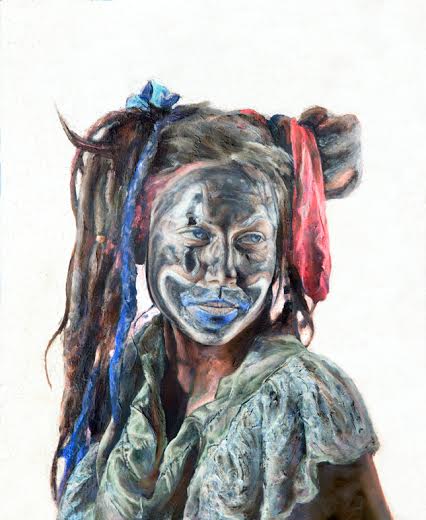 Artists Anonymous, Unicorn or Coincidence
NEW YORK, NY — Jonathan LeVine Gallery is pleased to present Old Game New, new works and a site-specific installation by Artists Anonymous—a collective based in London and Berlin—in what will be their first solo exhibition with the gallery and the inauguration of Jonathan LeVine Gallery's second space, located on the ground floor of 557 West 23rd Street in Chelsea.
Artists Anonymous create multimedia work, painting, sculpture and photography. Their unique process involves an unusual technique of painting photorealistic subjects with inverted color values (resembling a negative image), then photographing the painting and reproducing it in reverse—resulting in a positive. The photographic print is referred to as an afterimage and it is exhibited along with the original painting.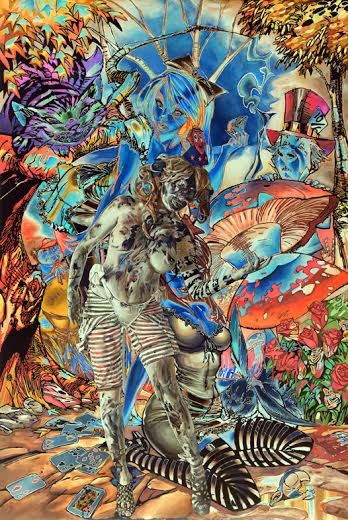 Artists Anonymous, Old Game New Mail
Informed by Beuys' concept of social sculpture, Artists Anonymous' elaborate site-specific installations are often participatory. For Old Game New, they will transform the gallery intoan immersive environment resembling a life-sized pop-up book. The walls and floor will be covered in the artists' inverted imagery, expanding beyond the surface into the space with two-dimensional cut out structures inspired by classic novels Alice in Wonderland and Through the Looking Glass. The viewer's interactive experience will be further enhanced by a video component in which a live feed of the space will appear on a monitor in the negative.Visitors will see ghostly negative versions of themselves, while the video reverses their surrounding inverted environment into the positive.
Complex, provocative and experimental, the work of Artists Anonymous challenges perception, interpretation and comprehension. In a perplexing combination of disturbing subject matter and nightmarish psychedelic colors, their nude or partially nude figures wear clown make-up, fetish costumes or other forms of disguise. Their kaleidoscopic backgrounds are layered in pop-iconography, humor and eroticism. When mirrored and doubled in positive and negative, an intense dichotomy is born—symbolic of all opposing elements: male and female, light and dark, good and evil, human and animal, civil and deviant. Artists Anonymous' unusual application of mediums has a transformative effect on their imagery, like an X-ray revealing internal truths, concealed or unknown yet invisible to the naked eye.
ABOUT THE ARTIST
Artists Anonymous (AA) is a collective based in Berlin and London, founded in 2001 while the members were studying at University of the Arts in Berlin. The anonymity of AA allows the viewer to experience their work without consideration for the identity of the artist. One member of the group, Maya van Malden, acts as their spokesperson. In 2006, Charles Saatchi acquired a diptych from their Apocalyptic Warriors series. Works by Artists Anonymous are included in a number of major public and private collections including Rubell Family (Miami), Richard Massey Foundation (New York), Carmen Buqueras (Madrid), Doron Sabag (Israel), Drake (Netherlands), Anita Zabludowicz (London) and Deutsche Bank (London).
ABOUT JONATHAN LEVINE GALLERY
Jonathan LeVine Gallery is committed to new and cutting edge art. Our roots go back to 1995, when Jonathan's life-long participation in punk and underground music grew into a curatorial experiment with the visual culture that surrounded him. We moved to Chelsea in 2005, with an eye towards honoring and connecting with the history and context of Post War art. We contribute to the dialogue by challenging the conventions of the canon – exploring the terrain of the high/low and everything in between.
Jonathan LeVine Gallery is located at 529 West 20th Street and 557C West 23rd Street, New York, NY 10011.
For more info visit: jonathanlevinegallery.com
To find out more about Artists Anonymous go: HERE
Categories
Tags