Mr. & Mrs. Philip Cath in their studio London Self Portrait
Exhibition: 2nd-24th May 2014, Londonewcastle Project Space
The shortlist for the Catlin Art Prize 2014 has been announced today. Now in its eighth year, the Catlin Art Prize is a curated exhibition featuring artists selected from The Catlin Guide 2014.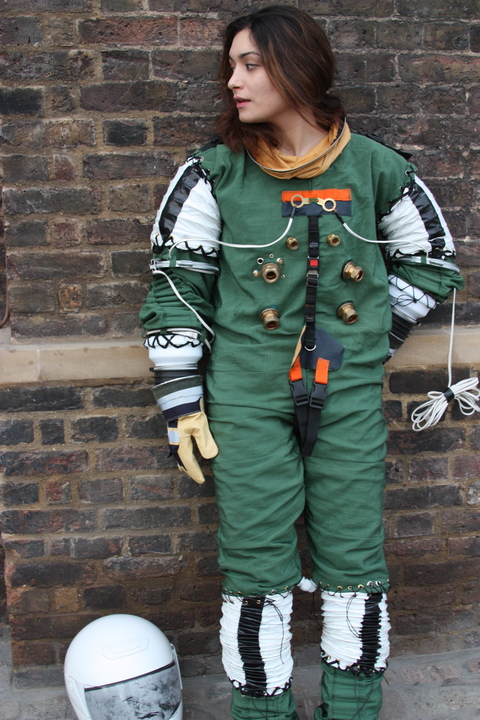 Sarah Fortais at Central St Martins, London, February 2012, image courtesy the artist
The 2014 Catlin Art Prize finalists are: Mr. & Mrs. Philip Cath (Goldsmiths), Sarah Fortais (Central Saint Martins), Virgile Ittah (Royal College of Art), Lara Morrell (Central Saint Martins), Neil Raitt (Royal College of Art), Dennis J. Reinmüller (Edinburgh College of Art), and Jakob Rowlinson (The Ruskin School of Drawing and Fine Art).
This annual event is now firmly established as a vital showcase of brand new work by recent graduate and postgraduate artists, each chosen for their potential to make a significant impact on the art world. Held approximately 12 months on from their final year shows, it provides an opportunity for artists to demonstrate progress made during the crucial first year after art school. The Catlin Art Prize is unique in implementing this framework, providing mentoring and production assistance to encourage ambitious new projects. It is this support that distinguishes the Catlin Art Prize from other survey shows and prizes.
Finalists are selected from The Catlin Guide 2014, a limited edition publication, widely recognised as the essential reference for collectors of emerging artists.
Justin Hammond, Art Catlin curator, comments:
"I'm inspired by the sense of conviction shared by this year's shortlist. While there's talk of a diminishing pool of talent in our art schools, this particular group have new and interesting things to say. They're free of commercial constraints and deserving of this platform."
A panel of judges will award one artist with a prize of £5,000 at a private ceremony on 14th May. This year's panel will include Turner Prize winner Mark Wallinger. The public will also have their say, with the winner of the Visitor Vote awarded £2,000. Votes will be cast via a ballot box at the Londononewcastle Project Space.
Many previous Catlin Art Prize finalists are building successful careers nationally and internationally. Leah Capaldi, a 2011 finalist now represented by Vitrine Gallery, went on to exhibit as part of New Contemporaries and complete a residency at the Zabludowicz Collection. She recently won the Sculpture category in The Arts Foundation Awards.
Since taking part in the Catlin Art Prize 2012, Jonny Briggs has exhibited at The Photographers' Gallery, Jerwood Space and Simon Oldfield Gallery. His solo show Monstrares has just opened at Julie Meneret, New York.
Catlin Art Prize 2014 Londonewcastle Project Space 28 Redchurch Street London E2 7DP
artcatlin.com Preview 1st May 6-9pm
2nd-24th May 11-6pm daily Sundays noon-4
About
The Catlin Art Prize. Now entering its eighth year, the Catlin Art Prize is an annual event showcasing the most promising art school graduates one year on from their degree exhibitions. The Prize is unique in providing the artists with the time and opportunity to develop their practice, encouraging them to demonstrate their progress by producing a new body of work to be exhibited in May. The selected artists are taken from The Catlin Guide and are considered to be producing work of an outstanding quality which demonstrates their capacity to make a significant mark in the art world during the next decade. www.artcatlin.com

Categories
Tags