About
The Signature Art Prize is the only award of its kind that draws attention to emerging artist's unique perspective, championing their signature themes and aesthetic – and as such the prize is only open to current students and artist who graduated within the last 3 years.
Founded in 2007, the celebrated Signature Art Prize presents a fresh and exciting award for the most promising emerging artists of today. The competition invites artists worldwide to apply for a chance to win one of four £1,000.00 cash prizes, representation with DegreeArt, future exhibition opportunities and artistic support, as well as gifts from the prize sponsors.
Following the huge success of the awards in 2011, the Signature Art Prize returned in 2012 with the added attraction of cash prizes as well as an opening gala held within a pop-up gallery space in Spitalfield's Market, and we are now returning again for the 7th year to host the Signature Art Prize 2013/14.
All entries are reviewed by an esteemed panel of industry judges, and shortlisted artists exhibit at the awards night, followed by an extended one-month exhibition at DegreeArt's Execution Room in the cultural hub of Vyner St, East London
The Signature Art Prize is administered by DegreeArt.com, the UK leader in graduate art representation, showcasing emerging art online, providing collectors with access to original art and supporting recently graduated artists all over the world.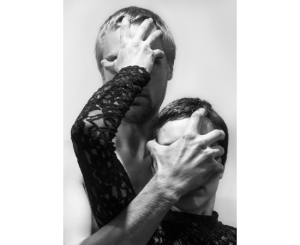 WINNER : PHOTOGRAPHY : TUGBA SIMSEK
Can you tell us more about your work and what are the main ideas you would like to express?
We made this piece together with my partner Hendryk Claussen, when we arrived in Cardiff for my exchange year. It reflects more or less our relationship and the relationship of other people in general. Even though our starting point was a pretty simple one – Hendryk liked how my face completely fit into his hand and wanted to capture that – in the end it turned out to be a lot more. Now it speaks about holding on to something that might be harming you and the individual's identity in a relationship
How do you start the process of making work?
Our work often starts with some simple or funny recognition – often about ourselves – that we want to capture somehow. I try to work in a narrative way and I also try not to lose my spontaneity.
Do you consider the viewer? 
No. We haven' t considered the viewer at the beginning. The viewer and the different meanings what "Halt mich!" might be, came later. It was during the time when we already have the picture and thought about the framing and hanging.
Why do you choose photography as your medium?
We have chosen the medium to fit the intention and the visual idea. In this case photography was the obvious choice, maybe next time it could be video, drawing, installation or performance.
What defines something as a work of art?
It needs to be seen as art, either by the maker or by the viewer. Or if your heart beats higher- and you feel something special or different. A sensitive moment!
Name three artists that have inspired your work?
Lotte Lindner & Till Steinbrenner, Christian Retschlag and one of my favorite artist I know at the moment Michael Lucero.
What does it mean to you to have won the 'people's choice' award this year?
It was the first time that I joined a competition like that. Firstly I try to send the link of our photography to my closest friends. Afterwards I asked myself a question: "Who really wants you to win? Who is on your side and who will be with you till the end of this strange competition? Who is your real friend and not just a unnecessary "Facebook friend"? It was in some way my challenge so I started to ask all my "Facebook friends" to like and share the photography. Some of them did what I said, they wished me luck and motivated me! That was an amazing feeling! THANKS TO ALL OF THEM!
Other "friends" asked me what I am doing and that they will not  "like" it. Some were persons where I thought that they will help me to reach my aim. But they didn' t. It was good for myself to  make again a difference between a friend and a friend! That was what I want from the beginning."My personal challenge!"
Another topic is that getting facebook likes is not at all about good art or about the viewer's opinion, but about how many facebook friends you have and how much effort they and you put into advertising your piece. Even if you are not in facebook, when you have some good friends to help you, you can simply manage such a thing.
Thanks to my cousine from Germany, to my flat-mate Ieva from Spain and to Sheru from Liverpool. When I gave up they motivated me again and again. EXTRA THANKS TO YOU and to all the others! I think we have done a good job all together! The feeling was incredible. CHEERS!
SCULPTURE : WINNER : HOLLIE MACKENZIE
How does it feel to win the 'people's choice' award twice in a row?
The opportunity to be involved in DegreeArt's Signature Art Prize is a privilege and even more of an honour to receive the 'Peoples' Choice' award again for a second year running. The Signature Art Prize is a fantastic chance for graduates to get recognition after university and as a MA student this time round, it feels delightful and reassuring to know all your hard work throughout the year before is finally paying off.
Can you tell us more about your work and what are the main ideas you would like to express?
I explore the notion of the impossible Utopia by creating my own version of a dystopian landscape in the form of melting sculptures and installations, encouraging the viewer to interpret this deviant reality and its proximity to the world we live in. By doing this I aim to provoke debate around the unattainable within our society. My current artistic project is a theoretical investigation into the deconstruction of Phallogocentrism; in which I propose to link Luce Irigaray's 'labial' language of difference to Gilles Deleuze's rhizome-thought to form a potential 'labial/rhizomatic' way of thinking in critique of the Phallogocentric traditional image of thought. I have taken this notion of the traditional dogmatic thought-image to be one of masculine structures and the rhizome-thought as feminist in its resistance to this fundamentally patriarchal thinking. In conveying this Utopian proposal through a theory of aesthetics, I suggest could be the starting point for the emancipation of feminine ways and means of expression. By merging together an artistic practice and a philosophy of art and aesthetics, I aim to create both scholarly work and artistic encounters that convey this feminist philosophy of 'labial' art-politics in order to explore Utopian ideals and change through artistic expression.
How do you start the process of making work?
I begin my feminist artistic resistance by sculpting into a material that could be considered as masculine. Writing myself (Cixous, 1976: 875) within the wood I perform my feminist resistance against masculine structures and let the drips form through the carving motions. As a fundamentally masculine labour, I assume my position as sculptor and combine it with my identity as a woman. Only then can one recreate masculine labours as feminine and begin women's journey to full emancipation and a purely egalitarian society.
Do you consider the viewer?
I aim to potentially provoke a difference within the viewer's thought-image which could rupture the binary traditional positioning of their perception and open up a creative perspective which could be the revolutionary key in order to transgress the traditional phallocentric limits and explore the possibility of a rhizomatic/labial way of thinking.
Where do you envisage your works to be shown? Within an institutional space or as autonomous works of art for aesthetic value, in a home, for example?
I propose that it be exhibited within an institutional space in order to benefit the perception and involvement of a wider public. Also, the space to be approximately twenty by twenty foot or bigger in order for the sculpture to be successfully perceived. Wherever the sculpture is exhibited it will say the same statement about the impossibility of a female language within patriarchal social structures.
What has drawn you to the paradoxical notion of utopia and dystopia in 'Downfall'? And again the paradox of the opposition sexes in 'Breakthrough'?
As a Utopian proposal; my sculptures are artistic expressions of a desire and call for a different kind of world which uses two separate, but equal, female and male symbolic, language and social structures. As seen in Breakthrough: the One side presents linear phallogocentric drips symbolising the phallic construction of sameness and the 'one truth', and the Other side contrasts this with the multiple differing 'labial' drips symbolising 'a thousand tiny sexes'. These drips melting in different directions could appear as though they are resisting the gravity of this world in a desire for a different kind of gravity.
What defines something as a work of art?
I believe in Deleuze's ontological account of what constitutes art. As a philosopher of vital continuity, Deleuze does not obey any divisions between sense, judgement, truth, and the transcendental law of appearance. He critiques the traditional dogmatic image of thought and instead favours a form of rhizomatic thinking oriented toward the possibilities of pure difference. In several works, Deleuze argues that thinking difference in itself could be presented as an artistic encounter. Deleuze says a fundamental encounter is 'something in the world that forces us to think' beyond our dogmatic habits of mind and the primary characteristic of such an encounter is aesthetic to the extent that 'it can only be sensed' (1968: 139). Art according to Deleuze, therefore, is an encounter with the possibility of experiencing the world differently.
What is your favourite London Art Gallery?
TATE because they are doing radical things with creative learning. It is by creative learning that we can resist the dogmatic dualistic traditional phallocentric image of thought.
Which has been your favourite exhibition of your work so far and why?
I have three favourites for different reasons: the most recent exhibition being The Winter Pride Arts Award 2014 at Tobacco Dock Victorian Vaults for the opportunity to be involved in the first Winter Pride UK Art Awards, as the Winter Pride's UK LGBT Luminary of the Year, Stephen Fry says, 'Artistic and cultural events of this kind are so important for the well-being of the LGBT community'. It was a privilege and even more of an honour to receive the award. My second favourite was a commissioned solo exhibition for the Matter, Life and Resistance conference at the University of Kent Canterbury. As this two day event attracted a diverse range of people interested in the talks on resistance similar to my area of research. And my other favourite has to be Zealous X at The Bargehouse, Oxo Tower on Southbank because the venue created a perfect setting for all Downfall, Breakthrough and Encounter.
Categories
Tags