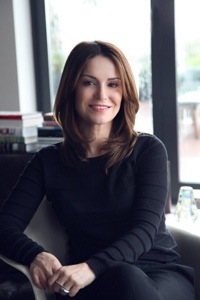 Another one off FAD's occasional interviews with the people changing the very fabric of the art world , up now is Maria Raposo Managing director at Kids of Dada.
To catch all of FAD's interviews with industry leaders from the Art/Tech field please follow this link: bit.ly/Ximzho
1 Maria who are you? How did you end up in London running Kids of Dada?
Truth be told, I moved from Canada to London after falling in love with a British man. I come from a background of advertising and hi tech – working for global firms like TBWA Advertising. However art has always been a huge part of my life and it's great to have it as central part of my day.
I got the idea for Kids of Dada several years ago. I wanted to buy art for my partner – I'm used to buying everything online, in North America people even buy cars off the internet. I was surprised by how difficult it was to find user-friendly sites with curated collections, showcasing lesser known but arresting artworks. Many sites seem to act more like marketplaces or warehouses; it was overwhelming.
After being totally frustrated, I did some research and realized that more and more people are buying art online. So I thought, why not create a user-friendly online gallery that specializes in emerging art?
2 What is Kids of Dada? How does it differ from all the other online art platforms?
What makes us different is that we are a cultural hub that brings together art and fashion in a curated environment. We never wanted to be a traditional gallery, we want to be accessible and create a community where everyone can celebrate art.
3 Who else is on the Kids of Dada Team?
The team is made up of a mixture of people with backgrounds in art and technology. As a collective we've worked with high profile galleries from London's ICA to Tokyo's Mori Arts Center. We've graduated from Ivy League schools and institutions like University of Toronto and Goldsmiths. Most importantly, we're all independent thinkers who are committed to doing things differently.
4 You have soon to launch a Fashion section can you tell us what this will be?
We've been working with emerging artists to produce special art-fashion collaborations. Starting with a range of limited edition t-shirts, our goal is to reinvent the classic t-shirt, creating individual pieces that you couldn't just find anywhere.
Art is important to us. It's about people being able to express their individuality and support emerging artists without spending a small fortune. Our plan is to launch a new collection of wearable art every few months – we want people to come back to KOD and discover something new each time they visit us.
To complement our collaborations we're also using our Fashion section to promote other independent designers. Working with niche brands with a fresh approach.
5 Kids of Dada already seems set up for global sales where do you get most orders from at the moment?
At the moment, our orders are equally divided between the UK and the US.
6 Kids of Dada already runs 'real world' events do you think it is important to straddle the worlds of 'real' and online? I think you have to. More and more people are comfortable with shopping and communicating online but I think human beings need to actually touch something. The online world will never eliminate the bricks and mortar experience – they compliment each other.
7 Are you excited by the possibilities the advancement of technology can bring to the art world?
I'm really excited. Art is one of the last creative industries to fully embrace technology and get online. The digital revolution has changed everyone's life. There's a lot of room in the art market to push innovation forward using technology to better engage a more diverse audience.
8 Content seems to play a big part on your platform; Are you a magazine that sells some art or a platform selling art with some content?
Creating a dialogue with our community is very important to us. We don't think the old-fashioned hard sell works as much anymore when you're trying to connect with people. Yes, we sell art and fashion but we start by having a conversation.
9 Do you prefer working directly with artists or via their galleries?
We enjoy both. We love meeting with individual artists – making studio visits and giving advice. But working with gallerists is completely different. Every gallery has a very particular perspective and it's always intriguing being invited into another vision of the art world and its future.
10 If you had $45,000 to spend on art who would you buy into?
There's nothing more exciting than discovering emerging artists. I would start by spending my hard cold $45,000 by buying into Eddie Peake and Oscar Murrillo.
Categories
Tags