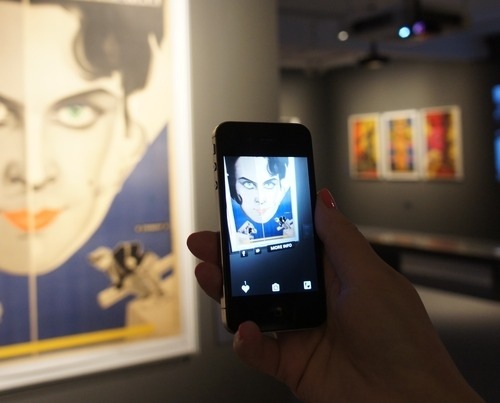 GRAD: Gallery for Russian Arts and Design are collaborating with Blippar, the augmented reality app, for their current exhibition KINO/FILM: Soviet Posters of the Silent Screen. This is the first time that the app has been used within an exhibition space by a UK gallery.
Using Blippar, visitors to KINO/FILM are able to experience an enhanced interactive experience created by GRAD's curatorial team. After downloading the free app onto a smart phone, visitors can transform their device into an exhibition audio guide, and by directing the phone at selected works further information on their historical and cultural background is displayed.
Visitors can listen to the GRAD curators' insights on the aesthetics and symbolism behind the rare poster designs and on the history of their commission and production; and learn how the cinematic innovations of 1920s filmmakers were reflected in the designers' visual vocabulary. Quotes from contemporary Soviet critics serve to illustrate the reception of the films and posters at the time and offer a further dimension to the discussion.
With Blippar users can share the artwork on Twitter and Facebook and buy reproductions of these striking posters at the GRAD shop. For international visitors who may be unable to visit the exhibition, all of the sound bites are available online on GRAD's SoundCloud account, adding to the gallery's ever-expanding archive of academic and educational resources. https://soundcloud.com/grad-london
Elena Sudakova, Director of GRAD says:
"GRAD's exhibitions are underpinned by extensive academic research and Blippar has proved a successful platform through which to share this research in a concise and digestible way. We are very excited to work with the app in communicating to visitors the fascinating histories and individual stories behind the posters and films currently on display at the gallery. Digital media is constantly gaining in breadth and importance and we are keen to utilise its benefits to engage with our visitors. The app brings a new dimension to the show and helps to bring to life these dynamic designs."
Jess Butcher, CMO and Co-Founder of Blippar added:
"Blippar is excited to be working with GRAD on such an innovative application of our technology and we are very excited to see the public's reaction. Image-recognition and augmented reality technologies offer up huge opportunities for the art world by enabling the 'unlocking' of physical art work with interactive experiences related to them, simply by looking at them through the device that's already in the visitor's pocket. We hope visitors enjoy the exciting interaction that 'blipping' will now enable at GRAD."
About GRAD
GRAD is an enterprising not-for-profit gallery exhibiting Russian art in central London, including rarely seen graphic arts and other works from Russian collections, as well as specially commissioned pieces. The gallery presents exhibitions in collaboration with international co-curators, accompanied by seminars dedicated to academic and curatorial developments in Russian Art studies from the early 20th Century to the present day.
About Blippar
A mobile app and cutting-edge platform to instantly unlock content and bring the physical world to life, Blippar™ enables brands and content owners to delight, inform and reward their audiences via their iOS, Android or Windows mobile devices. Since launching in the UK in 2011, Blippar™ has expanded rapidly, partnering with some of the biggest and most exciting brands and media owners in the world, including Condé Nast, Universal Pictures, Coca-Cola, Anheuser Busch, Jaguar, L'Oreal and TIME Inc..
About KINO/FILM
As the UK/Russia year of culture begins, the exhibition Kino/Film: Soviet Posters of the Silent Screen examines the golden age of Soviet film posters, and is co-curated by Elena Sudakova, director of GRAD, and film critic and art historian Lutz Becker. The 1920s saw the advent of new and radical graphic design created to advertise silent films across the Soviet Union. Film posters of this era have become masterpieces in their own right, produced at a time when innovative on-screen techniques were being incorporated into the design of advertisements. Some 30 works by the brothers Georgii and Vladimir Stenberg, Yakov Ruklevsky, Aleksandr Naumov, Mikhail Dlugach and Nikolai Prusakov, are on display.
KINO/FILM: Soviet Posters of the Silent Screen runs until 29th March 2014. The gallery opening hours are: Tue-Fri 11am–7pm, Sat 11am-5pm.
About Mark Westall