WILLIAM S. BURROUGHS 'Exhibit X' Silver and white acrylic spraypaint with gun and net stencils on card
58 x 44 cm, framed (1989)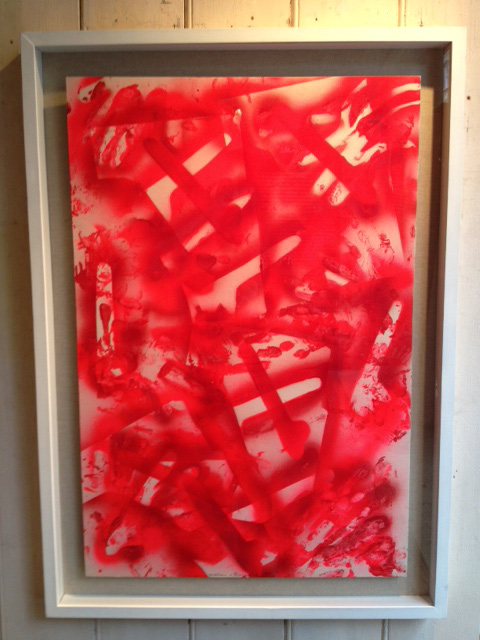 WILLIAM S. BURROUGHS 'Red Pricks' fluorescent spraypaint and stencils on illustration board (1989)
62 x 45 cm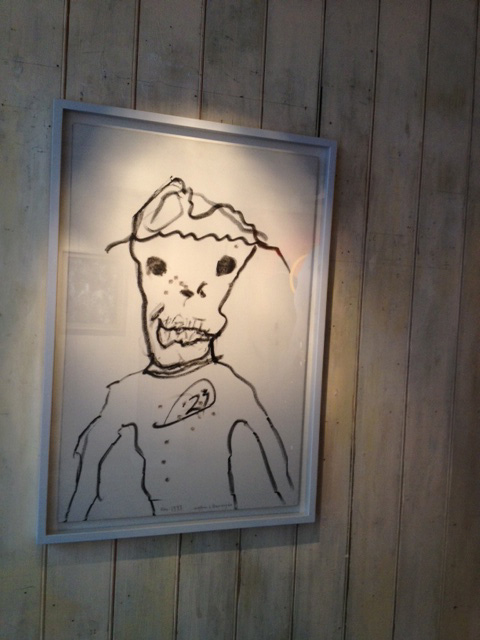 WILLIAM S. BURROUGHS 'Untitled' (23 Badge) with 23 bullet holes black felt marker on canvas (framed) (1993)
100 x 70 cm
Riflemaker 79 Beak Street W1F 9SU www.riflemaker.org
This is the latest display of William Burroughs' visual art at Riflemaker.
The exhibition celebrates what would have been the 100th birthday of the American novelist, short story writer, essayist, painter, sculptor and spoken word performer. The works on show at Riflemaker will include his paintings on illustration boards and manila folders, 'stencil' drawings, wooden board sculptures and photography. Just five minutes walk from Riflemaker the exhibition 'Taking Shots' (Burroughs' little known photography work) has just opened at the Photographer's Gallery in Ramillies Street.
About The Artist
William Seward Burroughs II (also known by his pen name William Lee; February 5, 1914 – August 2, 1997) was a primary figure of the Beat Generation and a major postmodernist author, he is considered to be "one of the most culturally influential, and innovative artists of the 20th century"

Burroughs' influence is considered to have affected a range of popular culture as well as literature. He published eighteen novels and novellas, six collections of short stories and four collections of essays. Five books have been published of his interviews and correspondences. He also collaborated on projects and recordings with numerous performers and musicians, and made many appearances in films.
Norman Mailer: "William Burroughs may be the only American writer who may be conceivably possessed by genius"
Categories
Tags