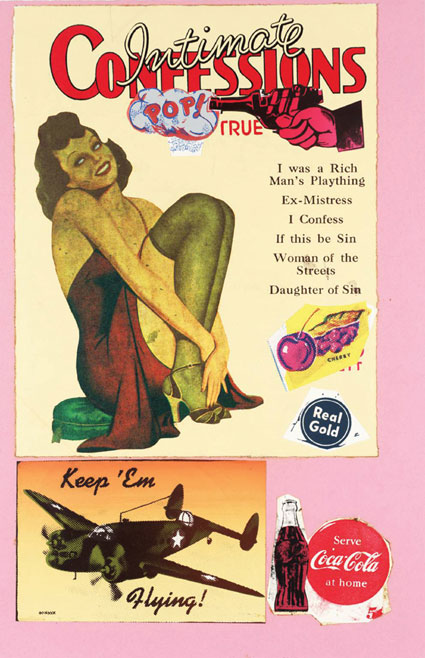 I was a richman's plaything Eduardo Paolozzi
18th February – 5th April 2014 A&D Gallery, 51 Chiltern Street, Marylebone, London, W1U6LY www.aanddgallery.com
Sixty years ago (1954) Lawrence Alloway curated a exhibition at the ICA entitled Collages and Objects, which featured the works of Picasso, Max Ernst and Eduardo Paolozzi. Two years earlier Paolozzi presented a selection of primitive collages and tear sheets to the "Young Group". That group would soon be known as the Independent Group, and despite the claims and denials, they would witness the birth of Pop-Art.
British Pop-Art, was the result of young artists embracing all that was colourful, modern and glamourous which, in the mid 20th Century, meant all things American. British Pop-Artists do not seem to have enjoyed the classification, and many have spent inordinate amounts of time distancing themselves from the movement, often to the detriment of their subsequent career.
This exhibition focuses on that first flush of joyous optimism. In the 70's Paolozzi published a facsimile portfolio of those original collages that he had presented to the "Young Group" including the first art work to use the word 'Pop' (I Was a Rich Man's Plaything). We are showing this plus other Paolozzi works; designs for his iconic Statue (Newton) that delights visitors to the British Library and images from his triumphant mosaic at Tottenham Court Rd Tube Station.
As well as previously un-exhibited original works by Richard Hamilton (another member of the Independent group), we have key examples of his pop imagery, including the poster and cover design for the Beatles. Infact, we pay a small tribute to Paul McCartney by showing various record covers he commissioned by Hamilton, Allen Jones, Eduardo Paolozzi and of course Peter Blake.
Allen Jones and Peter Blake are represented with other works in the exhibition. We are delighted to show Blake's recent work "I LOVE LONDON" which was initially launched at the A&D Gallery a few years ago. Other artists include Derek Boshier, Tom Phillips, and Patrick Hughes.
In Britain, Pop-Art had a unique impact on publishing, fashion, music, TV, and cinema. Perhaps it was the dispersal over the various media that lessened the effect that Pop Art had on Fine Art. But we did do it first, and we did some of it very well indeed. So celebrate it and as they said without irony in the 60's:
Buy British
Categories
Tags