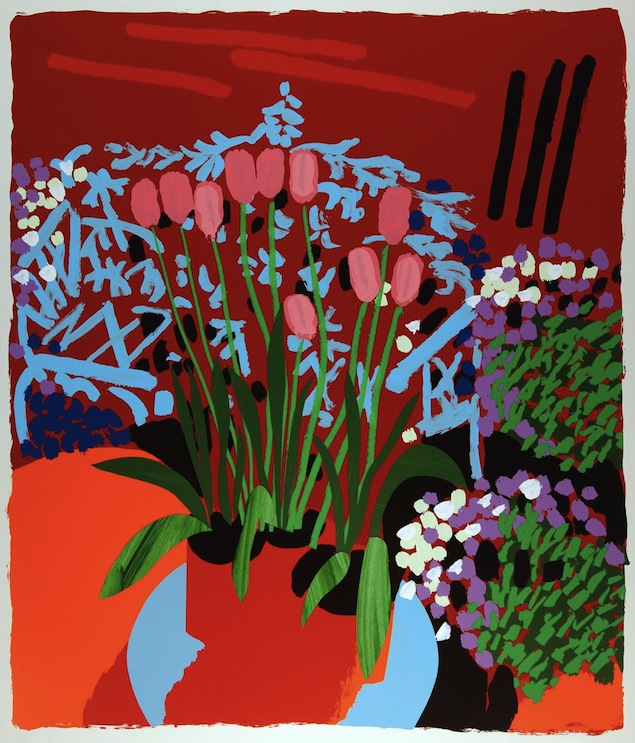 Tall Dutch Tulips – Bruce McLean
Bruce McLean, the 'no-nonsense' Scottish artist and major figure in contemporary British Art, studied at St Martin's School of Art, London, from 1961 to 1963. It was here that he and others rebelled against what appeared to be the formalist academicism of his teachers, including Anthony Caro and Phillip King. McLean retrospectively recounts 'twelve adult men with pipes walking around a sculpture for hours and mumbling.' In petition, from 1965 he abandoned conventional studio production in favour of transient sculptures using materials such as water, along with performances of a generally satirical nature that opposed the art world and its pompous stature. When in 1972 he was offered an exhibition at the Tate Gallery, he opted for a 'retrospective' he titled "King For a Day" which lasted only one day. In the run up to his new exhibition, 'Action Sculpture Potato Painting' at Bernard Jacobson Gallery (Private view today, Thursday 13th February) , Rise Art's Charlotte Broomfield sat down with Bruce to discuss his new project and what's wrong with art magazines today. Bruce's artwork is for sale on Rise Art.
1. Bruce, how has the art world changed since you emerged as a young artist from St Martins in 1966?
There seems to be more sculptors. Hundreds of people doing hundreds of shows – more people seemed to be artists when I was there. It seemed a lot smaller.
2. You've played a lot with sculpture. What with your 'paintings of paintings of photos of sculptures and paintings of overlapping paintings of sculptures and other studio equipment' which 'can be hung on walls (nothing un-sculptural about that)'!! How did this come about?
Well, because we were studying modern sculpture at St Martins we were encouraged to enquire and question the nature of sculpture, so if you're constantly taught to question then you start to do it. Why is it on the floor? Put it your pocket etcetera. I started to make a proposition of what sculpture could be. And that is what I'm still doing – I've done all sorts of other things such as film, live action and I'm still concerned with what sculpture can be – I work in painting which I call a sculpture.
3. What's your favourite Gallery?
It used to be the Museum Abteiberg of Mönchengladbach in Germany which is designed by Austrian architect Hans Hollein. Marvelous works were created – I saw the Johanne Cladders collection, A Fabulous Beuys, Warhols, Polkes, Richters, Twomblys.
4. 'Pink Cava Lilly' is one of those paintings of a sculpture. What's the thought process behind that?
Basically I was in my house in Spain and I was just sitting in the garden and my wife was gardening and I made a drawing out of what I saw.
5. Much of your work is of a satirical nature. How important is humour in your work?
Well, its not the only thing, a lot of people think humour is pinnacle to my work. In some pieces it is, but sometimes it isn't the fundamental element. I think that any artist that doesn't have a sense of humour isn't very intelligent and that doesn't make for a very good artist. In terms of attempting to try and find what a new sculpture can be – nothing can exist without humour but this being said, it's not always a fundamental in my work.
6. You want to create a publication about Art. What do you think current art magazines are lacking?
I think they're lacking writers who can respond to the works as opposed to curators. What I mean is that the magazine should be the work. The work could be the piece – like the Paris magazines of the 1940s and 50s – which had Picasso and were of inconceivable quality – something you can keep. These were incredibly beautiful publications. The photography and typography was brilliant, a lot of publications don't understand what good graphics are these days.
7. What are your thoughts on Creativity as a healing process?
If you look at something fabulous it makes you feel better. If you look at something terrible it can make you feel crap. Perhaps not physically but definitely emotionally. Hospitals can evoke awe and lift spirits by having more beautiful and energetic things around. As simple as when something looks great it makes you feel great if something looks shit it makes you feel like that, really.
Categories
Tags