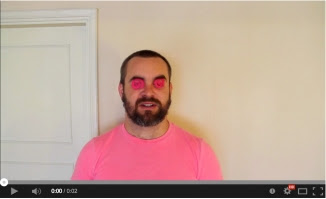 UK artist Bruce Asbestos has released a new series of 1000 videos on Youtube.
The videos range from the sublime and existentual "Who am I" to the ridiculous , "When was the last time you bought a DVD?",
As of yet Asbestos gives no firm reason for the video collection, other than wanting to
"See what happens when you give a lot to your audience".
All 1000 of the videos were released today 29th Jan 2014.
About The Artist
Asbestos' love of pop culture has been evident throughout all of his recent work – from colourful paintings of bears to a bevy of social media stunts, his Youtube channel, live performances and now 1000 YouTube videos.
Asbestos completed an MA in Fine Art with AHRC funding at Nottingham Trent University in 2012, which included a two-month scholarship at R.M.I.T, Melbourne. He has also studied at Musashino University on a scholarship in Tokyo in 2002 whilst on his BA in Fine Art at Nottingham Trent, and went on to setup Moot Gallery, My House Gallery and Trade Gallery.
To further underline his pop credentials Asbestos is currently filming the Social Media Takeaway Series 2 in Bangkok. The Social Media Takeaway is a bouncy and fast paced online TV show which includes interviews, music, stunts and performances with contributions from a range of artists that will re-launch in April this year.
www.youtube.com/bruceasbestos
Bruce lives and works in Nottingham, UK.
http://www.bruceasbestos.info
Categories
Tags