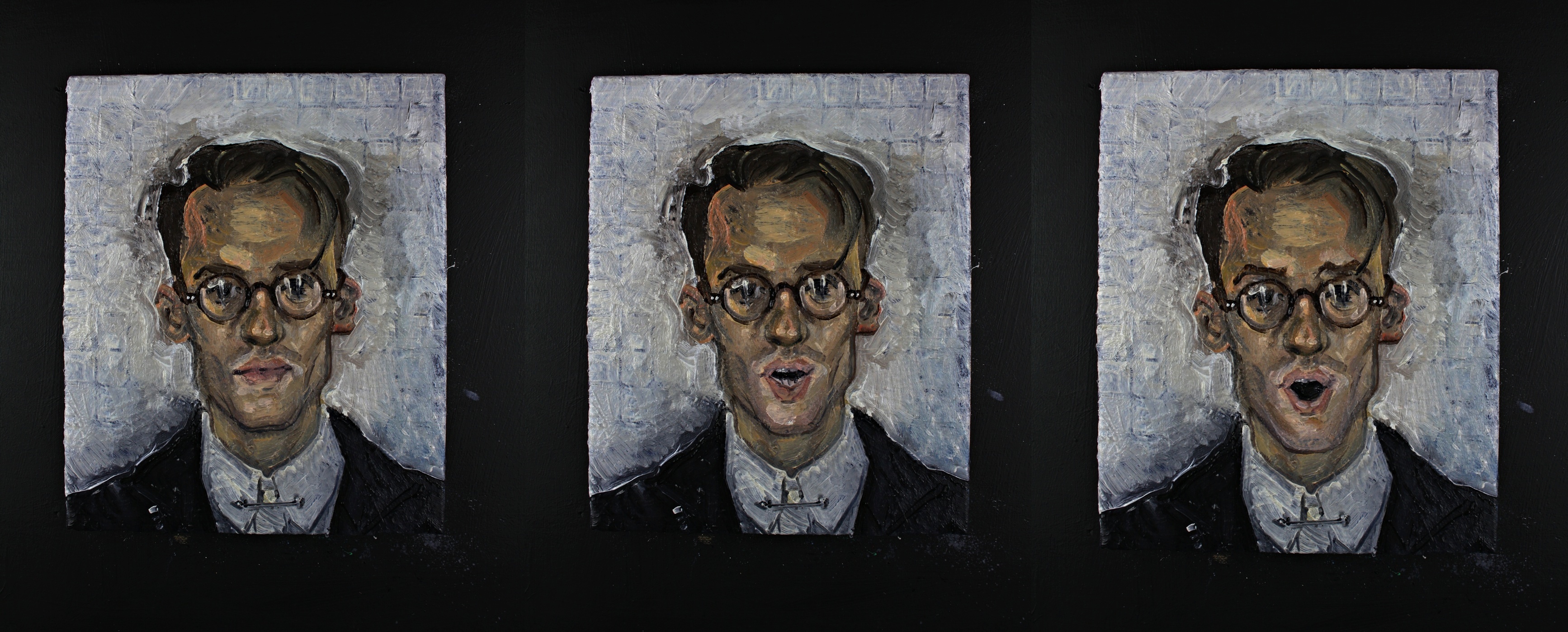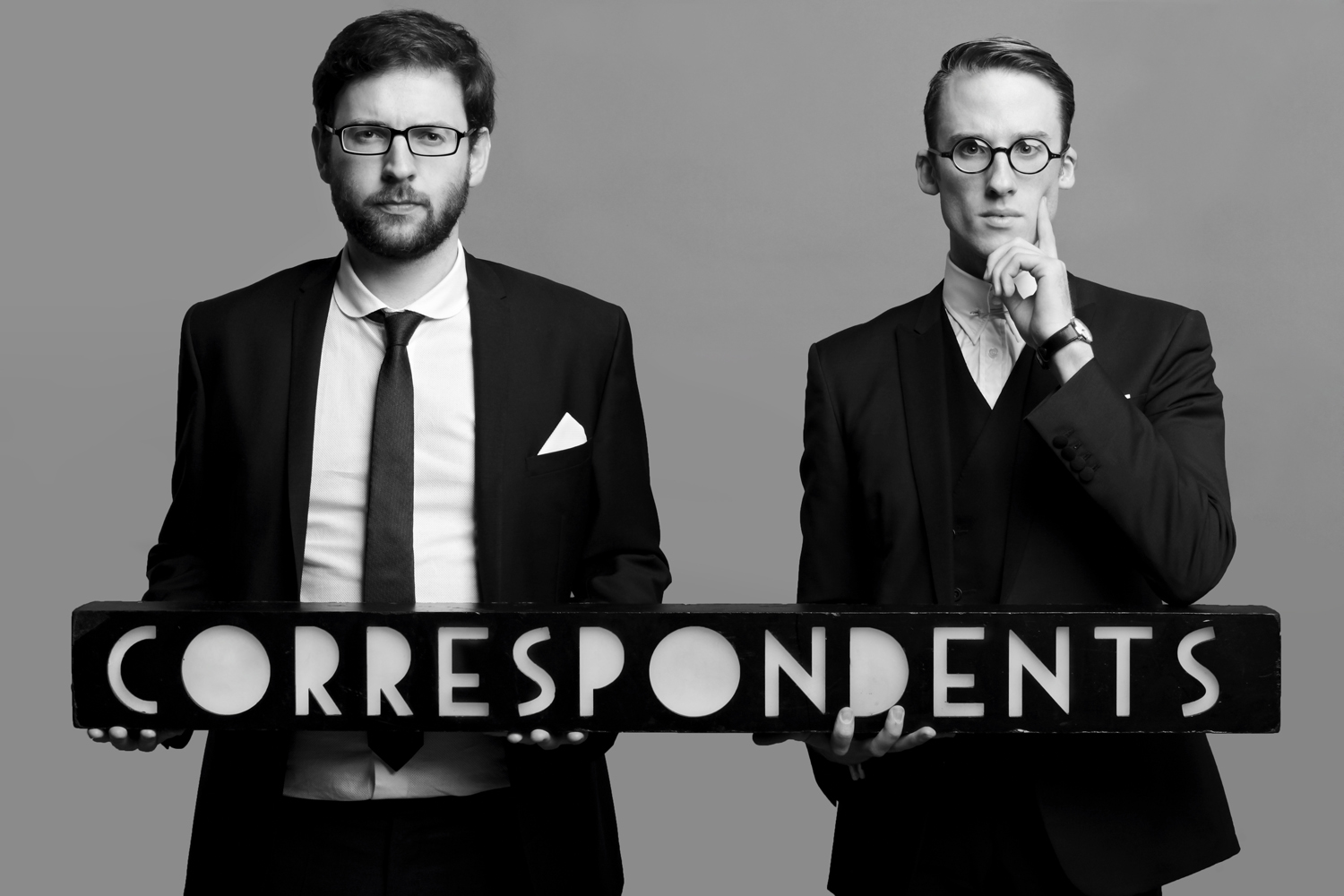 *Invite Only PREVIEW: Thursday 30th January 2014 6-9pm THE FIRST SCREENING: 7pm at BERLONI GALLERY 63 Margaret Street
London W1W 8SW www.berlonigallery.com
The Correspondents are releasing a track called Alarm Call on the 30th January 2014. They don't see it as a single release but rather as a multi-media project involving a painted animation and small campaign to raise awareness for Epilepsy Society.
Recent singles have seen the group developing their trademark sound of upbeat, genre-mashing alternative pop but Alarm Call is a more personal and poignant affair. It sees frontman Mr Bruce show the incredible range and tone of his voice and Chucks open out the production into a more orchestral sound with rattling drums and soaring synths.
For this track Mr Bruce has applied his skills as a visual artist and completed the ambitious task of representing himself and those closest to him growing up from infant to adult through time lapse painted portraits. The end result is a moving journey of lifetimes condensed into four minutes with stop motion sections that sync with the rolling drums and breaks of the track.
On the 30th January The Correspondents will be exhibiting the paintings and previewing the animation at a new contemporary art gallery called Berloni situated just off Regents Street. There will be complimentary cocktails brought to you by Drambuie and music delivered by our very own Chucks.
The video will launch on the same evening. The Correspondents hope to raise awareness for Epilepsy Society and all profits from the sale of Alarm Call (as a single track and on the album) will be donated.
Epilepsy Society
Epilepsy Society is the UK's leading provider of epilepsy services. Through our cutting edge research, awareness campaigns, information resources and expert care, we work for everyone affected by epilepsy in the UK.
The Correspondents are proud to announce the release of their next single, 'Alarm Call', this February via From Our Own.
From The Press Release:
The single is the second to be taken from their upcoming debut album, 'Puppet Loosely Strung', which is set for release in March 2014. 'Alarm Call' follows in the wake of the 'Fear and Delight' single, released to huge acclaim in 2013, but marks a change in direction for the charismatic duo.

While 'Fear and Delight' saw the group developing their trademark sound of upbeat, genre-mashing alternative pop, their new single is a more personal and poignant affair and sees frontman Mr Bruce show the incredible range and tone of his voice. The singer moves effortlessly between the bold, rousing chorus, before quasi- whispering the emotional mid-section: "I'm haunted by the sound of your alarm call" – this is goosebump-raising fare.

Both the 'Alarm Call' single and video aim to raise awareness for the Epilepsy Society, the largest UK medical charity specialising in the field of epilepsy, with all profits from the sales of the single donated to the cause.
The Correspondents occupy a curious position within the world of music. For the last four years they have toured relentlessly with an average of three gigs a week, they have travelled the world bringing their unique live show to crowds as large as 12,000 earning themselves Telegraph's 'Top Ten Glastonbury Highlights' two years in a row, but they haven't released an album until now.

This is not for a lack of making music, their live sets are constantly evolving as they leap through a multitude of genres tapping a history of dance music from jazz and blues to electro and drum 'n' bass. Producer Chucks and singer Mr Bruce have condensed this accumulation of musical knowledge into a body of music that they are finally satisfied with in their forthcoming album 'Puppet Loosely Strung'.

Telegraph – "For crowd atmosphere, energy and a burst of endorphins. The Correspondents won hands down. The band is made up of Chucks, a producer and DJ of extraordinary skill and Mr Bruce, the most charismatic frontman I watched all weekend…. Go and see them live if you can."

The new single is accompanied by an equally stunning video, which displays Mr Bruce's exceptional talent as a visual artist. The video for 'Fear and Delight' was honoured as part of the BBC Music Video Festival for the unforgettable effects on show, and the new one for 'Alarm Call' sees the group uphold their reputation for creating sensational visuals which act as the perfect complement to their unique music.

Made using a combination of time lapse and stop-motion techniques, Mr Bruce paints a series of layered portraits in oil, which show the singer himself growing from boy to man, as well as the changing faces of those close to him, including his bandmate, Chucks. Like the track, it is a moving artistic statement which cannot be forgotten in a hurry.

'Alarm Call' is a bold and emotional track, and proves The Correspondents to be ones to watch in 2014 – and only adds to the agonisingly exciting wait for their long overdue debut LP, 'Puppet Loosely Strung', released later in the year.
Categories
Tags