In preparation for their upcoming exhibition hosted by the Gazelli Art House Aziz + Cucher answered our questions about their works, old and new.
"TIME OF THE EMPRESS" 17th January – 9th March 2014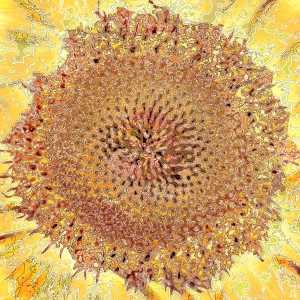 [ Scenapse Helios, c-print on edura metallic paper with diasec mount, 76 x 76cm, 2013]
[ Scenapse Field 12, c-print on edura metallic paper with diasec mount, 127 x 127cm, 2013 ]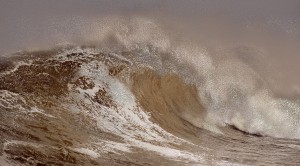 [ Scenapse Wave Copper, c-print on edura metallic paper with diasec mount, 81.2 x 152.4cm, 2013 ] 
Can you tell us more about your works, and what are the main ideas you would like to express?
Cucher: The exhibition brings together two bodies of work, connected around a certain idea of time and impermanance. One project involves animation drawings that are simultaneously a process of construction and disintegration. Dissolving and resolving. The notion of dissolving is very much present throughout the exhibition. In the second body of work [upstairs] there are more landscapes and photographs, but they are very manipulated so they are more like paintings. The image is in a constant state of flux. It exists to be kind of disappearing or dissolving.
Aziz: The works are a manifestation of all that stems from our ongoing interest in the role of technology and the way in which we perceive the world. Thats why the pixel is so prominently displayed within each artwork; we don't make an attempt to hide it or conceal it, we reveal it in order to bring it to the surface of the conversation around how we see nature, how we move through space and how we connect time.
How do you start the process of making work?
A + C: It starts with a conversation. And there is a third party artist between us who gathers the conversation; the discourse that we have established for many years now. There is an ongoing sycronicity between us. Together we decide what we should focus our energy, our time and resources on.
Do you ever argue or disagree, or has it become an organic process?
Cucher: We mostly agree, but tension is also good for resolution. I think if we disagreed to much, nothing would happen so there is more of an energy towards agreement, but ofcourse there are disagreements.
Aziz: We have such a level of respect for eachother
You highlight comparisons and paradoxes in your work – with androgyny in your earlier works, then humanity and digitalism, growth and deconstruction and contrasting cultures. Are these conscious decisions?
Aziz: It is not conscious, but in the editing process it becomes more conscious. We may just fall into something and there may be a set of paradoxes; we recognise them, isolate them and celebrate them because nothing is clearly delineated. There's this ambiguity we're after through paradox and that's how we understand the world, especially with the role of technology involved.
Cucher: We experience a paradoxical way of living, we are conscious of so many things that overlap, that are from different directions or from different points of view.
You have been considered to be pioneers of the digital age since your early works in the mid-90's, using digital manipulation, photoshop and retouching. Do you still consider yourselves at the forefront with you animated drawings and green-screen performances?
Aziz: Not in the same way as at the time of 'Dystopia'; there were just not alot of people from the art world embracing technology in a way that we were at that moment, and responding to the paradigm shift that was taking place in the mid-90's, really at the birth of the internet. But today there are so many more players, and so many innovators, so many tools, that what we're doing is just part of a much larger conversation.
Cucher: The technology is not so new anymore. It was new then, so it was easier to be 'pioneers'! I'm sure there are other technologies now that people who are younger than us are pioneering. In terms of what we do, I think I wouldn't call it so pioneering anymore. Hopefully there is a unique quality to what we do that isn't the same as others. We have an establishment of a certain aesthetic or a certain way of seeing that marks our work.
Why have you moved to video installation? Are you consistently trying to be first in a cultural shift or is it just that your working concepts have changed?
Cucher: I think we realised that the subject matter that we wanted to address, especially in the last 4 years during which we have been involved creating the video installations, required a different medium in order to express the layered meanings we wanted to bring into the work. So video seemed like the right medium for it. A photograph can only go so far in some ways.
Aziz: But at the time, 2o years ago, the iconic image, the iconography of photography, was something that we were very dedicated to; to unravelling meaning through a still image. But today we are no longer so interested in the icon in the same way.
Cucher: I don't think we follow a medium because of the medium, but how we can use it to express what we are after. The idea comes first, and then we can decide 'oh, this will look great as a sculpture, or as a video' or whatever.
What do you consider the most important or most prestigious medium?
A + Z: I don't think I want to give it hierarchy like that! It's all about how it's used and its poetic potential, and I think that can be found in all mediums: painting, sculpture, video, animation, performance, public art. There are so many genres to potentially exploit. I wouldn't categorize it.
What defines something as a work of art?
Aziz: Is this something you ask everybody?!
Cucher: There are so many things. It has to engage with you aesthetically, but it also has to exist within its own terms. So it has to kind of build the terms of its own appreciation, as opposed to something that is functional; that you appreciate due to its functionality. A work of art you appreciate due to observation, perception or even beauty, or a human experience that the work presents and helps you engage with.
Aziz: You could find poetics in design, in functional objects, but I think the difference is that there is a poetic force in art that remains within itself. It doesn't relate to any other function apart form the relationship to the object, it doesn't go beyond itself. It is the human condition that many people overlook when first coming into the art world; that art is self-referential, that it is for itself.
Your works have always been transgressive, but not necessarily easy to look at, such as the "Dystopia" series, but there is still an element of aesthetics there. In your art making do you think of the aesthetics first or the meaning behind the work? Can you imagine any of your works hung in a public space or in a home? 
Aziz: I think it is important to consider that. The context effects decisions when we are making each project.
Cucher: We hope always that the form will marry the content, and although the content always determines the form, we are artists, so we want the form to be beautiful. Even with things that seem difficult to look at there is also an idea of aesthetic experience.
Aziz: Which gets back to the paradoxical question you had before, about the attraction to look and perhaps the repulsion to look away. For example, there is always that very compelling, attractive urgency, but there is also something that might push you away and cause you to think about the work in a very different way. It becomes both this visual and intellectual engagement.
Cucher: To answer your other question, we think that there are works that belong more in the public – in institutions, and others that we don't think of as made for the home but could fit within the home more easily; the landscapes that we are showing here for example. But it is not something that happens in the beginning of the work, it happens later.
Aziz: We shouldn't also presuppose anything as we never know what people will want to live with or not want to live with. Context, content and form all go together in making decisions.
Do you find your works theatrical? Or sensational even? 
Aziz: There is an element of drawing from popular culture in some of our earlier works. Before there would have been an inclination to adopt that theatrical stance in order to form a critique around it. The works downstairs [animated drawings] are more mesmerising than sensational. It affects the senses in a very powerful way because of the quality of light, sound and all the aesthetic properties coming together.
The word 'sensational' has an element of taboo in the art world. 
Cucher: I agree. I guess our earlier work could be described as sensational, or provocative.
You group together your works into contrasting series that are all aesthetically different from eachother, but all share resonating issues, such as humanity, identity, technology and temporality. Do you each have a favourite? 
Aziz + Cucher: We do. I think we really love our 'interiors' series: the architecture made of skin. I think that we accomplished something there that was at a level of resolution of ideas and form that for us is at the top. It defied language in a way that we were very pleased with. It defied the power of description. The sensations you experience with the work are very complicated. So that stands as a favourite.
Which do you think are most popular with your audience? Do you have the audience in mind when you're making your works? 
Cucher: The 'Dystopia' series, the portraits with the blurred out faces, definitely resonate. They may not be the most popular but they're certainly the most published.
Aziz: I think they're popular, by the number of copies, by the number of fakes that you see online.
Cucher: Thats true. They hit a nerve in such a way that they continue to be compelling for alot of people.
Aziz: The number of requests for new publication that we receive today proves its popularity, even 20 years later. We are still being asked by publishers and writers. They're still writing about it, which I have to say is very gratifying for us as artists to know that work we made 20 years ago is still hitting the mark.
"Time of the Empress" by Aziz + Cucher opens on Friday 17th January at The Gazelli Art House, London
– Kimberley Brown
Categories
Tags