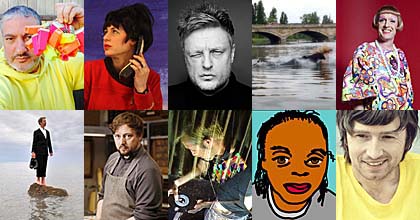 Throughout November and December 2013, museums and galleries across the UK have been coming up with a range of fantastic ideas, hoping to win one of ten leading contemporary artists to their venue to put on a unique and unusual event for Museums at Night 2014, the UK's annual late night festival of art, culture and heritage.
The artists have shortlisted their favourite ideas and now members of the public have just two weeks to decide which artist will go where. Voting goes live next week, Tuesday January 14th, and closes on Tuesday 28th January. You can vote for your favourite venue at: www.museumsatnight.org.uk
Museums at Night 2014 will take place from Thursday 15 – Saturday 17, 2014.
The shortlist is as follows:
Fred Deakin
As one half of the band Lemon Jelly, Fred Deakin has been Mercury Music Prize and Brit nominated and sold over half a million albums. In 1998 he co-founded London design agency Airside. Most recently he has created interactive art for France's national digital museum La Gaite Lyrique.
Deakin is proposing a day-glo game show party. The venues competing for Deakin are:
National Coal Mining Museum for England, Wakefield
Castle Drogo, Exeter
The Wilson (Cheltenham Art Gallery and Museum), Cheltenham
The Observatory Science Centre, Sussex
Alex Hartley
Alex Hartley is a British artist whose work addresses complicated and sometimes contradictory attitudes toward built environments and landscapes. His work explores the boundaries of photography, architecture and installation. Hartley came to the public attention during the summer of 2012 with Nowhereisland – a floating principality, which Hartley floated around the South West coast of England for the Cultural Olympiad.
For Museums at Night, Hartley is proposing to explore the different threads that bind a community together at one of these competing venues:
Surgeons' Hall Museum at The Royal College of Surgeons of Edinburgh
Berwick Gymnasium Gallery
Towneley Hall, Burnley
Market Hall Museum, Warwick
Janette Parris
With a focus on contemporary urban experience, English contemporary artist Janette Parris work encompasses narrative, humour working across a variety of media from performance and live music to cartoons and drawing. Emphasising the 'everyday' and the common experience, Parris's work often gives a humorous (or poignant) insight into the mundane nature of life. In 2010, Parris's animated video Talent was shown at Tate Britain's Rude Britannia exhibition and she her work has been shown all over the world.
For Museums at Night Parris is proposing to assemble a combination of characters and weave outrageously entertaining and largely fictional stories about the history of the objects on display at one of the following venues:
The New Art Gallery, Walsall
People's History Museum, Manchester
The Cardiff Story Museum, Cardiff
Weston Park Museum, Sheffield
Grayson Perry
Winner of the 2003 Turner Prize, Grayson Perry CBE uses the seductive qualities of ceramics and other art forms to make stealthy comments about societal injustices and hypocrisies, and to explore a variety of historical and contemporary themes. Perry is a great chronicler of contemporary life, drawing us in with affecting sentiment and nostalgia as well as fear and anger. His work has strong autobiographical references – to the artist's childhood, his family and his transvestite alter ego Claire. Earlier this year, Grayson was the first practicing artist to be invited by the BBC to give the Reith Lectures.
For Museums at Night, Grayson Perry will lend himself to the winning organisation "for them to do with him as they see fit." The venues competing for Perry are:
Freud Museum, London
York Museums Trust, York
Courtauld Gallery, London
Museum of Soho, London
Matt Pyke
Founder of digital art/design studio Universal Everything, Pyke creates vibrant digital artworks that stimulate visual reactions and amplify emotions. Playing with ideas of emergent life, anthropomorphism and the tension between abstract and figurative forms, Pyke's approach is led by materials, painting and sculpting as well as new technologies and formats including 3D printing, touch screens and large format video. Working in the Peak District National Park and London, a major solo show of new work is currently showing in Media Space, the Science Museum's new art and photography gallery.
Pyke will work with sound and vision to install an artwork triggered by visitor's voices at one of these venues:
National Football Museum, Manchester
National Museum of Scotland, Edinburgh
Museum of London
Brunel's ss Great Britain, Bristol
Rankin
Synonymous with compelling portraiture, Rankin's lens captures, creates and unveils icons – a cast ranging from Tony Blair and Kate Moss to David Bowie and the Queen. Rankin's images have become part of contemporary iconography, evidence of his frankness and passion for all aspects of modern culture and its representation in the photographed image. Rankin has published 30 books, produced countless documentaries, made several films, staged gallery shows and in 2009, undertook the biggest project of his career – Rankin Live, a mammoth, interactive spectacle. For 7 straight weeks, Rankin photographed ordinary people off the street, one every 15 minutes – retouching, printing and hanging the image within half an hour of the shutter being fired – managing to shoot over 1600 Londoners.
Museums at Night is a golden opportunity for Rankin to further explore his unique interactive approach to photography. The venues competing for Rankin are:
The Holburne Museum and No. 1 Royal Crescent, Bath
Phoenix Gallery, Brighton
St Ann's Allotments, Nottingham
Bethlem Archives and Museum, Kent
Amy Sharrocks
Amy Sharrocks is a live artist, sculptor and film-maker who invites people to come on journeys in which their own experience, communication and expression are a vital part. For many years Amy has been investigating our connection to water. Previous works include SWIM, where 50 people swam across London via 15 lakes, lidos and pools, from Tooting Bec Lido to Hampstead Heath Ponds and drift, where people were taken one at a time to drift around England on swimming pools in an inflatable boat. She is currently encouraging people to sign up for Swim the Thames, a mass swim across The River Thames.
Sharrocks will explore her favourite themes of falling and water at one of these venues:
Harris Museum and Art Gallery, Preston
Museum of Carpet, Kidderminster
Gallery Oldham, Oldham
Swansea Museum, Swansea
Mr Smith's Letterpress Workshop
Mr Smith's Letter Press Workshop is the brainchild of Kelvyn Laurence Smith. Chiefly concerned with all things typographic and with quality workmanship, his focus is on creating beautifully crafted contemporary printed matter using traditional wood and metal type.
For Museums at Night 2014, Mr Smith will be taking his extraordinary Letterpress Workshop on the road inviting museums and their public to create a typographic archive of their own at one of these competing venues:
Denbighshire Archives and Ruthin Gaol Museum, North Wales
The Stanley & Audrey Burton Gallery (University of Leeds)
William Morris Gallery, London
Museum of Brands, Packaging and Advertising, London
Spencer Tunick
Since first photographing nudes in his native New York during the early 1990s, Tunick has devoted himself to "performance photography", directing flesh-barers to embed themselves within well-known landscapes and locations. Staging scenes in which the battle of nature against culture is played out against various backdrops, from civic centre to desert sandstorm, man and woman are returned to a preindustrial, pre-everything state of existence. Organising groups from a handful of participants to tens of thousands, the subsequent images transcend ordinary categories and meld sculpture and performance in a new genre.
Tunick's most notable installations have been commissioned by Art Basel, Switzerland (1999), Institut Cultura, Barcelona (2003), XXV Biennial de Sao Paulo, Brazil (2002), The Saatchi Gallery in London (2003), MOCA Cleveland (2004) and Vienna Kunsthalle (2008).
Museums at Night 2014 will be taking a more intimate look at Tunicks's practice. He will seek up to 250 volunteers for an individual nude shoot with the images ending up in miniature key-chain view finder at one of these venues:
Georges House Gallery, Folkestone
Jerwood Gallery, Hastings
Royal Pavilion & Museums, Brighton & Hove
Jessica Voorsanger
Jessica Voorsanger is an American artist living in London. Jessica's Voorsanger's work explores popular culture through the concept and ideology of 'celebrity' – through obsession, fans and media representation. She works in several mediums including portraiture (painting and photography), installation and performance.
She was recently an Artist-in-Residence at The Hayward Gallery as part of the Wide Open Schools Exhibition where she created a dance performance based on the films West Side Story and The Rocky Horror Picture Show. She has just had a solo show at Kornhausen Gallerie, Aschaffenberg Germany and has done projects at the ICA, the Whitechapel Art Gallery and Art on the Underground – with solo shows in Berlin, New York and Turin.
Jessica will explore themes of celebrity in a fun interactive way at one of these venues:
Haworth Art Gallery, Yorkshire
Tullie House Museum & Art Gallery Trust, Carlisle
20-21 Visual Arts Centre, Scunthorpe
The Potteries Museum & Art Gallery, Stoke-on-Trent
Museums at Night is the annual after-hours festival of arts, culture and heritage when hundreds of museums, galleries, libraries, archives and heritage sites open their doors for special evening events. It takes place over the weekend of Thursday 15 to Saturday 17, 2014. www.museumsatnight.org.uk
Categories
Tags