Kimberley will attempt to combine her knowledge into contrasting aspects of artistic studies: History of Art and Contemporary Art and Theory. Her challenge = to pick a room of the National Gallery, London at random and find a painting there, whether it be Gothic, Renaissance, Impressionist or Medieval in style, to analyse using contemporary theory.
Can she achieve a deeper level of interpretation? Or will such a random task disintegrate into nonsensical ramblings??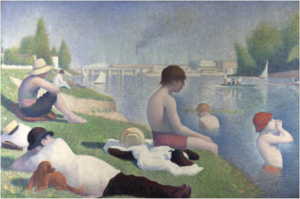 [ Georges Seurat, "The Bathers at Asnieres", 1884, oil on canvas, 201 x 300cm, © National Gallery, London ]
 Random Room Roulette # 4 = Beyond Impressionism : Pissaro and Seurat
Georges Seurat, "The Bathers at Asnieres", 1884
Room 44 houses paintings that represent a dramatic moment in art historical development after Impressionism that was lead by Renoir and Pissaro and then joined by Georges Seurat. Seurat's The Bathers at Asnieres depicts the first example of his renowned and influential pointillist technique (visible only on the young boy's red hat) that was totally innovative at the time, based on colour theory and involving divided touches of pure pigment rather than blended colour.
In this room Seurat's Bathers is difficult to avoid; its huge scale and invigorating colour prefigures the colour field theory; the style of abstract painting that emerged in America in 1940/1950's, in which colour itself became the sole subject of painting. Although, obviously, colour is not the only subject of this image, colour field theory is interesting to apply due to Seurat's preoccupation with colour techniques and the spatial and emotional effects such devices employ. Unavoidable comparisons are founded between Seurat and Hans Hofmann's 'push & pull theory'; the technique of overlapping warm and cool colours to induce depth and movement on the flat surface of the canvas. Colour relationships, advancing and receding tones create an illusion of spatial depth and consistent physicality.
Seurat's conscious choice of hazy, illuminating colour is demonstrative of the warm Parisian sun, but also has an evocative effect on the viewer as with Abstract Expressionism – the spectator is fully immersed in the painting, suspended in confrontation infront of the image. The spectator feels as though there. In contrast to Hofmann's canvasses, colour is overlapped on a minuscule level here, with the pointillist technique, to create an optical illusion, but also on larger scale in the painting generating physicality and spatial tensions. The effect of real space is realised again using colour operatives, rather than linear divisions, by juxtaposing contrasting colours; light and dark tones are placed side by side in order to create depth and shadow. The men at leisure appear as round, three-dimensional figures and constant physicality is achieved.
Complimentary colours are employed within Bathers, as in Hans Hofmann's canvases, to ensure that the eye does not rest upon only one spot in the image, but darts around the painting. There is a focal point in the painting, the central boy, but he does not dominate the space, but instead creates a dialogue and fluidity between different aspects of the painting.
The colour harmonies associated with this contemporary theory are shown here in the physical surface appearance of the painting, the hazy, beautiful, sublime application of delicate colour, and are seconded in the ideological content of the image. This representation of men at leisure is totally idealised and not a true image of what would have occurred at the time. The Seine here is perfectly clean, a rippling haven of refreshment that would have realistically been filthy, and the men that casually relax on the bank would have been rudely interrupted, trampled by working horses which were scrubbed down at this point in the river. This is a piece for the people –  a working-class dream realised.
The painting can thereby be loosely related to conceptualism as it in itself presents an idea, not in the format that is associated with the movement, but in its reverse.
www.nationalgallery.org.uk
READ: National Gallery: Random Room Roulette #3
– words by Kimberley Brown
Categories
Tags