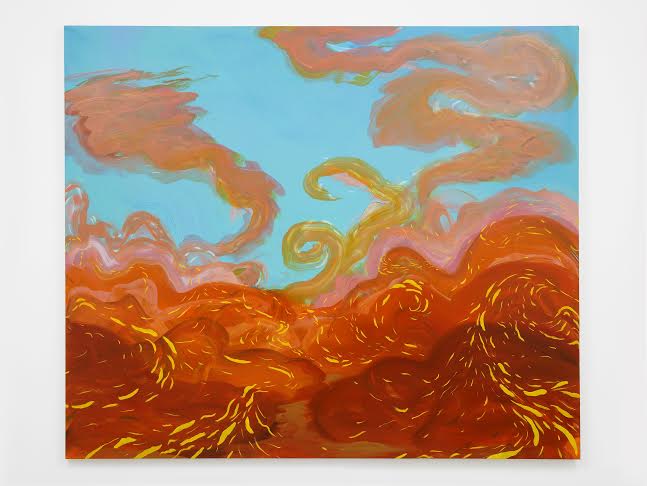 Swagman, oil on canvas, 155 x 185cm, 2013 photography by Andy Keates.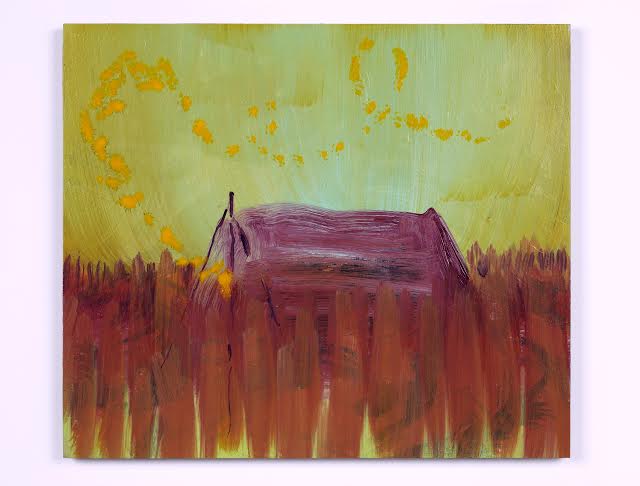 Heavy drag, oil on board, 40 x 47cm 2013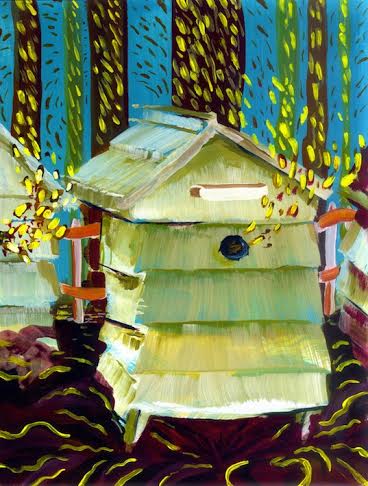 Bulky push, acrylic on paper, 41 x 31cm
Ahead of the Catlin Guide 2014 Launch at London Art fair in January FAD will be featuring some of the artists from the guide here we have : Michael O'Reilly
What made you want to be an artist?
I don't think I started by wanting to be an artist. I couldn't help but want to paint more and more. I partly do it because of the breathing space it offers to see through numerous motifs and subjects. Partly because it frames a way to learn, appreciate, thoughtfully consider and sensitively make; a discipline that is both exacting and rewarding.
How has your practice changed over the course?
The way paint is used to describe things as well as the colour palette would be significant areas that tend to meander and adapt. Currently it's very intense. Before it was far softer and then before that it was actually quite intense again. Your faced with a giant stew pot of visual stuff when making work. Wherever you choose to start is bound to adapt and twist and stretch and sink and grow and burst. It's difficult to unthread and pin down the many shifting moments that affect the practice. There are however far less bears in the paintings now and instead more beehives.
How does it feel to be in the Catlin Guide?
Its great, I'm really excited to be taking part. There are a number of people I know who are also taking part and there are lots of people I'm just discovering for the first time.
What is your studio routine?
I often climb or swim either before or after being in the studio. I'm currently doing a yearlong residency in Sevenoaks School (where my studio is). Time is split up between teaching and painting. I'm quite unflagging when I'm in the studio. It happens in waves though, so there may be a moments of intense painting, which will gradually ease off and I'll just be looking or pottering around. I've been making some mugs recently too. For coffee and tea.
Where do you see yourself in five years time?
I don't think I can see or plan that far ahead but there are things I'd like to accomplish and be moving toward in those years. Mainly to keep painting and exhibiting. I just did a big kayak trail in Scotland so maybe some more of that. There are some pieces of literature I want to turn into radio plays.
What artists inspire you?
Too many to name. Lots of my friends and people I've studied with too.
How does it feel to be leaving University?
Its ok.
What are the best shows you've seen in the past year?
The Moving Museum on The Strand comes to mind.
What makes a great artist?
That's really hard. So many variables. Someone may not always be a consistently great artist but rather make some great pieces of work. I suppose when the maker engages well with the subject and is sensitive to it and the decisions they make. When the work looks great and when someone finds a kind of poise that can be effectively transferred to his or her art. It's in the way someone digests and chews on what is around us. Not to sound crude but it lies in the artists' methods of regurgitating.
How do you negotiate the pressure to be a commercially viable artist?
I don't really feel there is a pressure on me. My first concern and drive is making paintings.
If you were given a big commission what work would you want to realize?
I'd like to learn how to build canoes. I'd want to make more paintings and show them in a really peculiar space, like an old logging mill or whaling station. Also, make masses of cat paintings that I'd use to fill a room with.
Who do you think should have won the Turner Prize?
Laura Prouvost won and she certainly deserves it.
What are the best galleries in the UK?
There is a rich and diverse tapestry of showing spaces, sometimes not in galleries. Sometimes in the most unlikely places, which allows work to live and be read in ways otherwise not possible. Lots of galleries are great for different reasons. Whether it is location, character of the architecture or artists, projects and curatorial decisions made. I don't know what constitutes as the best galleries. I think the spaces and exhibitions being shown in places like Wilkinson, Victoria Miro and Maureen Paley are exciting.
The Guide will be available at the ArtCatlin stand P25 at the London Art Fair, 15th -19th January, for more information www.artcatlin.com
Categories
Tags