VITRINE, 183 – 185 Bermondsey Street, London, SE1 3UW
info@vitrinegallery.co.uk
Clare Kenny : 'Yesterday's Labour is the Future's Folly'
Wednesday 16th October  – Friday 22nd November 2013 (Wednesday – Saturday 12 – 7pm)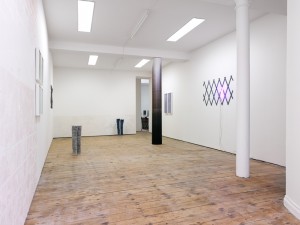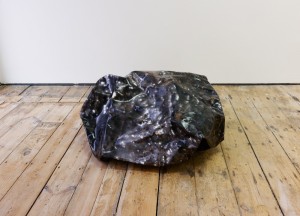 Clare Kenny 'Yesterday's labour is the Future's folly' Installation Shot, VITRINE, 'Meteorite' 2013, (80 x 60 x 40 cm)
Clare Kenny (b. 1976) creates work that is a hybrid of photography and sculpture, examining the fluidity between the contrasting mediums in her pieces; allowing two-dimensional pieces to influence and internally develop into a three-dimensional forms.
There is a link between all of her works. Her photography is displayed autonomously, but also contributes to her sculpture, whether rolled into architectural forms or scrunched-up into rock-like shapes, her photography is remodelled into further art. The use of photography specifically adds a further dimension, of memory, perception and personality. Kenny also reflects upon other juxtapositions, such as content and form, fact and fiction, the real and the fabricated, in her use of both true and manipulated photographic images. Her content is often abstracted, multiplied or reduced in an attempt to induce new meaning or discuss the notion of authorship and authenticity.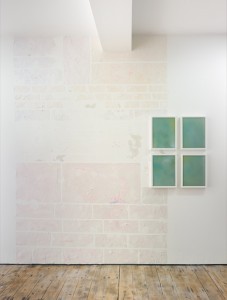 'Old English' 2013 and 'Pond Life' 2013 (an Installation shot.)
The Vitrine exhibition combines wall-based works, free standing sculpture and mounted found-objects, permitting enthused spectatorship, whilst also commenting upon materialism, material values in art and the truth of representation. All her works refer to this emulation, such as 'Beyond the Pale' 2013, created especially for the show, which uses subtle illusionism in the fake exposed brick alongside architectural references to question structure, truth, material dependance and fabrication.  The viewer is asked to question their own perception of structure, what they see as history, how it has been defined to them and to re-evaluate their ideas of personality, truth and authorship.
Following this solo exhibition Kenny has three further group shows in France, showing her international significance, and her own past (she completed a residency at Cite des Artes, Paris earlier this year).
www.vitrinegallery.co.uk
-words by Kimberley Brown
Categories
Tags