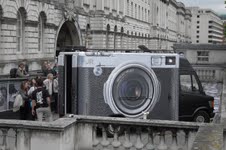 photo booth truck outside Somerset House
This Wednesday, 13th November, JR is to receive a Special Achievement Award from the Lovie Awards, a pan-European award celebrating unique and innovative uses of the Internet and social networks. Previous winners of this Special Achievement have included Stephen Fry and Bjork.
The Lovie Awards comment that Artist JR has harnessed the power of the Internet to inspire public participation in art as a means for global change. His Inside Out Project gives people the ability to upload, print, post, and share photos as part of a global installation, while his use of Instagram and his jr-art.net website have shown a savvy understanding of the web as creative tool and communications network.
His award will be presented by outsider and urban art gallerist Steve Lazarides who is currently exhibiting JR: ACTIONS at Lazarides Gallery on Rathbone Place and who worked closely with JR on his recent photo booth installation at Somerset House.
About the Lovie Awards:
The mission of the Lovie Awards is to recognise the unique and resonant nature of the European internet community – from Europe's top web and creative networks and content publishers to cultural and political organisations and bedroom bloggers.
Now in its third year, The Lovie Awards continues to celebrate the most resonant and pertinent stories in Europe, those inside and outside of the prevailing trends.
The awards reflect the tremendous growth of the internet as a tool for business and everyday lives. This year we are expanding the mission to honour European excellence by adding to the judging academy, increasing the number of categories in Websites, Online Advertising, Internet Video, Mobile & App and introducing honours in Social.
winners.lovieawards.eu/
Categories
Tags