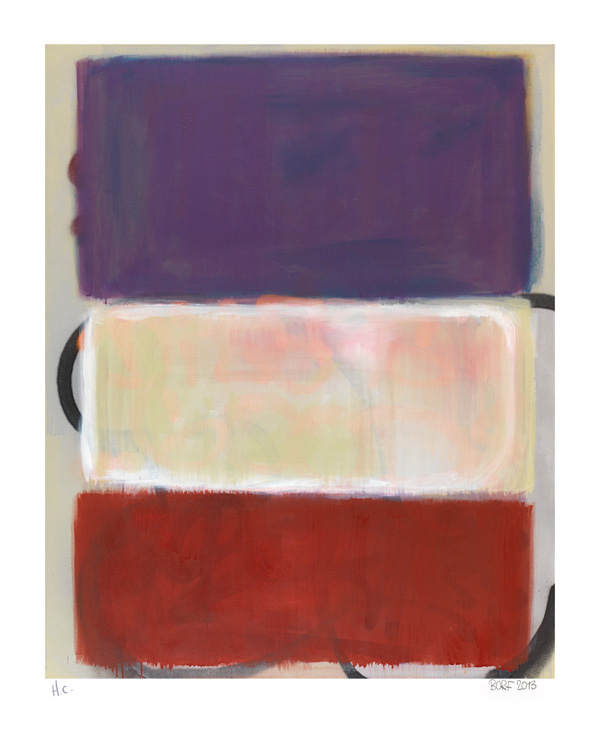 Lazarides Gallery are presenting American artist John Tsombikos in their gallery on Rathbone Place with a new solo exhibition, BORF Show wich opens this month.
Tsombikos, more popularly known as BORF, came to the world's attention for his high profile graffiti campaign dedicated to his late friend and suicide victim, Bobby L Fisher. BORF Show marks a new phase of this cathartic project and his inaugural exhibition penned under his birth name.
For his London solo debut, Tsombikos explores the work of 20th century masters of Abstract Expressionism, reinterpreting their concepts into his own language in a commentary both on the Contemporary Art scene as well as his own personal experience growing up in today's society. Similar to his Rothko's Modern Life series that gained him international recognition, this new body of work continues his appropriation of abstract styles of sculpture and painting inspired by the work of Lucio Fontana, Christopher Wool, Clifford Still, Mark Rothko, Brice Marden, Willem de Kooning, Robert Motherwell and Adolph Gottlieb. This new body of work, which playfully include such tributes as 'Fontana of Youth' and 'The Brice is Right', is both a harmonious and hostile connection to the established order and art history.
Themes of authority, control and power feature heavily within his work commenting upon political and social frictions as well as personal issues. Tsombikos has a tongue in cheek way of approaching his subject matter that breaks down barriers between the themes he explores. Employing primitive mark-making techniques, media and materials of vandals such as acid etching, carved commuter train seat backs and the more traditional spraypaint on canvas, Tsombikos seamlessly integrates materials from his urban surroundings in his homage to these Contemporary giants. BORF Show presents a new subtle and complex selection of works that reinvents abstract art challenging his audience to look at what is traditionally the tool of a vandal in a different light.
BORF Show is on from Friday November 29th until Saturday December 21st. www.lazinc.com
About The Artist
John Tsambikos
26 year-old John Tsombikos aka BORF is perhaps the most compelling figure emerging from the world of graffiti today. Tsombikos' work rages with alienation yet at the same time tempered by gentle humour, romantic imagery and a sensitive, realist painting style.
In 2005 as a teenager living in Washington DC he embarked on a prolific, partisan graffiti campaign after becoming enraged by the suicide of a close friend, daubing slogans like "Grown-ups are obsolete" and "BORF writes letters to your children" around a consistent picture of an eager, positive and rather stupid grinning face, alongside politically charged stencils, wheatpastes and tags. The pervasive campaign spread internationally eventually landing him in prison in 2006.
In 2007 an exhibition entitled "Consolation of Ruin" was staged featuring two floors of oil paintings, screen prints, etchings, installations, and video the proceeds of which were gathered to pay for Tsombikos' $12,000 restitution. After this inaugural BORF show, the Bobby Fisher Memorial Building where the exhibition was held served as a youth cultural centre until closing in 2008.
His artistic background in hardcore graffiti has evolved considerably since these early years. Now employing a sensitive realist style combined with abstract elements, he often contrasts "adult" life with the vigour of youth. This is exemplified by his enormously successful Rothko's Modern Life series of paintings featuring graffiti overlaid with colours in the acclaimed 20th century painter's multiform style. This series was featured in the wildly popular 2013 group exhibition 'Fresh Paint' at Lazarides Rathbone as one of Steve Lazarides' personal choices of artists to look out for as the future of painting.
After a sabbatical working out of Detroit, Michigan John has returned to his birthplace of New York City where he currently works and resides.
Categories
Tags