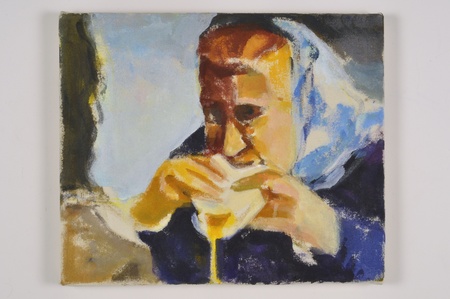 '0:03:58' acrylic on canvas, 25.5 x 30.5cm 2013,
Ahead of showing his work with FAD Contemporary at STRARTA art Fair FAD managed to ask Tom a few questions
1.If you weren't an artist, what else would you be?
A theatre director
2. Can you tell us more about your work and what are the main ideas you would like to express?
My work finds spiritual truths through a study of the visible world. It aims to express a sense of beauty harmony and grace.
3. How do you start the process of making work?
Drawing, making marks
4. Do you consider the viewer, when making your work?
Yes, but the viewer is primarily myself
5. Name 3 artists that have inspired your work.
Matisse, Beckman, Bellini
6. What defines something as a work of art?
A common consensus
7. Anytime, any place – which artist's body would you most like to inhabit?
Giotto
8. What was the most intelligent thing that someone said or wrote about your work?
That it was about paint
9. Which artists would you most like to rip off, sorry, I mean appropriate as a critique of originality and authorship?
Duchamp
10. Do you care what your art costs? State your reasons!
Yes to the extent that I would like to be able to live in the manner in which I have become accustomed and at the same time for my work to be accessible by anybody.
11. What's next for you?
More painting
You can see some of Tom's paintingthis week at FAD contemporary STAND 6B STRARTA art Fair 6th floor, The Saatchi Gallery, Duke of York's HQ, King's Road, London, SW3 4RY 10th-13 October 2013 More Details here : www.fadwebsite.com/fad-goes-live
Categories
Tags