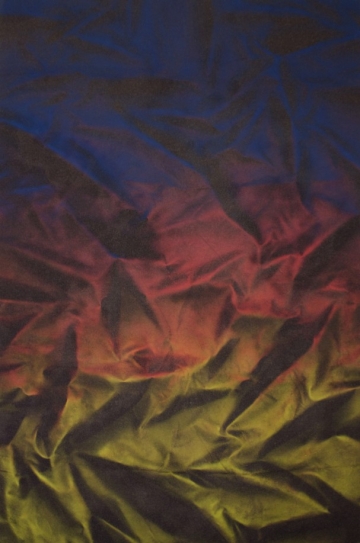 Fall 13 Spray paint on wool 78.7 x 51.18 x 0.98 in. / 200 x 130 x 2.5 cm
20th September 2013 – 26th October 2013 Ceri Hand Gallery 6 Copperfield Street London SE1 0EP
BUFF is Hannah Knox's first solo exhibition with Ceri Hand Gallery, featuring a series of new works that utilise fabric as a ground. Reducing painting to its primary components of colour, cloth and support- they range from pink linen and black PVC to day-glo orange raw silk. The works are folded, stitched, sprayed and draped, these are paintings barely and painted barely – this is painting in the buff.
The exhibition title references the body and implies a posturing and self-awareness, promising surfaces that are seductive yet deceptive. Silver PVC canvases reference the fashion trend of impractical sports-wear in metallics and luxury fabrics, designed for swag not exercise. Works such as Sport-Luxe (a giant smoky, black and silver crumpled-looking fabric draped with chains, emanating a brooding sexiness) and Buff (an oversized t-shirt enlarged to inhabit the gallery walls) playfully reflect this trend.
In S.E.X Love Triangle the mode is continued, referencing Ascher's 40's silk squares and the possibilities inherent in wearable artworks. With nods to Keith Haring and Paul Klee, stitched hieroglyphics mimic high fashion branding and logos whilst containing hidden messages of fertility, reproduction and consumption. These large works reference Greek myth whilst reconstructing painterly myth, they speak of personal history and paintings past. Across the gallery hangs Flags, a washing line of bright dyed fabrics stemming from Knox's Greek mother's fashion business (when working on collections the house would be filled with drying sheets of colourful dyed cloth). Flags consists of three varying sizes of fabric; yellow raw silk and orange and grey chiffon, draped together and hung to conjure blank flags, honouring and surrendering to an unknown cause, seemingly representative of and commemorating themselves. Referencing Oiticica and Rauschenberg, and aware of their own object-hood, Knox's paintings actively embrace the world beyond the wall.
Still Life and Third Wave Riot imply rebellion and staying within the lines. In Still Life Hepworth threads zig-zag their way across the surface, embodying female tradition, tapestries, table cloths and best dresses. Like lines of squeezed paint the woollen stitches depict an abstracted bouquet or meteorite stretched across a large blancmange pink linen surface. Third Wave Riot consists of a triptych of inky blue lines spray painted onto thin blue and white striped fabric. Recalling the printing process, fanzines and mass production versus the hand-made, they appear to have mis-registered, slipped and smudged, a reproduction failure.
Each cloth or canvas in the exhibition is selected for the possibility proffered by its material; changeable heat sensitive fabrics, reflective buffed silvers, and dark woollen fabrics folded and sprayed in sunset palettes, fluctuating between posing as luxurious silk, creased flesh and claggy animal fur. With pockets in paintings, not fit for purpose, form doesn't follow function in this material world.
Hannah Knox was born in London in 1978 and lives and works in London. She completed her MA in painting at the Royal College of Art in 2007. Recent exhibitions include 'Stoffbilder', Take Courage, London, 2012; 'Double Vision', Lion & Lamb Gallery, London, 2012; 'The Perfect Nude', Wimbledon Space, Exeter Phoenix and Charlie Smith London, 2012; 'Fade Away, Painting between representation and abstraction', Transition Gallery, London and Gallery North, Newcastle 2011/2012; 'The Marmite Prize for Painting', Touring to Central Art Gallery, Tameside, Lanchester Gallery Projects, Coventry and The Nunnery, London, 2011/2012.
Categories
Tags