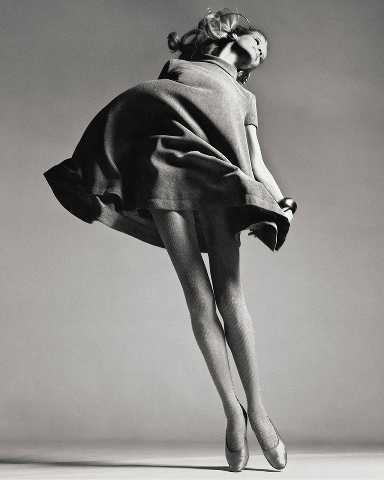 RICHARD AVEDON Veruschka, Dress by Bill Blass, New York, January 1967, 1981 Gelatin silver print
24 x 20 inches (61 x 50.8 cm) Ed. of 50 © The Richard Avedon Foundation
I've worked out of a series of nos. No to exquisite light, no to apparent compositions, no to the seduction of poses or narrative. And all these nos force me to the "yes." I have a white background. I have the person I'm interested in, and the thing that happens between us.
–Richard Avedon
Gagosian London is to show "Avedon: Women," a selection of photographs from The Richard Avedon Foundation.
Avedon's fashion images never conformed to the prevailing standard of models posed without emotion, aloof from the camera, and seemingly devoid of personality. Instead, he set models in action, provoking them to appear questioning, authoritative, unruly, vivacious, extroverted, and confidently alive. Keenly aware of the melancholy inherent in the fleeting nature of great beauty, his photographs crystallized transient moments of grace.
This exhibition presents a selection of photographs from the 1960s and 1970s, specifically focusing on images of women in motion, a leitmotif of Avedon's fashion photography. Jean Shrimpton lunges across the neutral picture plane, modeling an airy evening dress by Pierre Cardin, while Veruschka appears to drift effortlessly en pointe, a winter dress by Bill Blass billowing around her figure. In a single image from Avedon's late career, Malgosia Bela and Gisele Bundchen brace themselves against unseen harm in edgy Dior couture. In an unforgettable image from 1968, Twiggy's long and voluminous hair floats upward from her shoulders, as if underwater. On a leaping Ingrid Boulting in 1970, a long Dior coat becomes a curvilinear, aerodynamic abstraction. Combining design, choreography, acute compositional awareness, and sheer verve, Avedon's images established new benchmarks in the history of fashion photography.
"Avedon: Women" is presented in collaboration with The Richard Avedon Foundation, New York.
About The Artist
Richard Avedon (1923-2004) is one of the most influential artists of the twentieth century. Born in New York City, Avedon began his professional photographic career in 1942 in the U.S. Merchant Marine Photographic Department, and attended the Design Laboratory at the New School. He began work as a fashion photographer for Harper's Bazaar in 1945, eventually joining rival Vogue magazine, where he would remain on staff until 1988. In 1992 he was named the first staff photographer for The New Yorker. He received a Master of Photography Award from the International Center of Photography and his work is included in the collections of MoMA, the Smithsonian, and the Metropolitan Museum of Art, along with countless other museums and institutions worldwide. He is the only photographer to have had two major exhibitions at the Metropolitan Museum of Art. A 2007 retrospective exhibition organized by the Louisiana Museum of Modern Art in Denmark traveled to Milan, Paris, Berlin, Amsterdam and San Francisco. Richard Avedon established The Richard Avedon Foundation during his lifetime. Based in New York, the Foundation is the repository for Avedon's photographs, negatives, publications, papers, and archival materials.
Categories
Tags