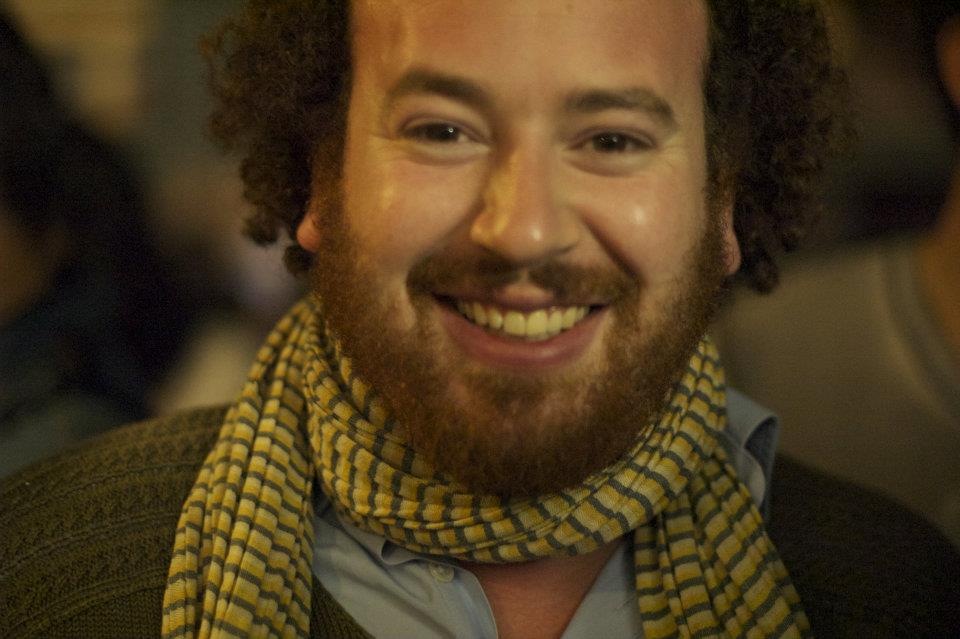 Another one off FAD's occasional interviews with the people that are changing the very fabric of the art world , up now is Ezra Konvitz Co-Founder, ArtStack .
To catch all of FAD's interviews with industry leaders from the Art/Tech field please follow this link: bit.ly/Ximzho
1 Ezra Who Are You? What Have you done in the past ?
It's a bit of a mix: I was born in the States, grew up in Paris and I've lived in London most of the last ten years. Before setting up ArtStack, I worked at the Serpentine Gallery and as a strategy consultant at Bain and Company.
2 Who else is there at ArtStack and what do they do ?
I set up ArtStack with James Lindon and Alex Gezelius, two friends from university. James was previously at the Victoria Miro Gallery and Pace and Alex worked with online businesses for a long time. We all wanted to see more art online and so we started talking about ways we could make that happen.
3 So What is ArtStack ?
ArtStack is social media for art – we think it's the best way to discover and share art. Each person on ArtStack has a profile where they can 'stack' all the art they like. You follow other people to see the art they like, so you see a lot more art very quickly – by artists you didn't know as well as old favourites; you also get to see whenever new works by artist you like are added, which is a great way to learn more about them.
That's the idea of ArtStack: to make it simple to find art you like – because you can't search for 'show me great art I don't know' in Google. We're reintroducing serendipity into people's lives, making it easy to find out about art your friends like without having to go to their house to check out what's on the walls (or on the coffee table…). What's nice about this is it also means you can introduce art you like to a really relevant audience, who can share it and spread the word.
4 Do you have any revenue streams? Any idea what they might be if you don't ?
We don't generate any revenue. There are all sorts of options we could pursue – as with a lot of social websites, we decided that the most important thing is to make sure that people really like using ArtStack. Then we can figure out the financial side – while making sure we preserve ArtStack as a peaceful, calm environment, which is really rare online.
5 Whats the best medium for ArtStack? You mentioned video was pretty cool
Photography and painting are obviously hugely popular but I do find I watch a lot more video art as a result of ArtStack – people have added all sorts of great content from Vimeo and YouTube which I'd never have looked for on those sites. It's really nice to be able to experience video in your own time, starting at the beginning of the film – rather than in the middle, as invariably is the case in a museum. That's one of the most unexpected aspects of ArtStack for me and I'm really glad that I'm getting to experience more of.
Sculpture is also really nice because people can add multiple images for a single artwork, so you can see the same work from the front or the back, in daylight or at night, in different locations, etc.
6 You have just launched on Android is mobile important to ArtStack? What cool features do you have on the app?
Mobile is a really important aspect of our lives and increasingly so: there are a billion smartphones in the world. It's the way we stay connected, whether at home or out. We launched the ArtStack iPhone app very soon after starting the site and eventually so many people were asking for the Android app that making it became a no-brainer.
The iPhone and Android apps are free. You can take photos of art you like and quickly add the artist name / title so it's quick to find again – you'll also share it with your followers and other people who like the artist, so it's a great way to spread the word about works you like with a relevant community. We've made it really easy to edit and crop images so you get them just right, too.
You can also browse around ArtStack and discover art through your friends or other people you find interesting, see all the works by an artist, zoom in on artworks and check out what's trending or being added to the site in real time.
There are over 200,000 works on ArtStack now, so it's a bit like having a massive museum in your pocket which is open any time. If you'd have asked me if I thought that was possible ten years ago, I probably would have laughed.
7 You mentioned you can now # To ArtStack on Instagram why the integration ?
We've just finalised this – because we want it to be super easy to add works no matter how you like taking your photos, if you register your Instagram name in your profile on ArtStack, when you write #artstack on Instagram it'll post the work to your ArtStack too. If you type #artistname and #artstack, it'll also bring this information onto ArtStack in the right format so you'll share the work with all the people who like that artist – and it's kept organised for you so you can find it again quickly.
8 Do you need to 'Own' art to really enjoy it or can you just Stack ?
Seeing art online will never replace the experience of seeing it in person – but it's a great way to find out about more art to see and research shows that people who look at art online are more likely to then go to an exhibition in person afterwards. It isn't a substitutive experience – rather, it helps build real world audiences.
We think it's important to make it so that you can have an art experience as part of your everyday life: I used to work in a museum, but even then I wasn't necessarily having a daily art experience: it's still an office. Having an online art experience makes sense – you should be able to see great art on your phone while you're waiting for the bus. People tell me they love browsing through ArtStack in bed, to decompress before they go to sleep. It's also a great way to see what's going on at events like the Venice Biennale, or to see works from art fairs or museums around the world.
An unexpected aspect of the site is it's use as an educational tool. I know I would have loved using it when I was studying art history – and I've learned a huge amount since we set up ArtStack. We keep hearing from students and academics that they find it useful to keep track of art and learn more about artists in a casual way that doesn't really feel like learning.
9 Who's the most popular artist on ArtStack?
It changes all the time – especially if there's a major show on. We showcase the most popular works and artists every day on ArtStack and you can also see longer term trends – you can take a look at them here: theartstack.com/trending
10 Have you plans to work with museums /galleries to help them ArStack their collections ?
We already do! Thousands of galleries and museums already have pages on ArtStack including the Serpentine Gallery in London, MAXXI Museum of the XXI Century in Rome, Hammer Museum in LA, and Ullens Center for Contemporary Art in Beijing – as well as galleries and auction houses like Simon Lee, Victoria Miro , Pearl Lam, Thaddaeus Ropac, Christie's and artnet.
11 How many artworks are being added to ArtStack everyday?
We've got a huge stream of work coming on the site every day – literally thousands of new works spanning the entire history of art. There's also some really interesting video art and performance documentation, architecture, design and collaborations between fashion and art.
12 Why are you based in London ?
London's a great place – incredible museums and galleries, terrific people and incredibly international. We were friends at Cambridge and moving to London was the obvious choice afterwards: I did an MA in History of Art at the Courtauld and James did the MA in Curating Contemporary Art at the RCA. After a few years, James moved to New York but I stayed here – and when he moved back, we decided to set up ArtStack.
13 Final Question ,If you had $250,000 what artist would you buy into?
I'd struggle to choose just one – I'd rather buy five to ten good works from a range of artists: some emerging talents and some more established. Also I love mid-century photography, so probably a William Klein or Robert Frank photograph or two.
Visit have a look and maybe join : theartstack.com
About Mark Westall