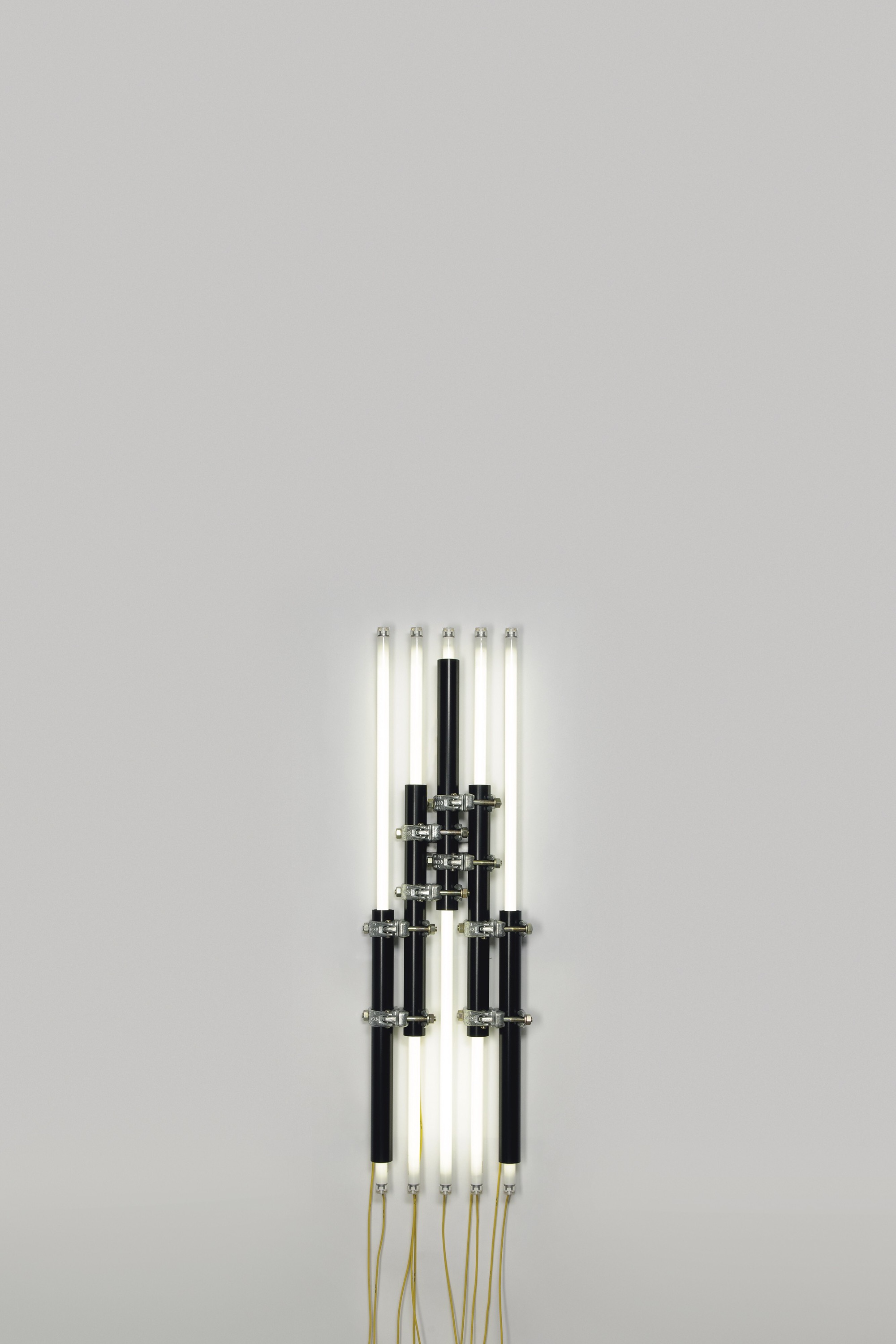 ?
Lot 104 
Nathaniel Rackowe  
SP21 
powder coated scaffolding tubes, scaffolding clamps, fluorescent light and electrical wiring 
48 x 14¼in. (122 x 37cm.)
Executed in 2015, this work is number one from an edition of three plus one artist's proof          
Estimate: £5,000-7,000
1 Have you always felt yourself an artist?
From a surprisingly early age, yes. And it's always about sculpture, and even installation, not that I would have recognised that term at the time! I remember being around 14 when my step dad was repaving the patio, the stacks of slabs became my medium to create balancing and self-supporting structures that ran the length of the garden in geometric formation. Exploring form, mass, repetition was somehow instinctive. Years later I discovered Serra, and I was like "ah…..".
2. Can you tell us more about your work and what are the main ideas you would like to express?
The work is drawn from my personal experiences of living in, and moving through, large cities. I try to find universals in this that speak to the challenges of existing in an urban environment, the simultaneous hard edged demands and moments of transcendental, and often unexpected, beauty. 
The use of light is very important in the work, incandescent and fluorescent light act as both a physical medium, and a source of illumination. The relationship between light and structure shifts between one work to the next, and it is light that often becomes the transformative force that lifts and re-frames the mass produced and standardised individual elements of my work. Like dusk in the city, light can be harnessed to create beauty from that which is most unassuming.
3. How do you start the process of making work?
The very first step is observation. I use my camera phone to snap pictures and help fix images and observations in my mind. I have hundreds of these cityscapes, from a builder's light behind plastic scaffolding wrapping, to the poured concrete stair cores of an unfinished building. Then the work progresses in two places…. in my sketch book, where ideas for pieces of all sizes are drawn and developed, and then also looking at materials. A lot comes from the humble builders' merchants, where I'm sure they think I'm crazy in the way I handle and assess the not so intended qualities of the goods they sell!
4. Do you consider the viewer, when making your work?
Of course, it's paramount, and my responsibility as an artist to do so. While the inspiration may be personal, I feel what I'm trying to communicate is something that anyone who has experience of living in a city can identify with. I am always happiest when told that a work of mine has inspired a person to see their urban surrounding with new eyes, to seek and take pleasure in those fleeting moments of beauty that are so easy to overlook. 
5. Why did you enter The Art Stack/First Open/LDN competition?
The ArtStack is an interesting platform. I like the fact that artists, art lovers, and art world professionals mingle shoulder to shoulder: There is no hierarchy there, and so it's fascinating to see what art catches people's eye. However, with all social median platforms, I always wonder how much they are really connected to what exists beyond their walls, digitally and in the real world. The collaboration between The ArtStack and Christie's on the First Open/LDN competition makes this link; the digital realm of ArtStack crosses into the very physical realm of works on the wall at Christie's.
Also, selling a piece is never a bad thing.
6. What defines something as a work of art?
Well simply put: intent. The tricky question is what defines something as a good, stimulating, or successful artwork…..
7. What plans do you have to continue to pursue your art career in 2015?
My solo show, Radiant Trajectory, at Lawrie Shabibi in Dubai ends this Saturday and next after that is a large scale work going into Sculpture by the Sea, an outdoor group show in Aarhus, Denmark, at the beginning of June. Then in September I'll be doing a project at the House of St Barnabas in Soho, and also have a solo show at Etage Projects in Copenhagen. But mainly the next months will see me in the studio, conceiving and creating a brand new body of work. That's what I'm most excited about. 
8. Final Question if you had $5,000 to buy in art who would you invest it in?
Ha. Right….. well I see a couple of my friends as rising stars, both making exceptional work. Jonathan Paul Davies, who makes intricate drawings of often unnerving figures with a symbolic narrative, and Justin Coombes who makes photographs of carefully constructed tableaus, often involving people in urban pastoral landscapes. Either would be a safe bet to drop $5,000!
Follow Nathaniel on Instagram: rackowe
Categories
Tags