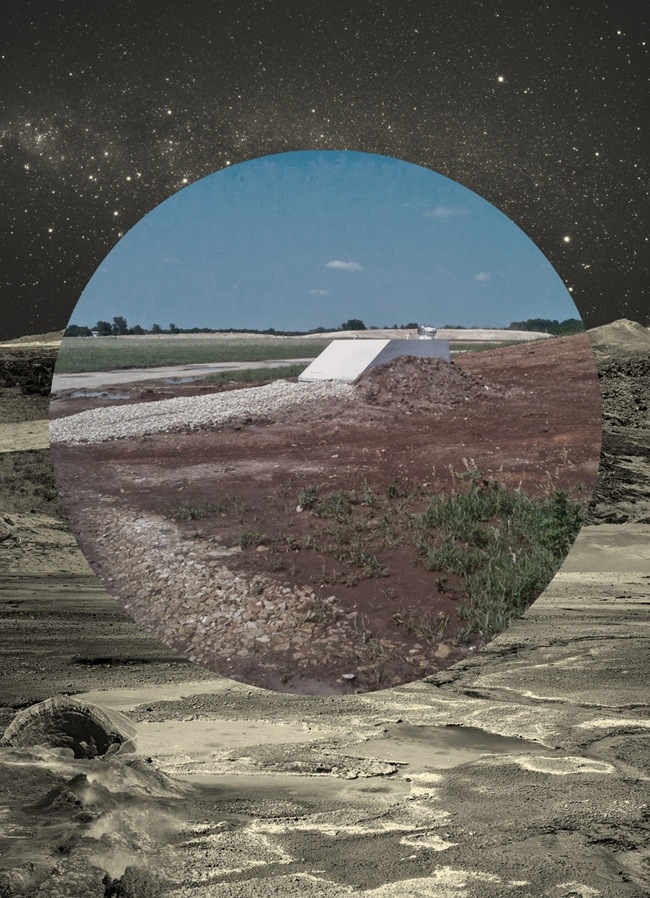 Jess Littlewood When The Time Came II
Over the next week FAD will be interviewing artists from the group show 'System Failure' which opens at the end of August.
Here is Jess Little Wood
1.If you weren't an artist, what else would you be?
I would definitely still have to be making something and working in a creative way. I don't really think I would be happy doing anything else.
2. Can you tell us more about your work and what are the main ideas you would like to express?
Ultimately my work explores the human being. At the moment I am very focused on the idea of impossible Utopia and am using the Island and 1960s communal living as a way to explore our constant desire for something better.
3. How do you start the process of making work?
I am constantly looking for new images to use within my collage. I often find an image that sets off a whole load of ideas and becomes the starting point for a whole new body of work. I usually make work in series like this, exploring one idea until I find something else that I want to explore.
4. Do you consider the viewer, when making your work?
I think if you are making a visual work then you cant help but consider the viewer in some way. It is not however at the forefront of my mind when I am making, I think that would be rather restricting.
5. Name 3 artists that have inspired your work.
Ben Rivers
John Stezaker
Charles Avery
6. What defines something as a work of art?
The intentions of its maker.
7. Anytime, any place – which artist's body would you most like to inhabit?
Peter Doig. His paintings are magical.
8. What was the most intelligent thing that someone said or wrote about your work? In November last year I had a solo show called 'Future Plans' with The Contemporary London. Luke Turner visited the show and wrote the article below for 'Notes on Metamodernism' it was like he had read my mind. www.metamodernism.com
9. Which artists would you most like to rip off, sorry, I mean appropriate as a critique of originality and authorship?
I really wish I made Ben River's film 'Slow Action' a collection of films purporting to document four Island societies. I am starting to get really interested in making video but it is a slow burner.
10. Do you care what your art costs? State your reasons!
Yes. An artists work is completely unique, something that can only come from them, and that makes it intrinsically valuable. I'm not sure f that should directly relate to the exchange of money, but that is the way we equate value.
11. What's next for you?
I am planning a show with The Contemporary London an two other artists, Lindsey Bull and Adam Dix to take place next year called 'Modern Mytholgies' It will centre around the exploration of the occult, ritual and myth, themes in all three artists work.
Jess is exhibiting at 'System Failure' a group show presented by The Contemporary London opening Thursday 29th August more details HERE
More Info on Jess : LINK
Categories
Tags