Smoke Signal 2 (edition of 3), 2013, 8×10 inches, manipulated giclee print with embossment on BFK paper, framed, Price £350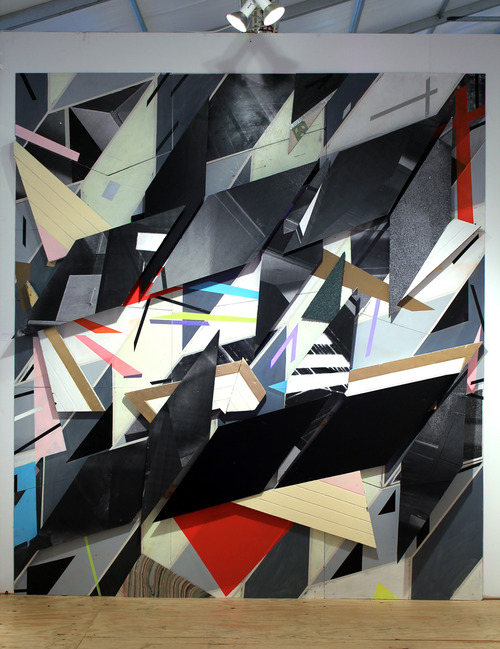 Over the next two weeks FAD will be interviewing artists from the group show 'System Failure' which opens at the end of August. Here we have Eddie Villanueva.
1.If you weren't an artist, what else would you be?
I would be an engineer of some sort, practical, secure, and miserable.
2. Can you tell us more about your work and what are the main ideas you would like to express?
My work mainly is an investigation of space, history, and the effect of mark making on surfaces over time. It is work that challenges perception and the immediacy reading visual language.
3. How do you start the process of making work?
I usually take on too many obligations, shows, and force myself into a corner with the only option of working my way out.
4. Do you consider the viewer, when making your work?
Absolutely. My work, especially my installation work (see website for examples www.eddievillanueva.com) always considers the perspective of the viewer upon their approach to the viewing experience. My work is a highly intentional experiential system. I want to be able to provide specific visual paradoxes to my best anticipated ability.
5. Name 3 artists that have inspired your work.
Franz Ackermann
Sarah Sze
David Schnell
6. What defines something as a work of art?
Intent is everything. Without artistic intent, what is it? I'm not really into defining what is and what isn't, I just worry about myself and the things that I respond to.
7. Anytime, any place – which artist's body would you most like to inhabit?
Matthew Barney, handsome guy, fit as a bull.
8. What was the most intelligent thing that someone said or wrote about your work?
Well without a specific quote, I know that artist/curator Sandra Erbacher has said several kind and intelligent things about my work over the years.
9. Which artists would you most like to rip off, sorry, I mean appropriate as a
critique of originality and authorship?
The artist Jose Lerma is brilliant. Every time I see a new print, or sculpture, or installation by the guy I just think to myself "dammit that's good."
10. Do you care what your art costs? State your reasons!
Of course. The price is as much a factor into the contextual body of the piece, as title and materials. The price reflects the artist's perceived value, and I like to think the philosophical artistic propositions are worth an honest amount.
11. What's next for you?
I am currently working on a major installation for the Madison Museum of Contemporary Art in Madison WI USA. The piece is one of the largest installs I've done. It's going to be a challenge to my practice in terms of production and administration. Stay tuned!–
About The Artist
Eddie Villanueva's often large-scale installations, paintings, and prints are investigations of archaeological site as a place that contains simultaneously existing human histories, some hidden or evident only by trace fragments. For Villanueva, sites are not only compilations of worn surfaces, but also reliquaries encapsulating the evidence of events both extraordinary and mundane.
Within this context, Villanueva's Smoke Signals prints challenge our reading of temporal events in space by disrupting photographs of heavenly skies with architectural drawing posing as jet trails. The surface of the print is scarified with the embossment of a hard edge equilateral triangle, that repositions our focus onto the print itself as the object that retains the mark of an event, the intervention of the artist onto the material.
Eddie Villanueva (b.1983, Milwaukee) received his BFA from the University of Wisconsin Milwaukee (2005), and an MFA from the University of Wisconsin Madison (2012). His work was featured in SCOPE, Miami (2012); Global Positioning System at the School of Visual Arts, NYC (2012); North American Graduate Art Survey at the Katherine E. Nash Gallery, Minneapolis (2011), and the Wisconsin Triennial at the Madison Museum of Contemporary Art (2010/2013). He is the recipient of a Joan Mitchell Foundation MFA Grant (2012).
Eddie is exhibiting at 'System Failure' a group show presented by The Contemporary London opening Thursday 29th August more details HERE
Categories
Tags