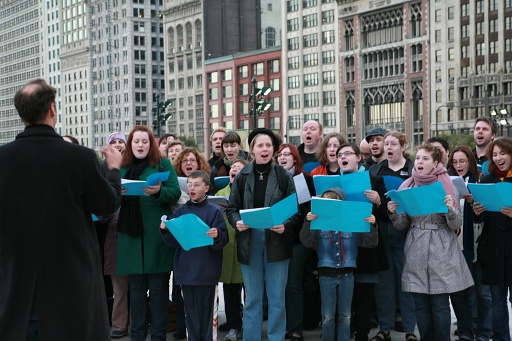 Complaints Choir of Chicago (2007), Photo: Claire Britt
Opening Today Edinburgh Art Festival (EAF) is celebrating its 10th anniversary with a series of
10 new public art commissions sited across the Festival city. Visitors will encounter sitespecific artworks by leading Scottish and international artists throughout Edinburgh, from installations created for some of the city's most historic landmarks, to works sited in unexpected spaces, including Edinburgh's famous skyline.
Placing cutting-edge contemporary art into the context of this world heritage city, the commissions programme is
supported by a series of special events, tours and one-off performances.
The 2013 festival commissions programme, titled Parley, celebrates art that generates and depends on dialogue for its realisation, offering a site for debate, discussion and exploration. In a year in which Scotland begins to debate its future, Parley takes inspiration from Miralles and Tagliabue, architects of the new Scottish parliament building (also celebrating its 10th year) who devised 'not a building in a park or a garden but a form for gathering people'.
Highlights include:
• A new installation by 1997 Turner Prize nominee Christine Borland in collaboration with Brody Condon for the burnt out Watchtower of the New Calton Burial Ground examining ideas of decay and dereliction

• Robert Montgomery's first major work for Edinburgh since graduating from Edinburgh College of Art in 1999, a new 'Fire Poem' sited on The Mound
• Krijn de Koning's first ever exhibition in the UK, a site specific installation which will transform Edinburgh College of Art's iconic sculpture court into a specially designed platform for debate and discussion

• Peter Liversidge's Flags for Edinburgh project, which encourages Edinburgh's institutions to replace their usual flags with a simple message of 'HELLO' for the duration of the Festival
• The first publicly sited sculpture by one of Scotland's most exciting young artists, Sara Barker, made for the wooded landscape of Jupiter Artland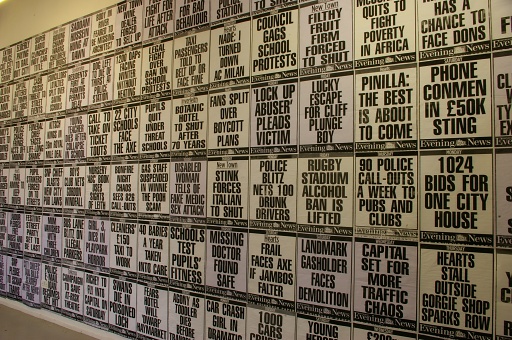 Kenny Watson, The Days, 2008
The Parley commissioned artists are Christine Borland with Brody Condon, Peter Liversidge, Sarah Kenchington, Ross Sinclair, Robert Montgomery, Katri Walker, Krijn de Koning, Sara Barker, Kenny Watson and Daniel Padden with Peter Nicholson.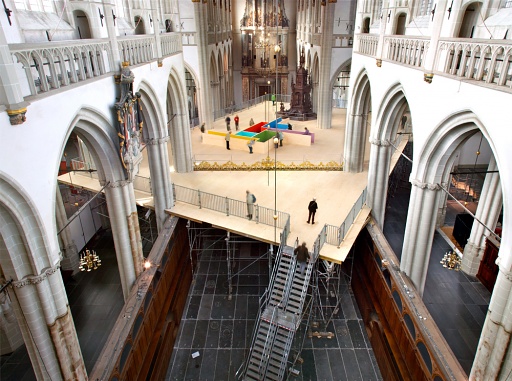 Krijn de Koning, Work for De Nieuwe Kerk, 2010
Two Parley symposium events have been specially conceived for Krijn de Koning's installation in Edinburgh College of Art's Sculpture Court by artists Ross Sinclair and Rachel Maclean.
Sorcha Carey, Director, Edinburgh Art Festival, said:
"Our annual commissions programme has grown to become an essential part of Edinburgh's summer festival offering. Our 2013 programme, the most ambitious to date, celebrates art's unique capacity to promote dialogue and debate; and we are particularly excited that this latest edition sees leading and emerging Scottish and international artists collaborate across borders to make new work for Scotland's extraordinary capital city."
More Info:www.edinburghartfestival.com
Categories
Tags