This year the Royal Academy's primary concern is connecting all artists and art lovers!  It is important for the RA's friends, supporters, students, and patrons to have a comforting, yet elegant 'second home' in order to talk, type, read, eat, drink or to just chill out, either before or after a visit to the Royal Academy. The newly renovated and reawakened classical space will be open for  friends, patrons and royal academicians all day and night where the public will have access from 7-10am and from 4pm until late.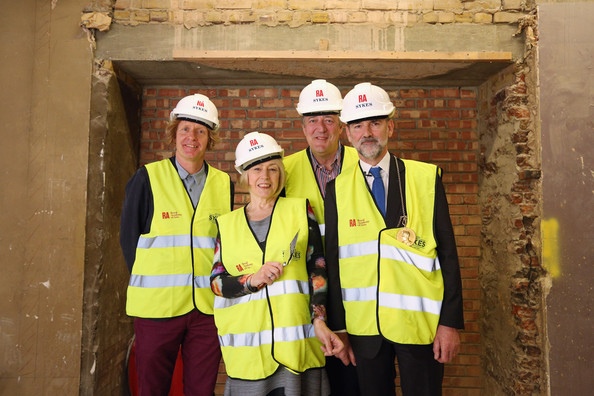 In order to bring this concern of more effective connecting to a reality ( besides the inclusion of free Wi-fi)-a major 6.5 million pound project has been led by award winning architechts Long and Kentish, with interior design by David Chipperfield Architects. With aims to expand the keeper's house, works by Royal Academicians and from the Royal Academy Collection will be displayed throughout the building while all food menus and bar snacks will be catered by world renowned restaurateur Oliver Peyton.
Last week FAD had the pleasure of witnessing the groundbreaking (literally) changes which are still in progress, but patience is a must in this process as there are many transformations still to be made! The renovation will vastly improve and modernise the existing spaces that the friends have access to. The Sir Hugh Casson and Belle Shenkman Rooms will be refurbished with stylish new interiors, designed by Sir David Chipperfield, to create relaxing, informal, but high quality spaces where visitors can enjoy drinks and a light menu. Also, the project opens up the previously unused lower -ground floor to create a cozy yet chic restaurant and a clazzy cocktail bar and garden. How cool!? The Restaurant will display original architectual features and casts from the RA Collection, offering a more formal, yet eclectic dining experience throughout the day and evening. The Bar and Garden will be open from 12 noon until late, with tea and coffee available during the afternoon as well as cocktails and fine spirits served into the night by Peyton and Byrne's mixologist
From a cozy yet sophisticated restaurant, classy new cocktail bar, and lounges for anyone who has the time, to a beautifully adorned garden patio in both aestehtic and scent- the RA is sure to be the best place to be this Fall, and for many years to come.
About Architects and Interior designers:Architectural practice Long and Kentish is leading the renovation of the Keeper's House with interior design by David Chipperfield Architects. MJ Long and Rolfe Kentish formed their architectural practice in 1994 and have huge experience in designing and overseeing the construction of museums, galleries, universities, libraries and artists' studios and in conversions to exisiting buildings. The practice grew out of Colin St. John Wilson and Partners and their experience and skill is derived from working on projects such as the new British Library. The Keeper's House development will restore many of the buildings original architectural features, stripping back layers of history to reveal previously- concealed ceilings, floors and the mansion's original beams and bring a new lease of life to an historic space in the centre of London.
About the Keeper's House: The Keeper's house was built in the 1870's as a central London home for the keeper of the Royal Academy Schools. An integrated but autonomous space within the eastern wing of Burlington House, the Keeper's House bears the hallmarks of Palladian architectrual style, inspired by the 16th century Venetian acrchitect Andrea Palladio and designed by Sydney Smirke in 1866. It features a rusticated ground storey, weighty voussoirs over the door and a triangular pediment above and balustrade below a large south facing window. Although little has changed on the outside since it was built in the 1800's, the inside of the Keeper's House tells a different story and has accreted layers of construction and decoration reflecting an intriguing and varied history of many occupants and functions at the Royal Academy.
About the Keeper: The Current Keeper of the Royal Academy Schools is Eileen Cooper, who took up post in 2011, and is the first female keeper. Cooper succeeded Maurice Cockrill and joins a line of notable Keepers, including Henry Fuseli, the Swiss born romantic painter, who have each made use of the Keeper's studio housed on the top floor of the Keeper's house.
About Long and Kentish: Long and Kentish was established in 1994 and is based in London and Cornwall. Long and Kentish architects work on a variety of cultural and public projects. Recently completed projects include Durlston Castle Jurassic Coast World Heritage Gateway Visitor centre and lanscaped park, Swanage 2011, remodelling and extension of the Jewish Museum London, 2010, The National Maritime Museum in Cornwall- and the list goes on!
For more info on Long and Kentish projects go: HERE
About David Chipperfield Architects: Founded in 1985, David Chipperfield has offices in London, Berlin Milan and Shanghai. The practice works internationally on cultural, residential and commercial projects providing full architectural design, masterplanning, product and furniture design services for both public and private sectors. Its diverse portfolio includes museums and galleries, libraries, apartments, private houses, hotels, offices, masterplans, and retail facilities. David Chipperfield has won more than fifty national and international competitions and many international awards and citations for design excellence, including RIBA, RFAC and AIA awards, as well as the RIBA sterling prize award in 2007.
For more info about David Chipperfield Architects go: HERE
About Peyton and Byrne: The business was founded in 2005 by world renowned restaurateur Oliver Peyton along with his sister Siobhan Peyton who holds the role of CEO. Over the past few years, the company has helped to transform the dining experience in public spaces, by signifigantly inproving the quality of the food and drink offering within many of London's famous national institutions and parks. A new restaurant and bar at the Royal Academy – Keeper's house 2013- will mark Peyton and Byrn'es ninth restaurant, adding to the restaurant at the Royal Academy of Arts, Inn the Park, The Wallace Restaurant, The National Cafe, The National Dining Rooms, The Orangery and Pavilion, both at Kew Gardens and the ICA Cafe Bar.
For more info go: HERE
About the Royal Academy:The Academy was founded by George III in 1768. The 34 founding Members were a group of prominent artists and architects including Sir Joshua Reynolds and Sir William Chambers who were determined to achieve professional standing for British art and architecture. They also wanted to provide a venue for exhibitions that would be open to the public; and to establish a school of art through which their skills and knowledge could be passed to future generations of practitioners.The Academy today continues to aspire, in the words of its eighteenth-century founders, 'to promote the arts of design', that is: to present a broad range of visual art to the widest possible audience; to stimulate debate, understanding and creation through education; and to provide a focus for the interests of artists and art-lovers. The Academy has held an annual Summer Exhibition of works for sale since its formation and its first loan exhibition was held in 1870. The Academy now enjoys an unrivalled reputation as a venue for exhibitions of international importance.
To become a dear friend of the Royal Academy go: HERE
Categories
Tags