Vans, art, wicked drinks and great music-Yes please! Where do we sign up!? Last Friday 12, July FAD was invited to experience the first leg of the Vans Custom Made + You tour at their newest Camden Town location. This unique project aims to celebrate their long standing connection with the art scene and customisation, something intrinsic to the Vans DNA. Apparently, Vans offered shoe customisation when it began in 1966! How cool!?In celebration of their longstanding relationship with the arts, complimentary concocted cocktails and old school funky beats were spun as sneaker-hungry 'vans fans' and followers mingled amongst fabulous friends and shoes, and of course- unique site specific and art.
For this year's tour Vans has enlisted artists Ben Bobzien, French, Keven Grey, Seth Shelman and Tim Wolf to travel throughout Europe, creating storefront fixtures live at various shopping destinations.  The live art shows are designed to emphasise the brand's bespoke customisation service and exhibit the participating artist's footwear design. The live art show combines a bespoke custimization service and exhibtion plus a live instore paint session, creating a permanent fixture on the Vans storefront. Furthermore, customised footwear from the artists will be on display in the store and each guest will receive a booklet with various customisation designs that they can have made for them on site.
Artist: Ben Bobzien
So if you are a cool, traveling fool and have plans to be in Glascow, Bordieux, or Paris check this event out! Just make sure you get there early to beat the crowds!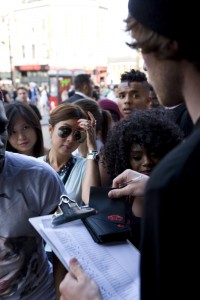 About Vans: A distinctively niche culture and a keen eye for the latest trends has made Vans a dominant force in the extreme sports industry. Vans provides apparel, accessories, outerwear, skateboards and longboards for active men and women. Vans' storied history, and our connection with skate and surf culture, began in 1966 Southern California with the rolling out of a single pair of shoes. They were named Authentic. In the generations since, they have only gotten more popular amongst hardcore skaters and skate enthusiasts. Their design is simple, stylish, and effective: a low top lace-up profile made with sturdy canvas uppers, and signature waffle rubber soles.Uniting elite athletes and amateurs under one brand, Vans has solidified their presence in extreme sports through contemporary apparel, event sponsorships and a chain of skateboarding parks.
To like the glascow leg of the tour on Facebook: www.facebook.com
To get a pair of new vans: shop.vans.co.uk
Categories
Tags