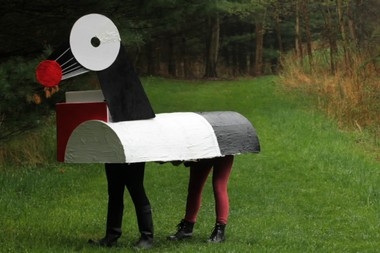 12th July 2013 – 10th August 2013 Ceri Hand Gallery 6 Copperfield Street London SE1 0EP www.cerihand.co.uk
Jonathan Baldock, Mel Brimfield, Grant Foster, Sophie Jung, Matthew de Kersaint Giraudeau, Jen Liu, Bedwyr Williams
Implausible Imposters is a group exhibition that brings together new work by seven artists who invent fictional narratives for objects or people, giving voice to the inanimate, imaginary or dead.
The hand appliquéd felt forms and glazed ceramics within Jonathan Baldock's new sculptural installation (2013) are made considering the body and have the potential to be used for performance, or to be activated in a ritualistic manner. Although the ceramic tools allude to function, they are absurd in their material qualities and are too delicate for use. Baldock plays with concepts of functionality through ornamentation, creating a tension between the theatrical and playful, erotic and disturbing. Using bright colours with earthy browns the work also deals with the formal considerations of painting and sculpture rooted in art history. Arranged considering composition, colour and form, the work is informed by British modernist master artists such as Hepworth and Moore.
Drawn from the welter of second-hand anecdotes, lurid gossip and conjectural mythologies that bolster the public interest in art history, Mel Brimfield's ongoing The Love Lives of the Artists series (2013) cast a prurient eye over the romantic entanglements of our Great Artists. Approximating something of the style and economy of romance comic book covers, the gouache panels fictionalise a slew of love affairs, friendships and petty rivalries to examine the persistence of biographical motifs in art historiography. Immaculately dressed and on the brink of fading into the wall of his paintings behind him, a lonely Mondrian can only see the beauty of the sea, sky and stars in terms of their plastic function. By turns humorous and romantic, the series starts where Vasari left off to deliver a skewed chronicle of 'the creative life'.
Grant Foster's recent body of work included in the exhibition explores the reformative and transformative effects of punishment. Crudely formed heads have been collaged together, to suggest a collection of trophies that satiate a lust for revenge. Your Debt To Us, 2012, employs a tabloid vernacular to address the ethics of representation and the erosion of innocence. Drawing from folk and outsider art Foster gives voice to the marginal, whilst addressing the baying mob. Virtue and innocence is further explored in his heavily worked paintings; The Fall, 2013, depicts a young Eve in a lurid Eden where childhood innocence has been lost to a world abandoned by God. The performative physicality of the paint stresses the painting's objecthood, rather than the illusory. These paintings teeter on the edge of collapse having been over-worked, and over-loved they become almost suffocating, which in relation to the image (related to or featuring children) sets up an uncomfortable proposition.
Sophie Jung's work is a decoding of her environment articulated through her latest burning obsession, Elvis. In her new iPhone presented film He loved Fool's Gold, a hollow loaf filled with a jar of peanut butter, a jar of grape jelly and a pound of bacon. It had 42,000 calories, 2013, she jogs between exterior and interior worlds mingling her own overdrawn out-there findings with plundered footage, aided and abetted by Elvis' own equivocal essence. In Oh yeah, 'cause I ain't for no one-sided love affair, 2013, Jung explores Elvive's camp bathroom impostor, the 60 Second Saviour. Linking the popular hair conditioner's glamorous appearance to Vegas Elvis's bell-bottomed body suited cardboard cut-outs, she presents life size photographs of the products, each with their own accompanying audio which casts profane spirituality into the voices of conditioning desire and the desire for conditioning. The slick and seductively false speech of the commodity is appropriated by personal needs and opens up a field of fantasy in which Elvive and Elvis, words and worlds interlock. He lives; Elvive is Elvis's wet-room wet-dream incarnation – his shiny costumes give it away.
Matthew de Kersaint Giraudeau's new series of sculptures and drawings (all 2013) explore notions of adequate representation, abjection and the philosophical object. The sculptures are in-between objects, recognisably human and repulsively inhuman at the same time. Made of home made Play-Doh, human toenails, synthetic and real hair, the sculptures are like torn lumps of flesh or tumours from another world. The structures that offer up the sculptures for inspection are part plinth, part gallows. The drawings are reflections on representation from An Infinitely Ongoing Series Cataloguing Every Object, Both Real and Imaginary, in the Entire Universe. The unrecognisable lumps of matter depicted in the works are paired with drawn titles, seemingly claiming the drawing to be "of" a thing, such as 'Lars Von Trier', 'Benevolence', or 'Wholegrain'. Each drawing's claim to be an adequate representation of its title is ludicrous and bleakly humorous.
In Jen Liu's new film Safety First (Bad, Don't Touch, Mercy!), 2013, a factory labourer is seen at work in split screen, with one representing good and the other bad. Various safety conditions are violated by the bad worker, and from there, dream sequences bring to life Romanian factory safety posters from the 1970s, wherein the safety code violator enacts commands. Safety First was shot in various locations in northeast Ohio, including the Frank Lloyd Wright Penfield House outside of Cleveland. This is a major Rust Belt region: both its history and its future are framed by industrial production, and its hoped-for return. Safety First is a piece of practical speculative fiction, the posters' protagonists are here to help us understand the correct way to do things in this brave new (industrial) world.
Bedwyr Williams' new film Diminuendo, 2013, is a series of seductive, dark and playful images accompanied by the artists voice describing a number of fading characters, situations and scenarios. From a strange beautiful woman who makes squash too strong for her daughters friends, a man who puts his thumb in his rear belt loop when he's in social situations to a long gone tandoori house with a beautiful blue vibe. Bedwyr Williams' exhibition The Starry Messenger is currently a Collateral Event at the 55th International Art Exhibition – la Biennale di Venezia 2013, jointly curated by MOSTYN and Oriel Davies and supported by Arts Council of Wales.
http://www.cerihand.co.uk/?utm_source=Ceri+Hand+Gallery+List&utm_campaign=344ca5cbc4-Implausible+Imposters&utm_medium=email&utm_term=0_a3a33b4b41-344ca5cbc4-231101297
Categories
Tags