FRIEZE 2022 The Artists' Choices Facilitated by Paul Carey-Kent
For every previous London edition of Frieze, I have looked around and reported on what interested me. This year I couldn't be there due to a run-in with sepsis and bowel and liver cancer. So I asked a few artists to choose a work which particularly appealed to them, and to say why they liked it.  I must admit, they did a much better job than I'd ever done… As for trends: they liked materiality and messages, and were not seduced by colour. Click on each selecting artist's name to see their own work.
John Wood and Paul Harrison: from 10 signs for a park, 2022 – presented by Galeria Vera Cortês, Lisbon, in the Frieze Sculpture Park – chosen by Emma Hart
Emma Hart jestingly offered to identify 'the second-best work in the Frieze Sculpture Park' – her own ceramic sundials are a big time hit – and here's her verdict! John Wood and Paul Harrison have been collaborating since 1993, poking fun at conceptual art with a drily ironic wit while pointing to recognisable features of modern life – these signs are part of their long-running 'Encyclopaedia of the Everyday'. Pointing mostly at themselves, they make, says Emma Hart, 'a deceptively simple work which is importantly fun, then worms its way into your brain to ask you questions  about the unspoken rules of civic spaces and why we adhere to them. And then the work wiggles even further down and gets stuck into 'what is a sculpture?'
Acaye Kerunen: VPN (Very Personal Network), 2022 – mixed media, 400 cm x 350 cm at Pace Gallery in Frieze London – chosen by Peter Peri
Kampala-based artist, actress, writer and activist Acaye Kerunen supports local female makers by employing them to produce the woven, dyed, and otherwise handcrafted materials in her work. Here she refers to the shutting down of Internet access during the 2020 Ugandan election, and subsequent restrictions which meant that social media could be accessed only through a Virtual Private Network. She explains that the web-like, expansive structure not only suggests the submarine cables required to bring the internet to Africa, but also symbolises 'the interconnectedness of freedoms and oppressions'. Peter Peri admires 'the tentacular coolness of Kerunen's ultramarine-bounded loops and tangles. She has said that each of these works is a prayer. Coils of thread meant for making baskets and textiles are ravelled into a collective invitation to poetic linear travelling.'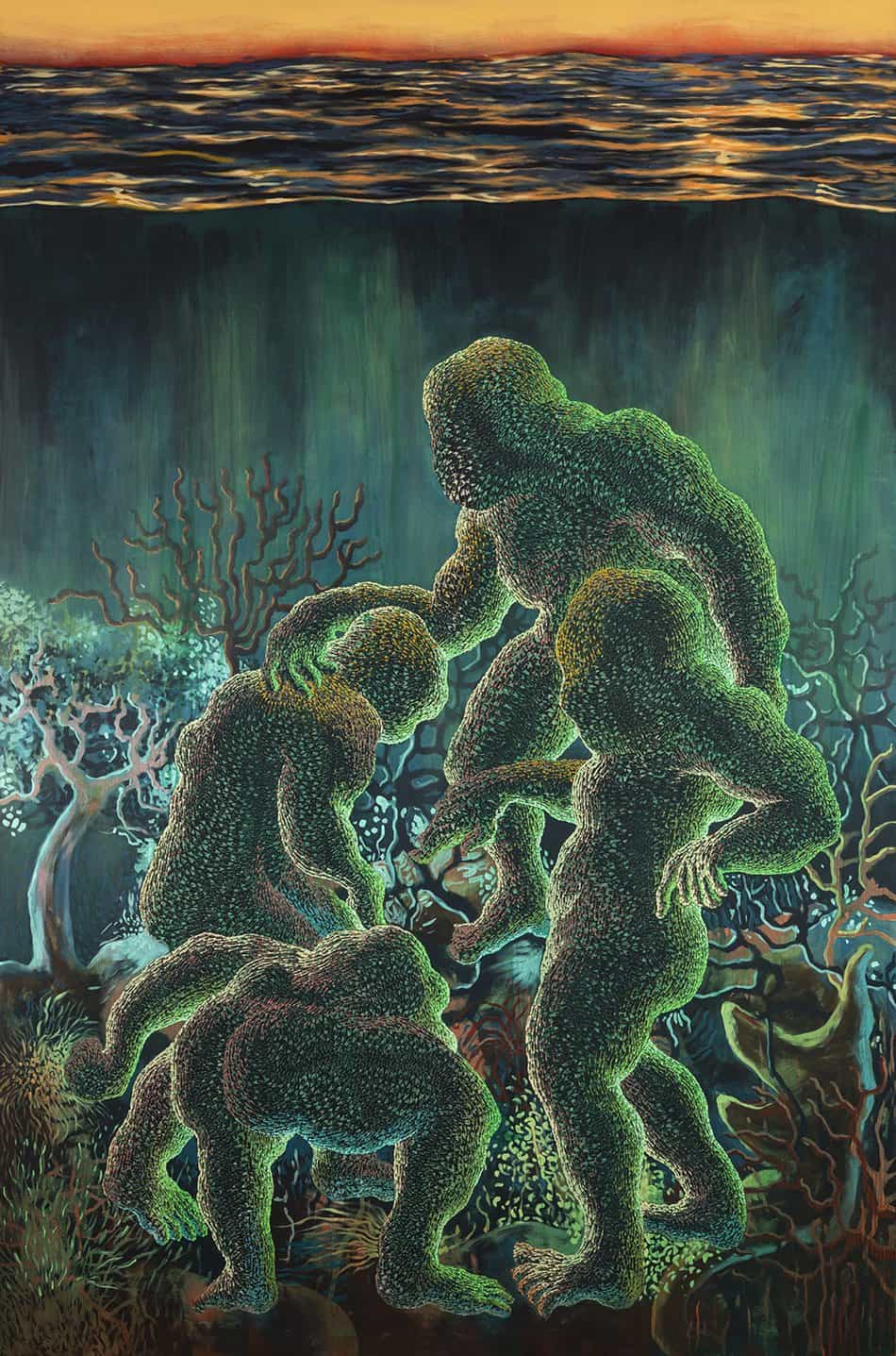 Didier William: Anba D'Io, 2022 – acrylic, wood carving and ink on panel, 269 x 178 cm, at James Fuentes Gallery, New York – chosen by Doug Fishbone
Haiti-born, Philadelphia-based Didier William combines carving and painting to striking effect in this depiction of a family huddled together – the title translates from the Creole as 'Under Water'. William explains that he is interested in the ancestry and stories of those who lost their lives in the Caribbean on the migratory journey which his family survived, hence 'this series of paintings wants to look closer at these waters for clues that may have been left behind.' Doug Fishbone says this piece grabbed him right away – 'there is something both soothing and ominous about it, an attempt to maintain dignity in the face of the world's hostility, where life, death and migration churn remorselessly. I am reminded of Melville in Moby Dick: 'these are the times of dreamy quietude, when beholding the tranquil beauty and brilliancy of the ocean's skin, one forgets the tiger heart that pants beneath it.'
Liz Larner: v (subduction), 2015 – Ceramic, epoxy, pigment, stones and minerals, 53 x 100 x 29cm, at The Modern Institute, Glasgow in Frieze London – chosen by Nika Neelova
You might call the American sculptor Liz Larner a neo-minimalist formalist with a sense of humour, and this is from a series which wittily runs with the effects produced accidentally when a ceramic work broke as it emerged from the kiln. Here the deliberately-generated fissures and cracks, along with the colour, suggest the earth's shifting crust. Just so, 'Subduction' occurs when an oceanic plate runs into a continental plate and slides beneath it. Nika Neelova says 'I have always been fascinated by geology explored in sculpture as a form of non-human expressivity and the planet's way of inscribing its own history. I find it interesting how this work combines artificial and natural materials and exposes the process of its own formation.'
Ximena Garrido-Lecca: Protomorphisms: AGC Rope driver module, 2022 – Steel structure, copper plates, steel plates, terracotta, rubber, alpaca wool, sheep wool, cotton 223 x 310 x 60 cm at Galerie Gisela Capitain, Cologne in Frieze London – chosen by Liane Lang
Peruvian artist Ximena Garrido-Lecca shows the commonalities between ancient craft and modern technologies: here she foregrounds the echoes between computing and weaving by replicating the structure of an engineering prototype for the Apollo Guidance Computer pivotal to the late 60's moon landings – but using hand-made ropes of natural fibres as the wiring. Liane Lang says 'Ximena's work speaks to the post-colonial and capitalist situation in Peru specifically, but to me the work also encapsulates the complicated relationships between traditions, ecology, money and power that govern all of human society. Finding constructive ways through this complex set of relations will be essential for positive change. It feels beautifully represented by these delicately woven threads, spanning indigenous craft and space travel.'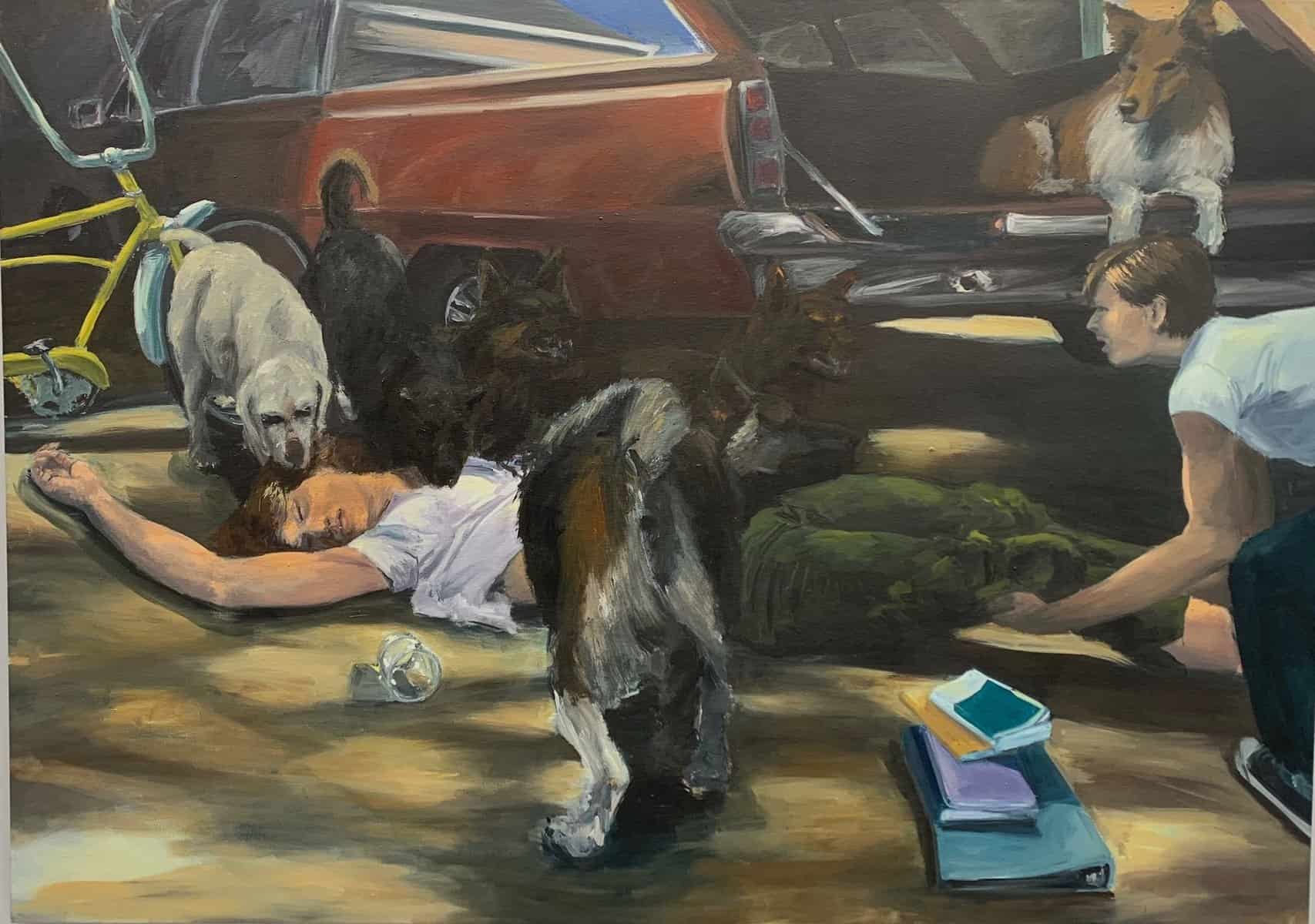 Eric Fischl: A Woman Possessed, 1981 – oil on canvas, 173 x 244 cm, at Skarstedt Gallery, London / New York in Frieze Masters – chosen by Dale Lewis
Eric Fischl – born in New York in 1948 – became famous from the 1970's on for figure paintings focusing on provocative depictions of the dark underside of American life, often giving a voyeuristic context to issues deemed repugnant by polite society. Dale Lewis, a long-term fan, loves how 'the work often looks quite normal. Everything is recognisable. Yet the closer you look, the more you'll find something sinister, some tension about what has happened or is about to. As if you've chanced on something you can't step back from. Here you're not sure if the dogs are protecting or harming the woman on the ground. And at the very centre of the work is a dog's bum hole – that's totally gross and brilliant. The one thing you'd do your utmost to avoid seeing, you're forced to confront.'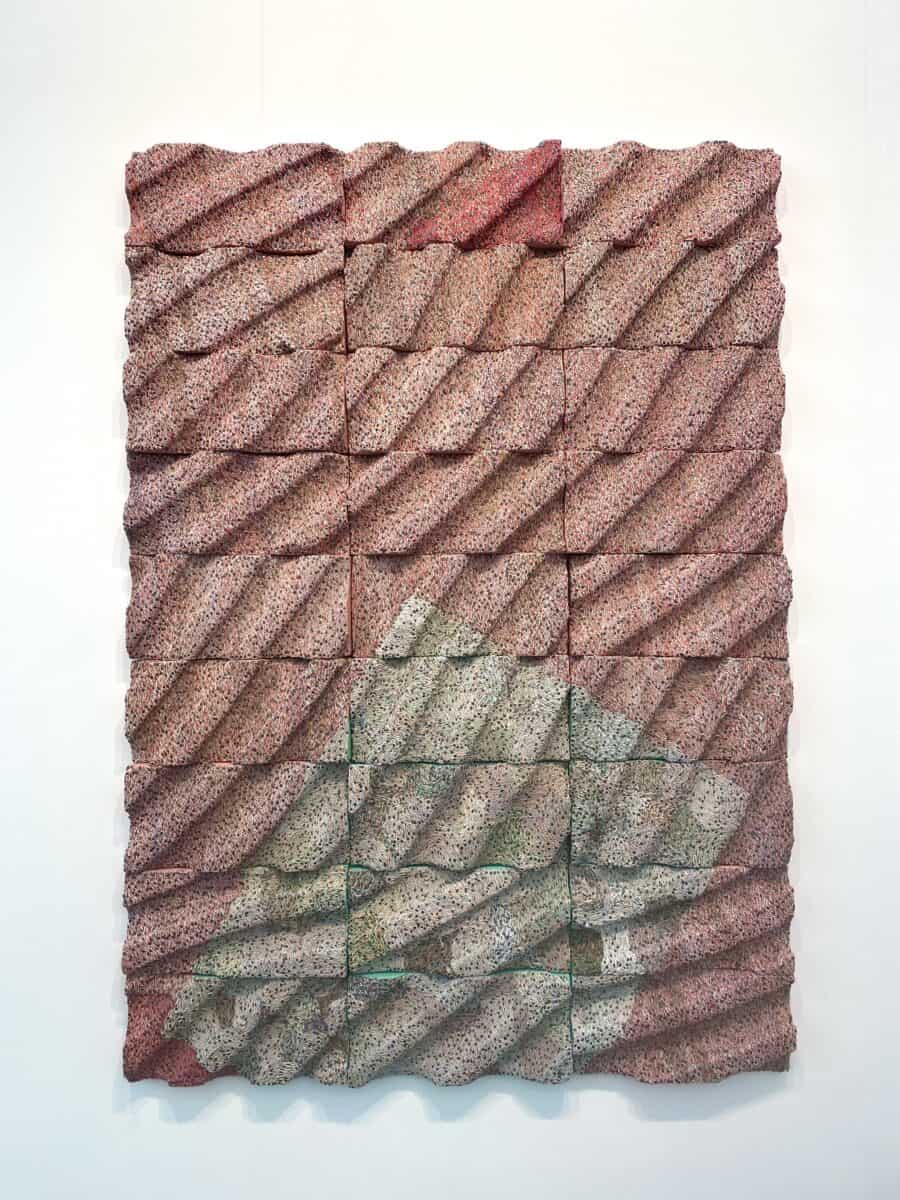 Elias Sime: Tightrope, 2022 – Reclaimed electrical wires and components on panel, 151 x 105 cm – at James Cohan Gallery, New York in Frieze London – chosen by Jeremy Hutchison
For the past decade, Ethiopian artist Elias Sime has worked with material – originating from around the world – salvaged from the vast electronic waste markets of Addis Ababa. James Cohan have dedicated their booth to his series of large wall-based abstractions made from electrical wires, type keys, microchips and computer hardware components. 'Collectively', says Jeremy Hutchison, 'they produce an overwhelming elegy to the material excess of the tech industry.' This particular work is made of salvaged electrical wires delicately woven over a wave-like panel. As Hutchison points out, 'the series is aptly-named: 'Tightrope' speaks to an ambivalence that swirls around the works. For while it is undeniably true that electronic waste dumps across the Global South produce value for local economies (and in this case, contemporary art), they function as receptacles for the shadow of Western consumer excess. To my mind, these works are lyrical portraits of Waste Colonialism.'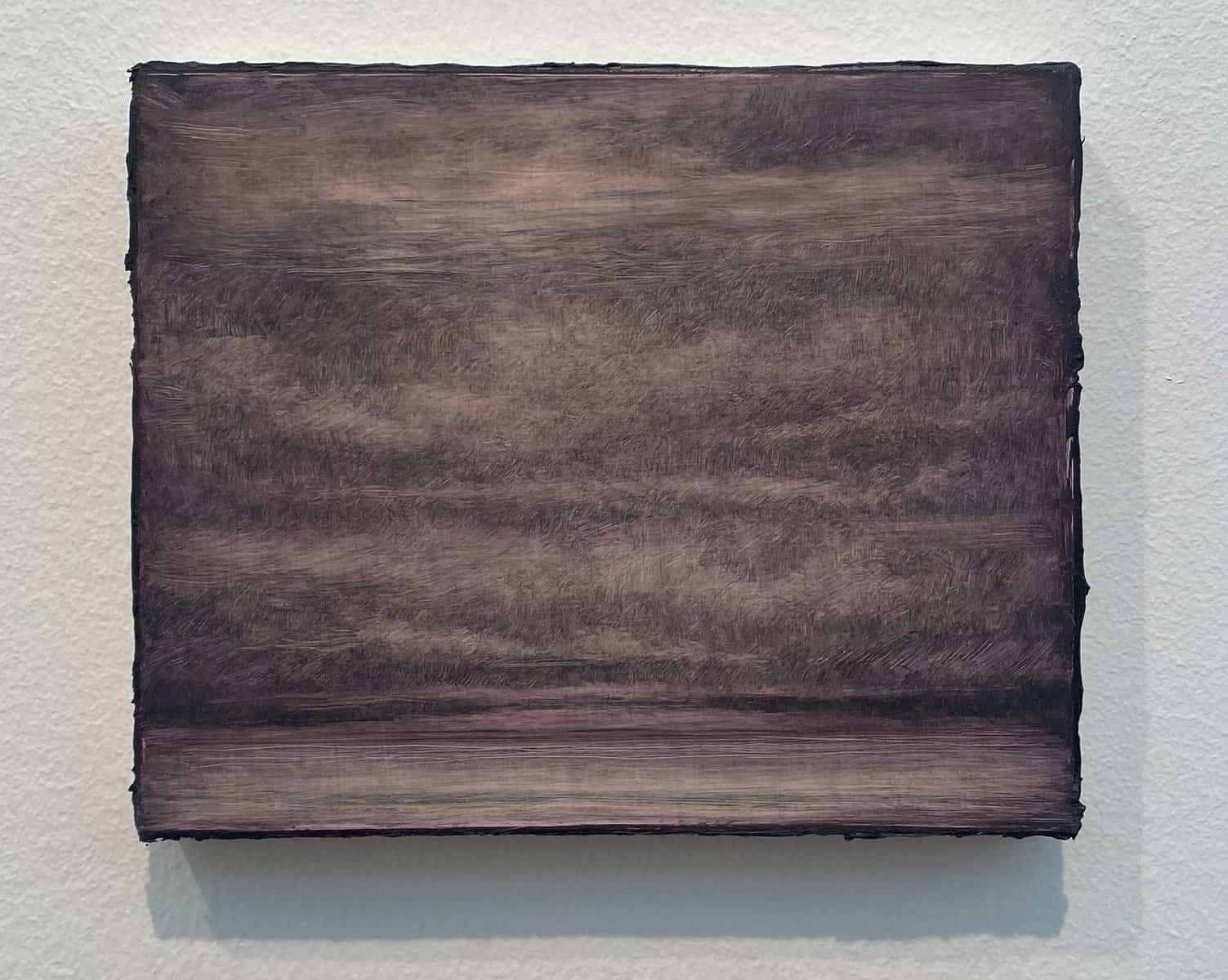 Lucas Arruda: Untitled (from the Deserto-Modelo series), 2021 – Oil on canvas, 18 cm x 22 cm, at David Zwirner in Frieze London – chosen by Alice Anderson
The Brazilian artist's long-running series of intimately-scaled, meditative 'model-desert' landscapes and seascapes carries on, consistent with how the recurring title used for both paintings and exhibitions subverts the idea of closure. Their near-total absence of specific reference points throws the emphasis onto the portrayal of atmospheric conditions and the ever-present, if sometimes faint, horizon line that offers a perception of distance. Alice Anderson explains: 'I like how Lucas Arruda depicts nature from memory, but with so few memorable features that we wonder what can plausibly have been remembered, and what must have just emerged in the course of his exacting way of building, layering and scraping the paint'.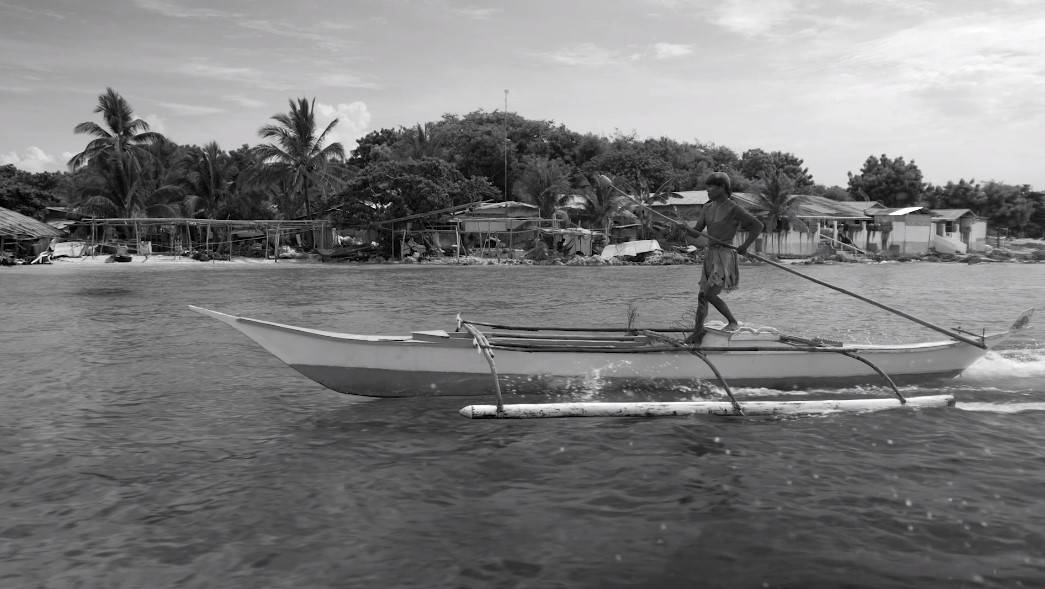 Martha Atienza: still from Tigpanalipod 11° 02' 06 .4" N 123° 36' 24.1" E (1) The Protectors 11° 02' 06 .4" N 123° 36' 24.1" E (1), 2022 Single-channel video (74 min. loop, no sound) at Silverlens Galleries, Manila in Frieze London – chosen by Troika
The special section Indra's Net, curated by Sandhini Poddar, includes films by Martha Atienza, a multidisciplinary artist who lives on Bantayan Island within the large archipelago of the Philippines. She documents the effects of erosion on the coastline and the consequent endangerment by rising tides of the local fishing communities. 'This filmic collage', says Conny Freyer, of the artist trio Troika, 'seems to collapse the macro and the micro. On the one hand the incomprehensible environmental breakdown caused by economic rationality, extractive capitalism and our technological present; and on the other, the devastating effects this has on a small fishing community in the Philippines as well as on our future selves. It is mesmerising to watch, whilst reminding us that issues that should concern us all are often impossible to embrace or imagine because they are so far from our eyes or simply too big or disastrous to comprehend.'
Tarek Lakhrissi: GODDAM, 2022 – Moulded glass, 30 x 20 x 11 cm at Vitrine Gallery, London / Basel in Frieze London – chosen by Jonathan Baldock
French artist and poet Tarek Lakhrissi's solo stand includes this work from his most recent series of glass sculptures referencing a queer heritage between the artist and ancestral figures. These mythically tinged horn or tail forms, says Vitrine, 'come out of the wall as if to suck in new desires and address the potential presence of dark sources' – whether in creation or deep inside us. Jonathan Baldock explains: 'There's a lot about this body of work that speaks to me thematically and conceptually. But it's his particular use of glass that initially turned my head. GODDAM is so simple in the way a good work often is – it feels weighty and solid like a bronze, which completely goes against my usual perception of glass as light and fragile.'
Jorunn Hancke Øgstad: Untitled, 2022 – Fabric dye, epoxy, plastic and acrylic on cotton, 210 cm x 155 cm x 2.5 cm, at VI, VII, Oslo – chosen by Martine Poppe
VI, VII positions Jorunn Hancke Øgstad as a female artist using fabric dyes, resins and plastics to mimic watercolour, spray paint and silkscreen processes – often within the same work – so co-opting techniques commonly used in the historically male-dominated genres of expressionism, pop and street art. Fellow Norwegian Martine Poppe says 'I always get a kick out of seeing the way she draws on different materials to construct painting surfaces that fuse areas of shiny epoxy and graphic outlines with matte washes of colour bleeding into the raw canvas, balancing fragility and playfulness with a sense of unyielding control '. Moreover, 'I find myself thinking first of comics, then of Sigmar Polke, or traditional Japanese landscapes, or graffiti, or Helen Frankenthaler's colour fields. Because Hancke Øgstad's paintings never really seem to settle, they take me on a joyous exploration of different outlooks, moments in art history and other visual languages.'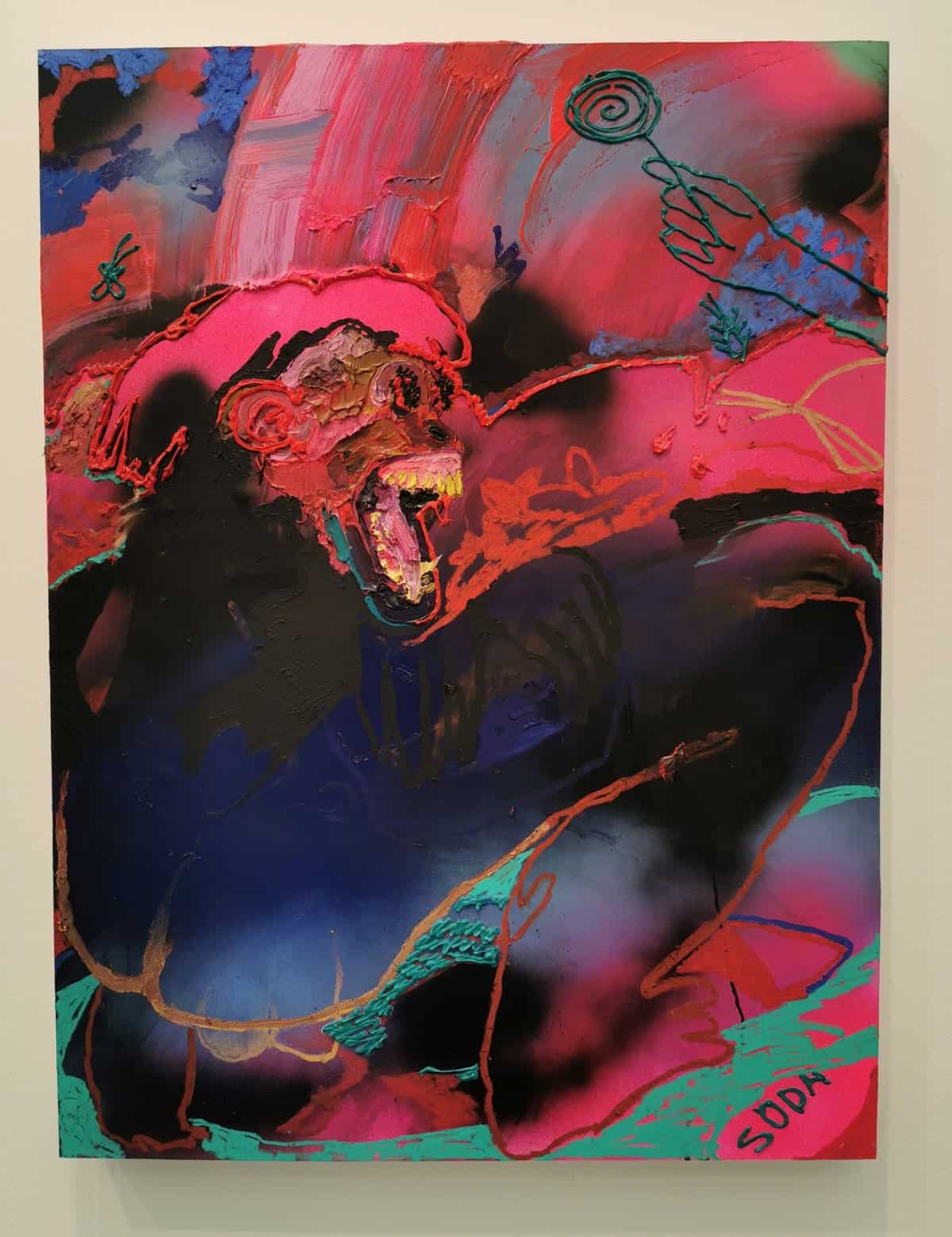 Bianca Fields: Kick Swift Bit, 2022 – Acrylic, oil and spray paint on Yupo paper (mounted on panel), 102 x 76 cm, at Carl Freedman Gallery in Frieze London – chosen by Jonny Briggs
Upcoming Kansas City based painter Bianca Fields (born 1995) makes recurring use of howling primates so that, she says, 'each and every time that my subjects are depicted, I feel a sense of control and them becoming closer to me and looking like me… It seems as though all of my emotional responses have created an exquisite corpse of myself.' They also channel cartoon imagery as a way to investigate violence and opposition, so speaking to 'the same conundrums that plague our society at large.' Jonny Briggs says he was 'taken by the frantic application of paint, movement, tension, vibrancy of colour, and their unpicking of 21st Century depictions of the black female body'. He cites Fields' own description of that urgency: 'I like to paint as if I have a burning cake in the oven'.
With thanks to the artists and galleries.
Categories
Tags