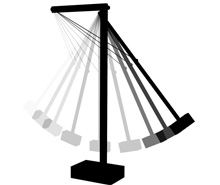 Friday 14th June
To celebrate upcoming exhibition, The Future is Here: A New Industrial Revolution (24th July – 3rd November) the Design Museum has commissioned a live 3D printing machine to build a mystery object during TEDxHousesofParliament this Friday. 'Swing Vote' is a machine that literally translates the power of public opinion into a physical force.
How it works
Powered by social media, composed of a large pendulum and a 3D printer, 'Swing Vote' charges itself on the votes in favour of 3D printing regulation. But for every vote it receives for unregulated use it will relax. At the critical moment the pendulum will be released. If it has enough potential energy then it will smash through a Stop button connected to the 3D printer. If not, the finished object will be presented to the crowd.

How can you get involved?
Tune in to TEDxHoP live
Tweet #futureishere with either "yes" or "no" to @DesignMuseum, sharing your thoughts on the debate.
Categories
Tags