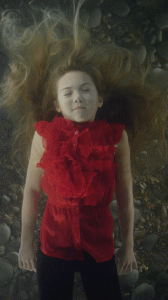 'Water Portraits' series: 'The Dreamers', 2013 (detail). Video/Sound Installation. Continuously running.
Bill Viola: Frustrated Actions and Futile Gestures. Blain/Southern. Exhibition runs through to 27 July www.blainsouthern.com.
By Yvette Greslé
Stillness: It is dark but the screens that surround me are luminous. Men and women, spanning generations, are submerged under water, their eyes closed. I am drawn to an image of a young girl her hair billowing Ophelia-like behind her. She lies, arms and hands at either side, floating, and I see that she smiles. I walk closer to the screens ambiguously merged with the water, inviting the sensations of touch. Light, from an unknown source,  illuminates these figures as they rest, suspended in time, underneath the watery surface – water, I both see and hear. Another woman in a white blouse (its fabric gleams in the light) wears a cameo brooch, its stone embellishments glisten. Everything in this underwater world is intensified: colours, fabrics, jewellery.  The language resembles that of portraiture through history.  Bill Viola's 'The Dreamers' (2013) is a seven-channel video installation that brings together an experience of space, sound and vision. The surround of high-definition plasma screens is made possible by the technologies of the twenty-first century, and the art practices and inventions of the twentieth. In 'The Dreamers' the world of the screen, and the world of painted surfaces blur: the lines between them obfuscated and uncertain. The figuring of the human subject in ideal states of being (whether in life or death) is a powerful presence in the history of representational painting. The histories of these is attached to religious imagery, mythological and historical subjects, and sitters of wealth. Here, in Viola's 'Dreamers', I recognise people from everyday life in the present. But in this work the material of colour, light, sound and movement is transformative, and the figures (and everything about them) appear beautiful and mysterious as I stand in the intimate, darkened, subterranean space within which they appear.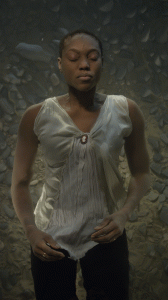 'Water Portraits' series: 'The Dreamers', 2013 (detail). Video/Sound Installation. Continuously running.
'Frustrated Actions and Futile Gestures' is Bill Viola's most recent body of work. Viola, whose career spans over forty years, is an artist seminal to the history of Video Art. In 1973 he graduated from Syracuse University (New York), a period central to experimental and cross-disciplinary art practices in the latter half of the twentieth century. Many younger generations of artists, work in a historical and critical relationship to artists and movements that came out of the 1960s and '70s: the moving image in art is ubiquitous in current practice. Viola worked with similarly influential figures in the field of Video Art: Nam June Paik and Peter Campus. His practice also explores the possibilities of sound (a medium re-visited by a number of younger generations of artists working presently). Viola collaborated with the late composer/musician David Tudor, and, in 2004, worked with conductor Esa-Pekka Salonen and director Peter Sellars on a version of Wagner's opera 'Tristan und Isolde'.
There is something distinctive and important about Viola's practice and its relationship to the human condition. Corporeal reality and the finitude of life is ever-present in his work  (themes that reach across history to vanitas painting and memento mori). Perhaps these themes are more urgent and necessary today: life is disposable in our repetitive, violent century. Now in the twenty-first century (where technological advancements expand the reach and efficacy of human violence, manipulation and destruction) Viola opens up another way of seeing and relating to technology. He is, of course, conscious of the politics and violence attached to its deployment. But at the same time he insists upon the imaginative and transformative capacities of his medium. I asked Viola about limits and possibilities: 'The limits of the medium are not that interesting. We have different ways of making things. For me the most important thing is the limits of you'.  His emphasis is always on human agency and the ethics of choice; and perhaps our interpretation of the videos says as much about our own subjectivity as it does about the work itself.
The emotional quality and the sensate aspect of Viola's practice is often remarked upon. Devices such as exaggerated slow motion, and the presence of human bodies in material worlds shaped by water, fire or darkness, speak to experiences that are intangible and not easily translated into language.  He tells me: 'Often what is missed is mystery. You don't see that anymore in the artworld. You don't hear artists talk about that. And I think mystery is probably the most important aspect of my work. Mystery is the time when you open the door and you close it and you don't know where you're going. You're lost. Being lost is one of the most important things'.
'Frustrated Actions' series: 'Man Searching for Immortality/Woman Searching for Eternity', 2013 (detail). Colour High-Definition video. 18:54 minutes.
The exhibition at Blain/Southern consists of three series: The Water Portraits (of which 'The Dreamers' is one); the Mirage series and the Frustrated Actions series. In a work from the Frustrated Actions series – 'Man Searching for Immortality/Woman Searching for Eternity' (2013) a video diptych is projected on vertical slabs of black granite, the material of monuments or gravestones. A man and a woman perform an action: they scrutinise their aging, naked flesh with a torch. Forensically, relentlessly the torch (and indeed the medium of high definition video) reveals every disturbance to skin surfaces. There are moments of absurdity in this work too: at one point the woman opens her mouth wide and shines her torch inside, a gesture that is ridiculous as it draws attention to human frailty. Behind these figures (reminding us of our own inevitable fate) is the mystery of the dark and unknowable ground in which they stand.
'Frustrated Actions' series: 'Chapel of Frustrated Actions and Futile Gestures', 2013 (detail). Video/Sound Installation. Continuously running.
Also in the Frustrated Actions series is a nine-channel video installation: 'Chapel of Frustrated Actions and Futile Gestures' (2013).The work stages, in a grid arrangement, sequences that speak to repetition, as action and as idea.  A man and a woman face each other: they look into each other's eyes and the space they produce is a space of tension.  Intermittently (repetitively) she slaps him across the face, and I see him slap her. A gesture that invokes Marina Abramovic's and Ulay's  'Light/Dark' (1977): although in this earlier work the register and meaning is somewhat different. At the centre of Viola's grid is a glass bowl on a wooden table.  Water leaks out of cracks to its surface, and spills over the table, refills and leaks again. Repetition is present too in the Mirage works, and this time Viola's human presence is reflected in the figures of men and women as they walk in a repetitive continuum seemingly without beginning and end, backwards and forwards. In 'Ancestors', 'The Encounter', 'Inner Passage' and 'Walking on the Edge' (all 2012) figures and landscapes are obfuscated appearing immaterial and transient. Similarly, to the 'Chapel of Frustrated Actions' repetitiveness is (at moments) punctuated by encounters or gestures that speak to human proximity, and intimacy. Themes of ageing and relationships that cross generations are a thread in this exhibition. 'Walking on the Edge' speaks to a symbolic walk: that of father and son. The piece was recorded at El Mirage – a six-mile long dry lake bed in the Mojave Desert. In Viola's video, this walk takes place in the symbolically charged space-place of the desert, and is described by a language of margins, proximity and separation.
Viola's Frustrated Actions and Futile Gestures emerges out of a complex process of production and collaboration: led by Kira Perov (the Executive Director of Bill Viola Studio). The installations are carefully curated and installed within an exhibition space designed by Caruso St John. This is a rare opportunity to see a substantial series of video installations by an artist who was there at the beginning of video as a medium in art.
'Mirage' series: 'Ancestors', 2012. Colour High-Definition video on plasma display mounted vertically on wall. 21:41 minutes.
Frustrated Actions and Futile Gestures: Blain/Southern, 4 Hanover Square, London W1S 1BP. Until 27 July www.blainsouthern.com.
About Yvette