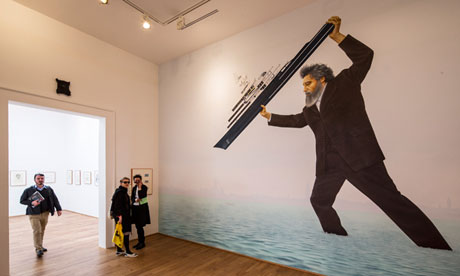 We Sit starving Amidst Our Gold painted by Stuart Sam Hughes for Jeremy Deller's British pavilion. Photograph: David Levene for the Guardian
Jeremy Deller's British pavilion at Venice is about money and magic, heritage and horror. The artist's enthusiasms as well as his politics suffuse a complex and timely show that can make you feel both light of step and heavy of heart. Did our English warrior prince Harry and a mate shoot a couple of protected hen harriers, which inconveniently like to dine on grouse, on the Sandringham estate in 2007? A huge mural of one of the birds, with a Range Rover clasped in its talons, fills one wall. Elsewhere, you can sit on a bench made from a pulverised four-wheel drive and watch more Chelsea tractors being sent into the crusher as a steel orchestra plays Ralph Vaughan Williams and A Guy Called Gerald, and Bowie's The Man Who Sold the World. A tawny owl flaps by. This is the end of England, with the lord mayor's procession and a bit of birdwatching thrown in.
Deller punctuates his show with murals. He imagines the Channel Island tax-haven Jersey on fire, the banks and financial institutions of St Helier consumed in a future insurrection. Victorian social reformer William Morris returns from the dead to hurl Roman Abramovich's vast yacht Luna, which blighted the waterfront beside the Giardini at the 2011 Venice Biennale, into the waves.
Read the full article at:www.guardian.co.uk
About Mark Westall