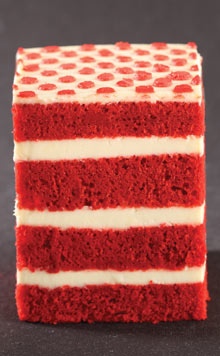 The Lichtenstein cake Photograph: Clay McLachlan © 2013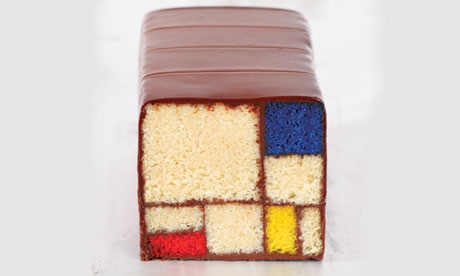 Mondrian cake … reproduced with permission from Modern Art Desserts, by Caitlin Freeman, copyright © 2013 Photograph: Clay McLachlan © 2013
This article titled "The cake that looks like a Mondrian painting" was written by Paula Cocozza, for The Guardian on Wednesday 17th April 2013 17.20 UTC
It has always been possible, in certain frames of mind, to look at a battenberg cake and think it a work of art. But this tribute in cake form to the artist Piet Mondrian takes that sort of artistic appreciation to a whole new level. From the outside it looks like a squared-off chocolate log. Cut it, and you have sliced yourself an edible canvas, its finely balanced squares of coloured sponge carefully demarcated with icing.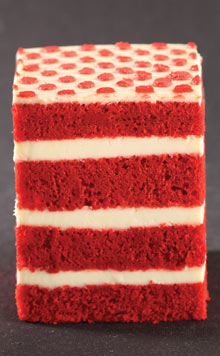 The Mondrian cake and others, such as the tall red tower decorated with Lichtenstein dots, are taken from a new cookbook, Modern Art Desserts, by Caitlin Freeman, who is pastry chef at Blue Bottle Coffee at the San Francisco Museum of Modern Art. She never copies works outright, just pays tribute to them, sometimes tangentially. Her other creations include an Icebox Cake homage to Rineke Dijkstra, or a heart-shaped parfait modelled on Luc Tuymans' St Valentine (1994). It could be tricky ever to look at a battenberg in the same way.
guardian.co.uk © Guardian News & Media Limited 2010
Published via the Guardian News Feed plugin for WordPress.
Categories
Tags