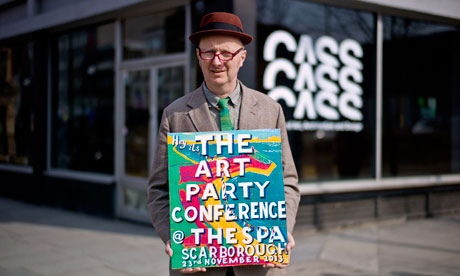 Artist Bob and Roberta Smith promoting the Art Party Conference. Photograph: Sarah Lee
www.crescentarts.co.uk/site/the-art-party/

This article titled "Artists to hold own party conference to discuss cuts and education" was written by Charlotte Higgins, chief arts writer, for The Guardian on Thursday 11th April 2013 18.33 UTC
Think of a party political conference and what springs to mind is minutely-crafted speeches, long standing ovations and relentless networking by the party faithful.
Not, in short, the natural habitat for an artist. But this autumn, just after the end of the party conference season, artists from up and down the land plan to foregather at the Scarborough Spa for the Art Party Conference, to debate the claims of culture in today's climate of arts spending cuts and changes to the education system.
Organised by the artist Bob and Roberta Smith, the conference will bear little resemblance to a traditional party conference. It's hard to remember, for example, the last political conference that invited delegates – in this case, professional artists and members of the public – to bring their own portrait of education secretary Michael Gove to enter an on-the-spot exhibition and painting competition.
"The Scarborough Spa is a classic party conference venue," said Smith. "You can absolutely imagine Alan Clark running riot through the palm courts. But this will also be a party. We won't be sitting down for plenary sessions or anything like that." After the day's events have come to a close, there will be an "all-night party", followed by "a grizzly breakfast on the beach the morning after", he said.
Among the events on 23 November will be a "summit", from which delegates will be invited to speak: Smith said he intended to construct this literal mound from bits of discarded material from the streets of Scarborough.
There will also be a "fringe" – an actual fringe strung through the conference centre, made from Scarborough's finest haberdasher's tasselling. Participants will be invited to "take a stand" – a market-style stall, from which young artists can sell work. Artists including Turner prize winner Jeremy Deller and Cornelia Parker will contribute to proceedings with performances, film screenings and installations. Members of the public are welcome: everyone is by default a member of the Art Party, said Smith.
In the afternoon there will be a march through the streets of the Yorkshire seaside resort with an inflatable version of "Old Flo", the Henry Moore sculpture Smith has been campaigning against being sold by Tower Hamlets council in London.
Despite the jokes and the fun, the intent is deadly serious, said Smith: the aim is to debate issues such as the absence of arts subjects for 16-year-olds in the Ebacc; the state of art schools; and the cuts in public spending to the arts. Culture minister Ed Vaizey and shadow culture minister Dan Jarvis were invited, he said, though neither has confirmed attendance.
"My view is that children should study an arts subject up to the age of 16," said Smith, "though the point of the conference is not to corral people to one point of view. Especially in a world where people are going to have to invent their own digital careers, in a world that is becoming more and more visual, it's crazy to bolt on to our culture a mid-20th-century idea of education. Art ought to be front and centre of the education system."
Smith said the event had been partly inspired by the US Tea Party movement and the aim was to "infiltrate mainstream politics, whether on the left or the right".
The conference was primarily organised with visual artists in mind, though artists from any discipline are invited to contact the Yorkshire-based host organisation, Crescent Arts, if they wish to get involved. Smith said he hoped teachers would attend and "tell us ivory-tower artists where to get off".
He added that he believed that visual artists had been slow to speak out about post-downturn, coalition-era cultural politics. "Visual artists have been a bit useless at politics. We are basically a herd of Kate Mosses, and we don't want to disrupt the image of our work by opening our mouths, with some exceptions such as Tracey Emin and Grayson Perry. Actually I think that's all a load of rubbish. Really great artists like Picasso don't care about that and aren't afraid of speaking out."
Most previous campaigns and conferences in the arts had been organised by organisations such as Arts Council England or by the leaders of cultural institutions. But the Art Party Conference will be different, said Smith: "a joyful antidote to all that; much more idiosyncratic. It will not be driven by right-thinking but none the less basically patrician flunkies. The important thing about this is that it will be artists saying what we want and what is important. I want it to satirise the idea of the party conference a little bit."
The legacy of the event, he said, would be a 90-minute documentary in which artists spoke out about the importance of the arts.
guardian.co.uk © Guardian News & Media Limited 2010
Published via the Guardian News Feed plugin for WordPress.
Categories
Tags