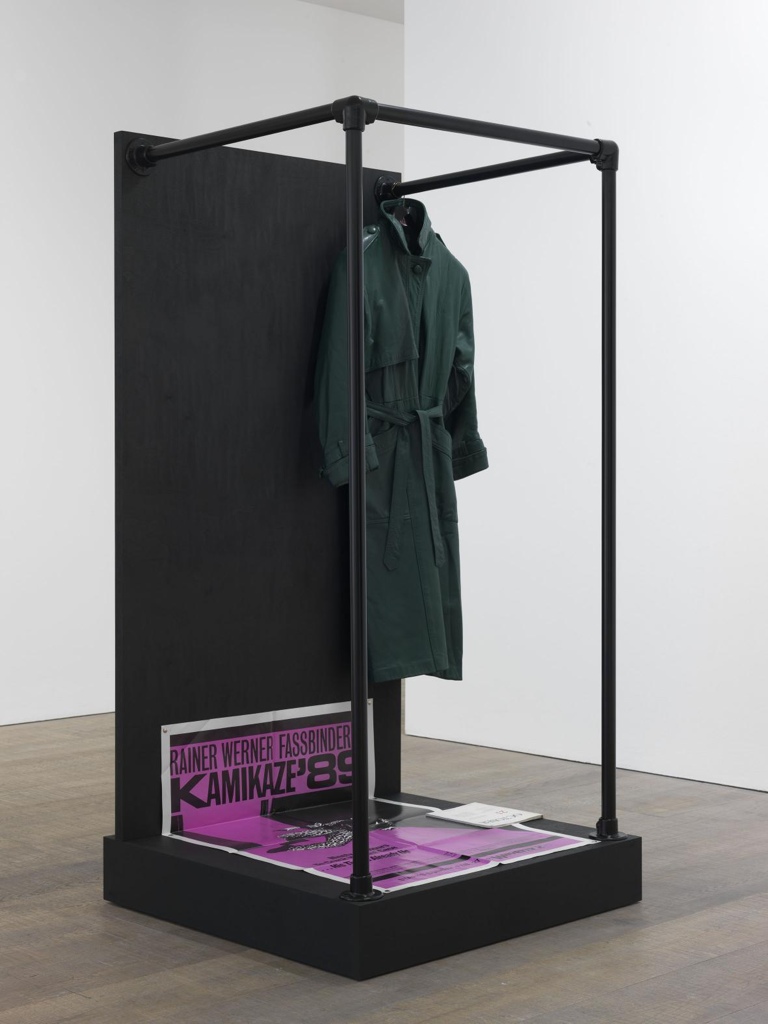 Tom Burr, Fassbinder Piece, 2011, stained plywood, painted steel, vintage leather coat, vintage poster, vintage magazine, steel push-pins, coat hanger, 182.2 x 90 x 115 cm, 71 3/4 x 35 3/8 x 45 1/4 ins,(MA-BURRT-00142)
Modern Art have announced two new gallery spaces for London.
Fitzroy Square, London W1
Stuart Shave is pleased to announce that Modern Art will relocate to central London premises within an 18th century townhouse at 6 Fitzroy Square, London W1T 5DX. Modern Art's Eastcastle Street premises have now closed permanently at the end of March 2013.
The new space will open on 16th April with a two-person exhibition of collage and sculpture by Tom Burr and Linder. This show will be followed in June by a solo exhibition of bronzes by Ricky Swallow, and will be accompanied by the launch of a new publication. The July exhibition will be a presentation of drawings by Tom of Finland. For this occasion we have invited poet Ariana Reines to conceive and perform a series of writings in response to the works.
Clerkenwell, London EC1
In late 2013, Modern Art will open a new London gallery in the parish of St Luke's, Clerkenwell, London EC1. Works have commenced on the conversion of a pre-war building and former printing works into 5,000 sq. feet of new gallery premises. This large double-height gallery will provide a new venue for exhibitions, as well as expanded office, storage, and viewing facilities for the gallery's operations. David Kohn Architects are working on the renovation of this building.
The inaugural exhibition in this gallery will be a show of new sculpture by Eva Rothschild, her fourth with Modern Art. This show will be followed by an exhibition of paintings by Jacqueline Humphries, who will show two distinct bodies of work concurrently at both Clerkenwell and Fitzroy Square.
About Mark Westall