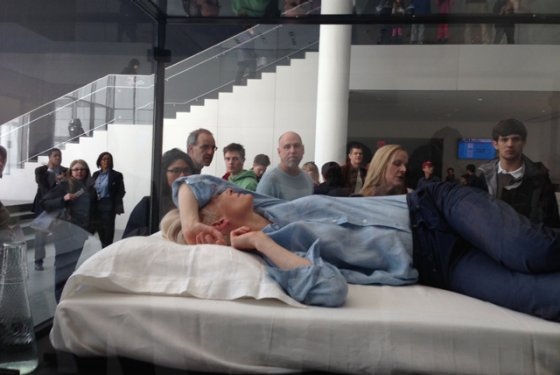 This article titled "Tilda Swinton sleeps in glass box for art installation at MoMA" was written by Matt Williams, for theguardian.com on Sunday 24th March 2013 19.01 UTC
Tilda Swinton has reprised her occasional role as woman sleeping in glass box, this time taking the art-house performance to New York.
Visitors to the Museum of Modern Art were treated over the weekend to a view of the Scottish actor in a state of slumber for a piece titled The Maybe.
It is not the first time the Oscar-winner has been caught napping. The live art piece – a collaboration with friend Cornelia Parker – debuted at the Serpentine Gallery in London's Hyde Park in 1995. It was repeated a year later at the Museo Barracco in Rome.
On Saturday – after an absence of some years – Swinton reprised The Maybe, remaining in a glass box for some six-and-a-half hours.
Pictures of the event depicting the Burn After Reading star dressed in a light blue shirt, dark trousers and lying on white bedding. A pair on eyeglasses sat beside her.
In a brief description of the work, a notice by the installation states: "The Maybe 1995/2013. Living artist, glass, steel, mattress, pillow, linen, water and spectacles."
The installation will be an occasional feature at MoMA in the coming weeks, a museum spokeswoman told the Guardian.
But they are not saying in advance which days The Maybe will be on show.
MoMA said in a statement: "An integral part of The Maybe's incarnation at MoMA in 2013 is that there is no published schedule for its appearance, no artist's statement released, no museum statement beyond this brief context, no public profile or image issued. Those who find it chance upon it for themselves, live and in real – shared – time: now we see it, now we don't."
guardian.co.uk © Guardian News & Media Limited 2010
Published via the Guardian News Feed plugin for WordPress.
Categories
Tags