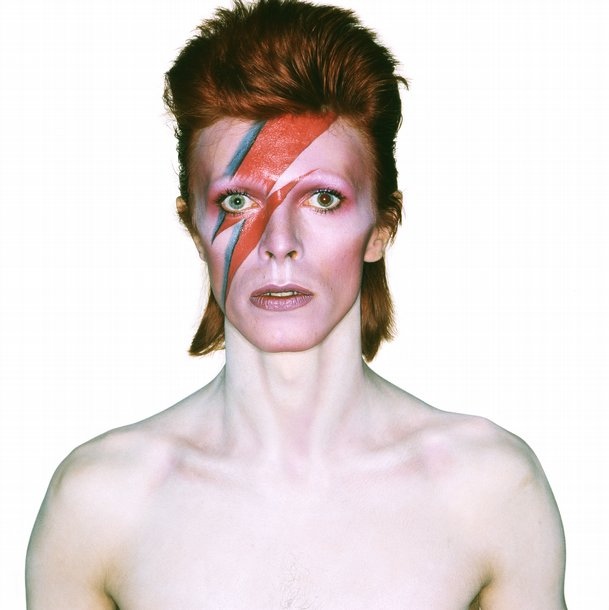 Album cover shoot for Aladdin Sane 1973 Design by Brian Duffy and Celia Philo, make up by Pierre La Roche © Duffy Archive
In the words of Public Enemy, Don't Believe the Hype. In the case of the V&A's blockbuster homage to David Bowie, do believe it. With 47,000 tickets sold before the exhibition of the iconic British pop star has even opened, the V&A has triggered a renewed Bowie-mania with its latest exhibition.
A multi-media assault on the senses, this technically brilliant and creatively innovative exhibition is a sensory delight. Titled 'David Bowie is', and curated by Geoffrey Marsh and Victoria Broackes, this unique show positions Bowie firmly in the cultural firmament. Whatever age you are, you would have to come from Planet Mars not to have some awareness of David Bowie and his many personae embedded in your psyche, for Ziggy Stardust or the Man who fell to earth, has had a far-reaching effect on popular culture since his arrival on the music scene in the 60s.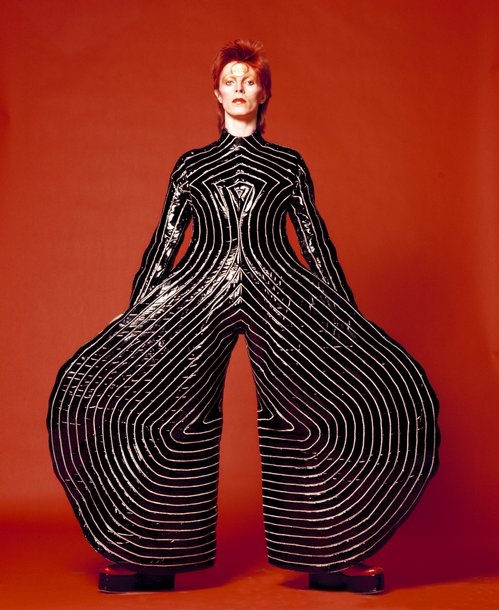 Striped bodysuit for Aladdin Sane tour 1973 Design by Kansai Yamamoto. Photograph by Masayoshi Sukita © Sukita / The David Bowie Archive 2012
The exhibition opens with the Kansai Yamamoto bodysuit Bowie wore on his Aladdin Sane tour in the 70s', which is juxtaposed with a Carl Andre floor sculpture. The juxtaposition of art with fashion with music continues through the exhibition, which takes the visitor on a musical and visual trip through the decades, starting with Bowie's teens when he formed his first band aged 16. Even at that tender age Bowie was showing marketing nous, and artistic talents displayed in the form of set sketches and costume designs for his fledgling music career.
We glide through the 60s and the swinging London of David Bailey and The Beatles, and into the 70s when Bowie was collaborating with artists and designers in fashion, theatre and film. The exhibition presents Bowie as a creative sponge, drawing on the most avant-garde design, art, literature and music of each decade, and creating his multi-disciplinary concert experiences and music videos.
Cleverly using video, installation, costume and music, with a soundtrack including interviews with Bowie, the exhibition presents Bowie as a modern-day Renaissance man, a musician, artist, actor and someone who pushed the boundaries of androgyny. We see Bowie's set designs, and paintings from his period in Berlin with Iggy Pop, as well as references to artists, filmmakers and writers who inspired him, or with whom he collaborated including; Warhol who he met at the Factory in New York; Kubrick whose 'Droogs' in the seminal film Clockwork Orange inspired some of the costumes worn by Ziggy Stardust; and Fritz Lang whose 'Metropolis' was a big inspiration for the dystopian vibe of the 1970s Diamond Dogs tour.
There are iconic portraits of Bowie by some of the most influential contemporary photographers including Herb Ritts and Terry O'Neill, and film clips of Bowie the stage and screen actor. Clips of Bowie's many groundbreaking videos show him as a gender-bender, and a champion of influential filmmakers and artists. Not to mention the incredible and outlandish costumes worn on his many tours, such as the Alexander McQueen Union Jack coat, Freddie Burretti-designed Ziggy Stardust Bodysuits, and Kansai Yamamoto's Aladdin Sane creations.
The exhibition takes you on a journey, the journey of the young David Robert Jones from Brixton, who metamorphosed into the most influential musician of our times.
Words by Lee Sharrock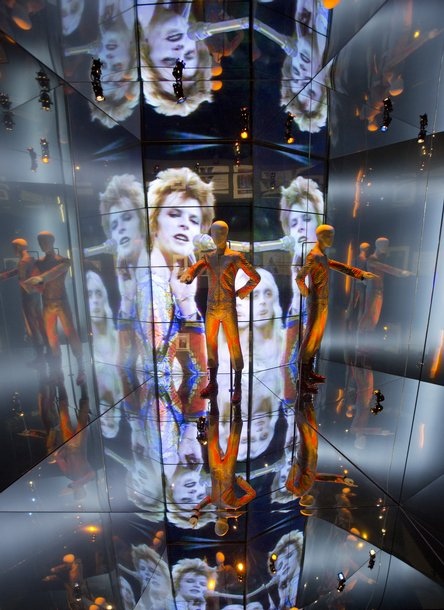 David Bowie is 23rd March – 11th Aug 2013 (c) Victoria and Albert Museum, London

Categories
Tags