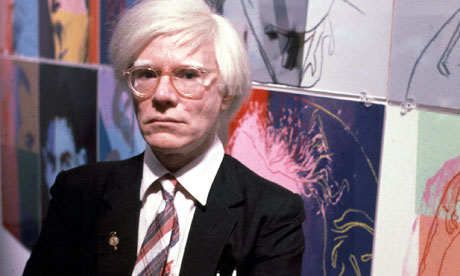 Andy Warhol:"every candy wants to be tomorrow's pimple." Photograph: Susan Greenwood/Getty Images
---
This article titled "Smarties with Andy Warhol" was written by John Hind, for The Observer on Saturday 16th February 2013 23.30 UTC
In early 1980, as an art student day-tripping to London, I planned to buy Andy Warhol's new book Exposures. I was wearing several small promo badges of the Rolling Stones, each showing a different photo by Warhol of a Stone gnawing at another's ear, foot, chest, leg, thigh or stomach. By preposterous chance, the first bookshop I strolled into, Andy Warhol was standing inside, about to sign copies of the book in question. As he bent, with carrier bag, to sit at a table, a woman exclaimed, "It's really Andy Warhorse!" (sic), then another "Hole!"
Of what I'd read, as a teen, it made most sense that, while Warhol was a sickly child, he'd lie in bed filling in colouring books with the reward from his mother of another candy bar for each page completed. So, I thought I'd give Warhol some sweets. I popped out of the bookshop and up the street and, in haste, settled on a tube of Smarties. When I got through the queue to Warhol, I placed eight differently coloured Smarties down. "They're not M&Ms," he noted. "They're Smarties," I said. "Take one."
He took two – violet and green – saying, "The left hand gets jealous of the right hand." Then he produced a peanut butter Hershey bar from his carrier bag. "All I ever wanted is sugar," he said. "But every candy wants to be tomorrow's pimple."
Acknowledging my Stones badges, he gossiped "Mick got fat that year". He then explained that in restaurants, so as not to eat much more than candy, he believed in ordering food he disliked. He signed my copy of Exposures and added, with a flourish, a sketch of a half-lit Smartie, a split heart, a hamburger, a cracked peanut, or a bagel – it's still hard to decide which.
guardian.co.uk © Guardian News & Media Limited 2010
Published via the Guardian News Feed plugin for WordPress.
Categories
Tags