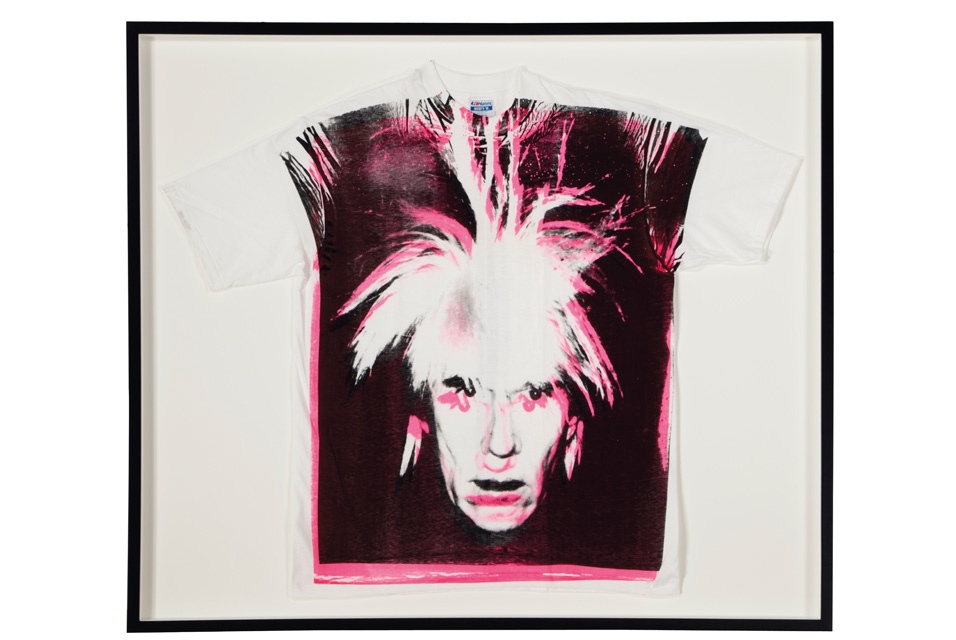 Andy Warhol (1928-1987), Self-Portrait with Fright Wig. Screenprint on t-shirt. Executed circa 1986. Estimate: $15,000-20,000. © The Andy Warhol Foundation for the Visual Arts, Inc.
Christie's have announced details of Andy Warhol@Christie's, the first online-only sale in its long-term partnership with The Andy Warhol Foundation for the Visual Arts.
For one week, from Tuesday, February 26th through Tuesday, March 5th collectors around the world will have the opportunity to log in and bid online for 125 paintings, drawings, photographs and prints by Pop Art's reigning superstar, Andy Warhol. The first of the online-only Warhol sales will feature works representing a wide array of media spanning the artist's career.
Estimates range from $600 to $70,000, offering both seasoned collectors and first-time buyers extraordinary global access to Warhol's work. The timed online format allows clients to browse, bid, receive instant updates by email or phone if another bid exceeds theirs, organize shipping, and pay from anywhere in the world. Over the course of 2013, and throughout the ongoing partnership, Christie's will launch additional online-only sales of original works of art by Warhol from the Foundation's collection, marking the first time the auction house has ever offered online-only sales of Post War and Contemporary art. The week-long cybersale kicks off the second phase of Christie's partnership with the Foundation, a multi-year initiative built on an innovative, three-tiered program of live auctions, online-only auctions and private sales.
Michael Straus, Chairman of the Board of The Andy Warhol Foundation for the Visual Arts, stated, "This long-term, multi-platform series of sales will provide important endowment strength for our programs in support of contemporary arts organizations and artists. Just as important, though, the initiative will bring Andy Warhol's art to the widest possible audience, preserving and extending his legacy."
Categories
Tags