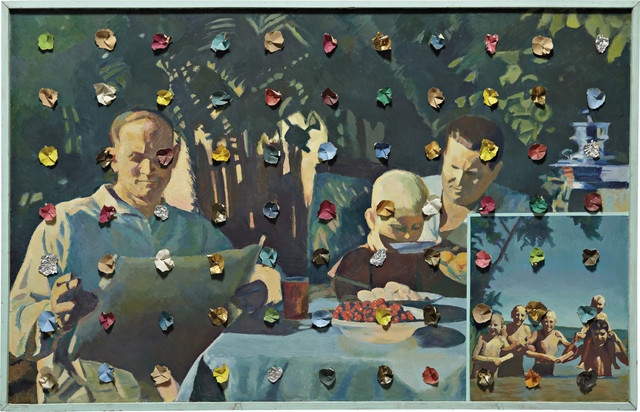 "Holidays #10" (1987) by Ilya Kabakov sold for 1.5 million pounds ($2.4 million) at Phillips in London in 2011. The work came from the collection of John L. Stewart whose Kabakov art trove was purchased by Russian billionaire Roman Abramovich and his partner Dasha Zhukova. Source: Phillips via Bloomberg
Billionaire Roman Abramovich and his partner, Dasha Zhukova, bought a major group of works by Ilya Kabakov, the priciest living Russian artist.
While the amount paid for the group last year hasn't been disclosed, the asking price for the works ranged as high as $60 million, according to observers familiar with private art sales.
The group consists of about 40 paintings as well as important early albums and installations.
Most of the works were made by Kabakov before he left Moscow in 1987. The artist, who lives in New York, was a founder of Moscow's conceptualist-art movement.
"It's one of the largest Kabakov collections in the world," said Emilia Kabakov, the artist's wife and collaborator since 1989, who confirmed the sale. "It's also the most outstanding in terms of quality and art-historical significance.". Via: Bloomberg
Categories
Tags