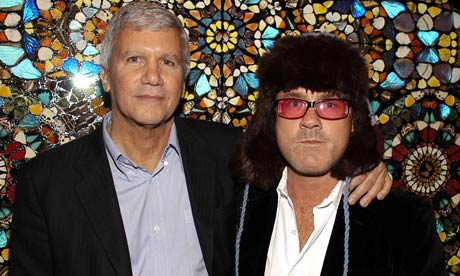 Larry Gagosian and Damien Hirst in 2007. Photograph: Sipa Press/Rex Features

This article titled "Damien Hirst's split from Larry Gagosian turns heads in art world" was written by David Batty, for The Guardian on Sunday 6th January 2013 16.01 UTC
They seemed the perfect match. On one side, Larry Gagosian, the world's most powerful art dealer, whose eponymous gallery has more exhibition space than Tate Modern, an annual revenue estimated at more than bn (£600m) and puts on exhibitions of the likes of Picasso, Matisse and Warhol to rival the greatest museums. On the other, Damien Hirst, the world's most successful living artist, who has amassed a fortune of £215m.
So Hirst's sudden departure after 17 years from Gagosian's blockbuster roster of 77 artists and estates – months after the gallerist mounted an unprecedented simultaneous exhibition of the artist's spot paintings in every one of his then 11 galleries around the world – has raised questions about the careers of these titans of the contemporary art world, and about the art market itself.
The economist Don Thompson, author of The Million Stuffed Shark, which investigated the contemporary art market including Gagosian's 2005 sale of Hirst's best-known formaldehyde work, The Physical Impossibility of Death in the Mind of Someone Living, believes the gallerist initiated the split due to Hirst's declining sales.
Figures published by the market analysts Artnet in November revealed that works Hirst produced in his most lucrative period between 2005 and 2008, when he bypassed his dealers and took his work direct to auction at Sotheby's, had resold for nearly 30% less than their original purchase price. Since 2009 one in three of the 1,700 pieces offered at auction have failed to sell at all.
Thompson said that although Hirst's 2008 direct auction was called groundbreaking, prices were propped up by Gagosian and Jay Jopling, the White Cube gallery owner and Hirst's London dealer, who made bids or purchases worth almost half the auction's £70.5m first-day sales.
"The überdealer – and Gagosian is the ultimate überdealer – implicitly promises their clients that the art they buy will not decline in value, which is why he tried to keep up Hirst's sales price in 2008," said Thompson. "But the value of Hirst's work is 30% where it was at its peak with a third unsold. So his reserve price is too high."
Following reportedly disappointing sales from Gagosian's global show of Hirst's spot paintings, Thompson said: "Hirst can better reposition himself selling at a lower price with another dealer."
In contrast, Gagosian's position has seemed unassailable. In the autumn he opened his 12th gallery, a 17,760 sq ft space in Le Bourget, near Paris, designed by the French architect Jean Nouvel, and a temporary space in Rio de Janeiro in Brazil. He confirmed plans to open a third, larger London outlet in 2013, expected to be his second in Mayfair.
Hirst's split with Gagosian in December came a week after news that another of the dealer's star names, Jeff Koons, best known for his giant kitsch sculptures, planned to stage a show in May at the rival Zwirner gallery. A day later it emerged that Yayoi Kusama, the Japanese artist who like Hirst had a Tate Modern retrospective last year, was also leaving Gagosian. With Hirst and Kusama staying at their London galleries, White Cube and Victoria Miro respectively, some experts see the events as signs of the artists having specific problems with Gagosian.
Wendy Cromwell, a New York-based art adviser, said she could not believe Gagosian would have wanted Hirst to leave because "even with a slowdown in sales he's such a powerhouse brand". Figures provided by the London-based art market analyst Nathan Engelbrecht, co-director of EB & Flow Gallery, show Hirst's worldwide auction sales peaked in 2008 at a total of .8m (£28.5m), and were .3m in 2012.
Anders Petterson, managing director of the analyst firm ArtTactic, said Hirst and Kusama did not represent the primary focus of Gagosian's business in the aftermath of the 2008 stock market crash. "The commercial art market has changed since 2008, with the focus on postwar, blue-chip art such as Warhol, Basquiat, Calder, Bacon, Lichtenstein, Rothko, Kline etc accounting for a large majority of the total auction sales. Most of these artists are exhibited or represented by Gagosian gallery. In the current economic climate, it would make sense for the gallery to focus on these artists. However, it probably means less attention is given to many of the other artists that the gallery works with.
"White Cube, has generally a younger stable of artists – with just over 50 artists listed on its website – where Hirst would still be their key artist. You'd rather be a big fish in a smaller pond in today's uncertain market."
One issue affecting Koons's move may be the bad publicity from two recent lawsuits against Gagosian, including one brought by the billionaire collector Ronald Perelman involving one of the artist's sculptures.
But Koons's decision is also seen as an indication of how the balance of power is shifting away from even the wealthiest commercial galleries to an elite cadre of artists. Unlike Hirst's, his prices are rising: his candy-coloured stainless steel sculpture Tulip fetched .7m (£21m) at Christie's in November, the second highest figure paid for a living artist, after Gerhard Richter's £21.3m painting Abstraktes Bild (809-4).
The curator and academic Andrew Renton, director of Marlborough Contemporary in Mayfair, said: "The art market has grown exponentially in the past decade and the prime drivers are the big-name artists. It was very radical when Hirst first exhibited with Gagosian in London while remaining at the White Cube. Now it is common to see shows by one artist in different galleries in the same city."
Michael Werner opened his new London gallery in October with an exhibition of new paintings by Peter Doig, who is already represented in London by Victoria Miro. The American artist Sterling Ruby, who parted ways with the Pace Gallery at the beginning of 2012, will have a show at Hauser & Wirth's Savile Row space in March of 2013. Sprüth Magers, Ruby's London gallery, told the Financial Times that they "happily" continue to represent him.
"It's not so much that these are defections, more that artists are more
in control, said Renton. "It's like premiership football. Why did Man City not get Robin Van Persie when they offered more than Man United? When you're already worth tens of millions it's not just about money."
Paintings by numbers
Global sales of art were estimated to top bn (£40bn) in 2012, including more than bn from sales at auction, according to the analysts Artprice. Postwar and contemporary art accounted for 33% of the market in 2012, with sales of just over bn, up from 28% in 2011.
The US art season ended in November with a record-breaking sales total of 2m for Christie's. The previous day, the rival auction house Sotheby's staged the most successful auction in its history, taking 5m.
The Gagosian gallery's turnover in 2011 was 5m, according to Forbes. This is almost double that of Pace (0m) and nearly four times that of Hauser + Wirth and David Zwirner, each with annual sales of around 5m.
• This article was amended on 7 January 2013. The original was cut in length during editing in a way that wrongly attributed the final quote from Andrew Renton to Michael Werner.
guardian.co.uk © Guardian News & Media Limited 2010
Published via the Guardian News Feed plugin for WordPress.
To celebrate the reopening of Tate Modern and the Andy Warhol exhibition  FAD has chosen six great Andy Warhol books you should buy from Taschen and The Met.
Categories
Tags