I Knew it Would Come to This (The Old Horizon) Oil on Canvas 140cm x 180cm 2012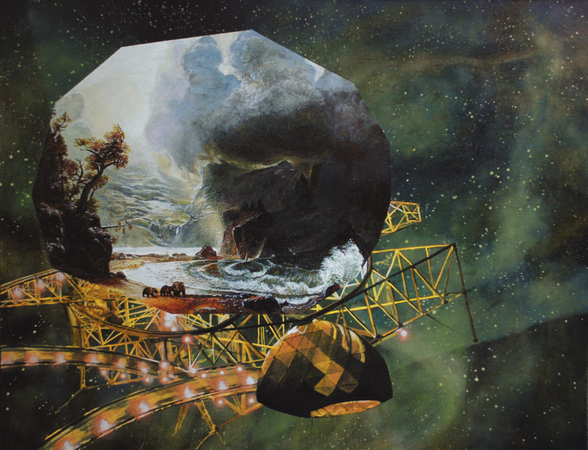 Onwards as the World Sinks Oil on Canvas 100cm x 130cm 2012
FAD have hooked up with our favourite guide to the art stars of the future The Catlin Guide to give you a sneak preview of some of the 40 artists that will be featured in this years guide.
Up forth is Geoff Litherland.
1.If you weren't an artist, what else would you be?
To be honest I'd rather be a musician than an artist, one of those minimal composer instrumental types, like Fennesz or Murcof, but I can't play any instruments to save my life, so I've had to do the best I can with the abilities I was born with, never mind.
2. Can you tell us more about your work and what are the main ideas you would like to express? My work explores the tension between the natural world and its grasping appropriation by human influence. It draws from traditional genres of painting together with the rusty surrealism of science fiction and the fantasia of abstraction to create a parallel world that seeks to not only question our perception of and relationship to nature, but paintings' historical and current role in that. There's a definite sense of some sort of ecological disaster, the work inhabits a post apocalyptic world where nature is a mirage or being supported in a very tenuous way. I hope it's not all doom and gloom though; some paintings do try and offer hope and relief.
3. How do you start the process of making work?
The paintings start off as rough digital collages, often made up of poor resolution images. These guide the composition yet allow the painterly process and how the layers of paint are applied to equally dictate the final image and set the tone and mood of the work.
4. Do you consider the viewer, when making your work?
Always, it's probably my main consideration; I love looking at how a painting can reveal its construction and how the brush marks and how the paint is applied can communicate as much if not more than the imagery of a work. When the two start to correlate is when a painting becomes really successful. I find it really rewarding when an audience gets close up to a painting and starts looking at the minutiae details that I agonize over. It feels like the work has captured someone, I'm very conscious of how distance is important in engaging the viewer with a work, I feel it needs to work from across a room, the imagery needs to be strong and capture the attention of the viewer, bringing them in to look closer at the construction of the work, allowing them to get lost in the myriads of worlds and meanings found on the surface of the canvas that's what I hope my work does.
5. Name 3 artists that have inspired your work?
There's been so many, but at the moment: Albert Bierstadt, Peter Doig and Gerhard Richter.
6. What defines something as a work of art?
Very tricky question and wholly subjective, but I'd like to think that if someone has invested enough consideration in the production and display of something for it to become more than the sum of its parts then that something has become art, the work or action will then resonate with other works, objects, the space and audience around it.
7. In times of austerity, do you think art has a moral obligation to respond topically?
I don't think so not consciously anyway, I find that type of art to be quite patronizing and dated, but because of the nature of art, i.e. it being a self-reflexive and critical engagement with the world, it will respond topically no matter what is happening.
8. Anytime, any place – which artist's body would you most like to inhabit?
Hmm, Maybe Chris Foss working on Alejandro Jodorowsky's failed attempt to film Dune, the whole thing seemed so crazy that it was obviously going to fail, Foss made some of his most exciting work for the film treatment.
9. What was the most intelligent thing that someone said or wrote about your work?
One of my MA tutors said that my paintings were like black holes or portals that distorted the space around them.
10. Which artists would you most like to rip off, sorry, I mean appropriate as a critique of originality and authorship?
Any of the Hudson River School painters, which is what I've been doing recently, I find the way they treat landscape untainted by contemporary ecological misgivings, they're still in awe of nature, I've been using their landscape paintings as a starting point and painting them through my own historical perspective, the feel of landscapes change a lot.
11. Do you care what your art costs? State your reasons!
I'd like it to cost a bit more, so that I can make an ok living from it. There's a lot of time invested in my work and if I calculate how much I get paid an hour it wouldn't amount to that much.
12. What's next for you?
I'm now represented by Bearspace and will have the opportunity to show new work at the London Art Fair in January as well as having a couple of solo shows coming up next year. I'm looking forward to making lots of new work and developing the painterly world I seem to be creating I want to expand it further by developing a still life strand to the Landscapes and portraits.
The Catlin Guide 2013: New Artists in the UK is launched at the London Art Fair 2013, 16 – 20 January. It will also be available from Amazon, Culture Label and selected book sellers (£12.99).
Categories
Tags