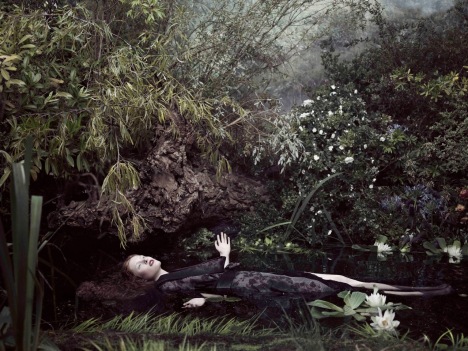 Mihara Yasuhiro, Ophelia Has A Dream (detail) 2012© Mihara Yasuhiro, with thanks to Paolo Roversi and WOW
Japanese fashion designer Miharayasuhiro exclusively teams up with renowned photographer Paolo Roversi and visual design studio WOW to present a courageous and inspiring short film at a special Pre-Raphaelite Late at Tate this Friday . The event celebrates Tate Britain's major autumn exhibition; Pre-Raphaelites: Victorian Avant-Garde.
In March 2011 a natural disaster befell Mihara's native country, a reminder of human vulnerability, the preciousness of life and the mystery of our existence. This December Mihara asks us to dream; integrating our reality with the optimism of a brighter and peaceful future, serving as a requiem for those lost in the disaster, and as a symbol of renewal and hope.
Inspired by John Everett Millais' famous painting Ophelia 1851-2, one of the star pieces of Tate Britain's autumn exhibition Pre-Raphaelite: Victorian Avant-Garde, Mihara's film will be presented at a special Late at Tate event which explores the continuing influence of Pre-Raphaelites on contemporary art, fashion and music.
'Ophelia Has a Dream' sees Mihara honor one of Shakespeare's leading ladies presenting a bold and inspiring short film that humbly depicts Ophelia's last moments. A piece that hopes to incite and captivate an audience, narrating a story of how unpredictable life is, how powerful nature can be, and the loss of an innocent soul.
Mihara notes, "I was inspired to use Ophelia because I believe she had an innocent spirit, and couldn't comprehend the tragedy that was about to happen to her, perhaps she didn't know it was a tragedy, perhaps she was dreaming, and existing between a fantasy and reality, imaging how beautiful life is" explains Mihara. "I hope to portray optimism and hope for the future; I hope that Ophelia is dreaming and only saw happiness".
The film, divided into chapters, is cleverly brought to life by visual design experts WOW, and is presented as an interactive installation in the heart of the gallery, using motion graphics that allow the audience to move and co-exist with in the space. Visual and sound effects will allow visitors to feel as if they are wandering in the scenery of Ophelia, allowing shadows of butterflies and petals of flowers, falling to the floor, to be blown away by the wind into the forest. The audience will be introduced to an experience that Mihara hopes will explore and enhance audience perception of "eternal existence and transience of real life."
Mihara, who founded his highly successful fashion label Miharayahiro, has over the past few years become one of the worlds highly recognised and coveted fashion designers. Proudly presenting seasonal collections in Paris, Mihara continues to work and collaborate with the highly regarded Browns of South Molton Street London. Mihara's designs can also be seen around the world in Europe, Asia, USA, Africa and Japan.
'Ophelia Has a Dream' will be exclusively presented as part of Late at Tate on Friday December 7th from 6pm – 10pm at Tate Britain, Millbank London SW1P 4RG
The event will combine a vibrant array of performance, music and talks inspired by the Pre-Raphaelites.
It will include an Etsy craft fair, laid back music from Stella Polaris and a literary portrait of Burne-Jones from Ruth Rosen. There will be readings from a new play about William Holman Hunt called The Scapegoat written by Deborah Freeman and directed by Ariella Eshed, as well as a response to William Morris's bed from artist David Mabb. As usual a pop up bar will open for the night and admission is free.
More Details:www.tate.org.uk
About Mark Westall